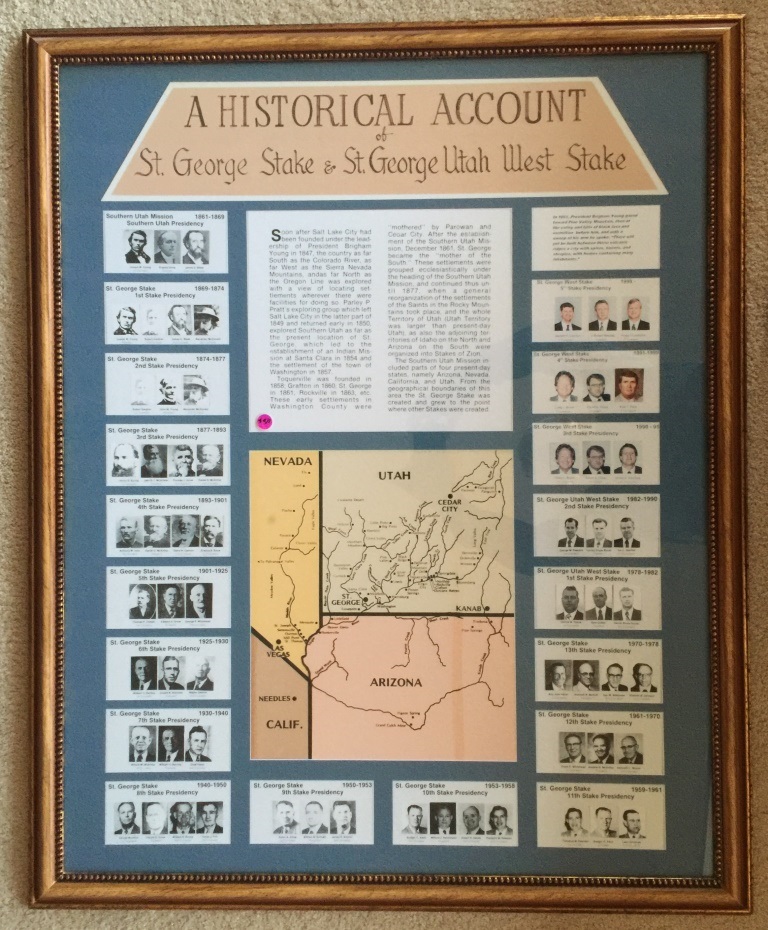 Photo of a St. George Stake and a St. George West Stake history poster.

For a higher resolution and uncropped version of this photo, click here.

For an even higher resolution version of this photo without the frame, click here.

Framed poster contributed by Rob Allen on 1/9/2016.



TEXT TRANSCRIBED FROM THE POSTER
Soon after Salt Lake City had been founded under the leadership of President Brigham Young in 1847,
the country as far South as the Colorado River, as far West as the Sierra Nevada Mountains, and as far
North as the Oregon Line was explored with a view of locating settlements wherever there were facilities
for doing so. Parley P. Pratt's exploring group which left Salt Lake City in the latter part of 1849 and
returned early in 1850, explored Southern Utah as far as the present location of St. George, which led
to the establishment of an Indian Mission at Santa Clara in 1854 and the settlement of the town of
Washington in 1857.
Toquerville was founded in 1858, Grafton in 1860, St. George in 1861, Rockville in 1863, etc.
These early settlements in Washington County were "mothered" by Parowan and Cedar City. After
the establishment of the Southern Utah Mission, December 1861, St. George became the "mother of
the South." These settlements were grouped ecclesiastically under the heading of the Southern Utah
Mission and continued thus until 1877, when a general reorganization of the settlements of the Saints
in the Rocky Mountains took place, and the whole Territory of Utah (Utah Territory was larger than
present-day Utah), as also the adjoining territories of Idaho on the North and Arizona on the South
were organized into Stakes of Zion.
The Southern Utah Mission included parts of four present-day states, namely Arizona, Nevada,
California, and Utah. From the geographical boundaries of this area the St. George Stake was
created and grew to the point where other Stakes were created.

In 1861, President Brigham Young gazed toward Pine Valley Mountain, then at the valley and hills
of black lava and vermillion before him, and with a sweep of his arm he spoke: "There will yet be built
between those volcanic ridges a city with spires, towers, and steeples, with homes containing many
inhabitants."


Southern Utah Mission, 1861-1869
Southern Utah Presidency
President: Erastus Snow
1st Counselor: Joseph W. Young
Clerk & Historian: James G. Bleak


St George Stake, 1869-1874
1st Stake Presdency
President: Joseph W. Young
2nd Counselor: Robert Gardner
2nd Counselor: James G. Bleak
2nd Counselor: Alexander McDonald


St George Stake, 1874-1877
2nd Stake Presdency
President: John W. Young
1st Counselor: Robert Gardner
2nd Counselor: Alexander McDonald


St George Stake, 1877-1893
3rd Stake Presdency
President: John D. T. McAllister
1st Counselor: Henry D. Eyring
2nd Counselor: Thomas J. Jones
2nd Counselor: Daniel D. McArthur


St George Stake, 1893-1901
4th Stake Presdency
President: Daniel D. McArthur
1st Counselor: Anthony W. Ivins
1st Counselor: David Henry Cannon
2nd Counselor: Erastus B. Snow


St George Stake, 1901-1925
5th Stake Presdency
President: Edward H. Snow
1st Counselor: Thomas P. Cottam
2nd Counselor: George F. Whitehead


St George Stake, 1925-1930
6th Stake Presdency
President: Joseph K. Nicholes
1st Counselor: William O. Bentley
2nd Counselor: Walter Cannon


St George Stake, 1930-1940
7th Stake Presdency
President: William O. Bentley
1st Counselor: Wilford W. McArthur
2nd Counselor: Orval Hafen


St George Stake, 1940-1950
8th Stake Presdency
President: Harold S. Snow
1st Counselor: Vernon Worthen
2nd Counselor: William H. Prince
2nd Counselor: Vivian J. Frei


St George Stake, 1950-1953
9th Stake Presdency
President: William H. Bennett
1st Counselor: Rulon A. Snow
2nd Counselor: James A. Andrus

St George Stake, 1953-1958
10th Stake Presdency
President: Wilford J. Reichmann
1st Counselor: Rudger C. Atkin
2nd Counselor: Ellvert H. Himes
2nd Counselor: Theodore M. Peterson


St George Stake, 1959-1961
11th Stake Presdency
President: Rudger C. Atkin
1st Counselor: Theodore M. Peterson
2nd Counselor: Leon Jennings


St George Stake, 1961-1970
12th Stake Presdency
President: Andrew O. McArthur
1st Counselor: Grant C. Whitehead
2nd Counselor: Kenneth C. Weaver


St George Stake, 1970-1978
13th Stake Presdency
President: Kenneth R. Metcalf
1st Counselor: Arlo John Hafen
2nd Counselor: Kay W. Wilkinson
2nd Counselor: Sheldon B. Johnson


St George West Stake, 1978-1982
1st Stake Presdency
President: Dale Gubler
1st Counselor: Dennis W. Payne
2nd Counselor: Harvey Bruce Stucki


St George West Stake, 1982-1990
2nd Stake Presdency
President: Harvey Bruce Stucki
1st Counselor: George M. Peacock
2nd Counselor: Val C. Stauffer


St George West Stake, 1990-1991
3rd Stake Presdency
President: David G. Clove
1st Counselor: Craig L. Booth
2nd Counselor: James S. Johnson


St George West Stake, 1991-1999
4th Stake Presdency
President: David G. Clove
1st Counselor: Craig L. Booth
2nd Counselor: Kyle T. Pace


St George West Stake, 1999-
5th Stake Presdency
President: J. Robert Rhodes
1st Counselor: Donald E. Cannon
2nd Counselor: Kraig C. Loveland