LOCATION
97 E. St. George Blvd.
St. George, UT 84770
(435)632-1215

Northwest corner of St. George Blvd. and 100 East.

Plat A, Block 29, Lot 1 on the old pioneer map of St. George.

Parcel# SG-435-A-CB

37° 6' 36.7" North Latitude, 113° 34' 53.6" West Longitude
37.1101° North Latitude, 113.3816° West Longitude
2,770 feet (844 meters) MSL



HISTORY
St. George was designated the seat of Washington County on January 14, 1863. The construction of a courthouse was approved in 1866 and work began in 1867. It took nearly 10 years to complete because the workmen were also building the St. George Tabernacle and the St. George Temple. It was completed in 1870.

The first floor served as offices for county government. The large room on the second floor was used as both a courtroom and a schoolroom. It was also used for public meetings, plays, dances, and a multitude of other activities. In the basement is the jail with 3 cells.

Some interesting features of the building include the 18-inch thick walls that can be seen at windows and doorways, chandeliers, original paintings of Zion National Park and the Grand Canyon by Loren Isaac Covington, a large security vault with its back extending out beyond the exterior wall, extensive cornice work and a cupola which was designed for hangings. Fortunately, no hangings were performed at the courthouse. There is another safe in the hallway that has an interesting story.

The building was been used continuously as a courthouse until 1960. Washington County sought to tear it down in 1970 when the City of St. George came to its rescue to become the owner and caregiver of the Building. It was put on the National Register of Historic Places (#19700000634) on September 22, 1970. It was still empty until a major renovation project was completed in 1986. The St. George Chamber of Commerce became the occupant for 31 years. After its relocation to a larger space, the Dixie/Arizona Strip Interpretive Association opened for a short period followed by another vacancy of 18 months. Only the Historic St. George Live tours were held here during the summer months, along with periodic visits by Road Scholars. Now that the building has reopened, there are displays to describe the work of several historical groups, tours are given, and special events are held.

The fact that the building is still standing and usable is a testament of the skill and care used in its construction even though, unlike later buildings which used lava stone for foundations, sandstone bricks were used for both the foundation and upper walls. It was discovered that sandstone used underground in this area tends to erode. Evidence of this can be seen in the basement jail cells.

The Pioneer Courthouse, in cooperation with the City of St. George, is managed by the Washington County Historical Society, Daughters of Utah Pioneers, Sons of Utah Pioneers and Arts to Zion. For current usage, click here.



PHOTOS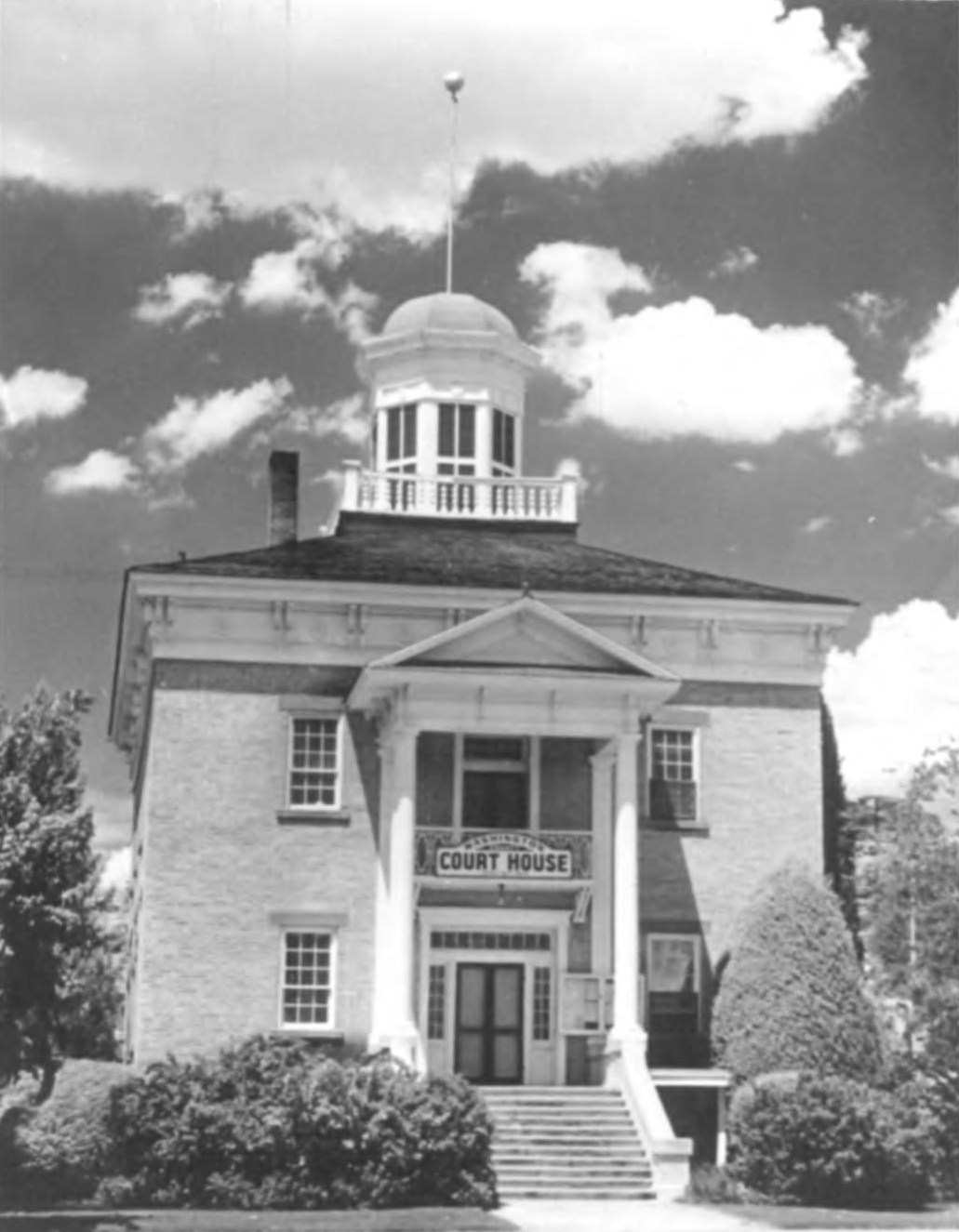 Old photo by Arthur F. Bruhn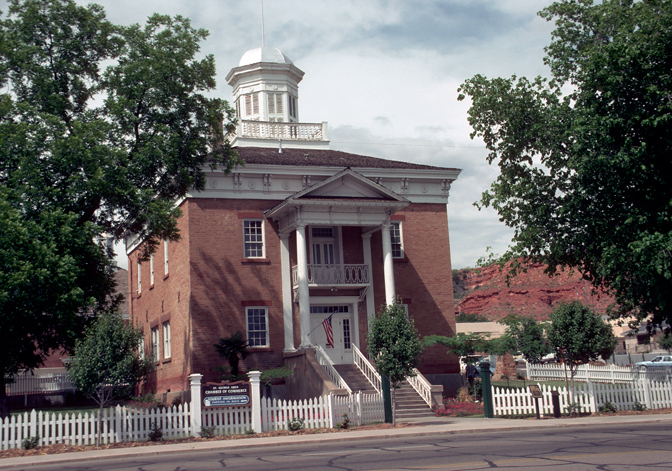 May 1992 photo by Calvin Beale


WCHS photos:
WCHS-00542 Jon Bowcutt sketch of the Old Pioneer Courthouse
WCHS-00572 Jon Bowcutt watercolor painting of the Old Pioneer Courthouse
WCHS-00702 1st annual Pioneer Courthouse Invitational Art Exhibit poster
WCHS-00706 5th annual Pioneer Courthouse Invitational Art Exhibit poster
WCHS-00857 Postcard photo of the old courthouse with a cannon out in front
WCHS-01016 Postcard photo of the old courthouse
WCHS-04155 A car and horse in front of the old Washington County Courthouse
WCHS-04209 Photo of the front lobby and stairs of the Old Pioneer Courthouse

Other photos on the web:
An old photo of the old courthouse
1940 photo of the old courthouse
1989 photo of the front of the old courthouse
Modern photo of the front of the old courthouse
Modern photo of the old courthouse looking northeast
May 1992 photo of the old courthouse looking northeast
Modern photo of the front of the old courthouse
Monument to the Dixie pioneers located just east of the old courthouse
Photos from the National Register of Historic Places nomination form



REFERENCES
Andrew Karl Larson, "I Was Called to Dixie"
pp. 576-577

Pioneer Courthouse
Historical Buildings of Washington County (Volume 1), Pages 6-7.

Landmark and Historic Sites: City of St. George
First Edition, January 2, 2009, Pages 50-1 through 50-3
Compiled by the St. George Community Development Department

Landmark and Historic Sites: Informational Guide of Historical Sites within the City of St. George
Second Edition, Revised 2011, Page 56
Compiled by the St. George Community Development Department

Landmark & Historic Sites: Informational Guide of Historical Sites within the City of St. George
Third edition, Revised 2015, Page 58
Compiled by the St. George Community Development Department

Library of Congress, Historic American Buildings Survey, Washington County Courthouse
Call Number: HABS UTAH,27-SAGEO,3-
Survey number HABS UT-10

National Register of Historic Places, Inventory - Nomination Form

1990 deed transferring the Old County Courthouse from the County to the City of St. George

The Pioneer Courthouse: Governing and Civilizing during the Territorial Period
From a talk given by Richard Kohler at the Courthouse on December 5, 2019

St. George plans to restore historic courthouse
Article by Mark Havnes in the Salt Lake Tribune, February 10, 2012

St. George says Pioneer Courthouse occupants can stay put
Article by David Louis, St. George News, October 4, 2020

Historical Information About Buildings Owned by Washington County
An interview with Washington County Commissioner Dean Cox by Loren Webb, 1/25/2021