LOCATION
250 East 400 South
St. George, UT 84770
(435)673-3533 Information
(435)673-5181 Visitor's Center

The city block between 400 South and 500 South
and between 200 East and 300 East

37° 6' 2" North Latitude, 113° 34' 38" West Longitude



DESCRIPTION
Site: 6 acres.
Exterior Finish: Native red sandstone quarried north of the city and plastered white.
Temple Design: Castellated Gothic style.
Number of Rooms: Three ordinance rooms and eighteen sealing rooms.
Total Floor Area: 110,000 square feet.
On the National Register of Historic Places (#1977001325).



MILESTONES
January 31, 1871: Brigham Young broached the subject of a temple to church officials in St. George.
November 5, 1871: Dixie church members voted to sustain the decision to build a temple in St. George.
November 9, 1871: Groundbreaking & site dedication by President Brigham Young.
January 1, 1877: Private dedication of the baptismal room and lower floor by Elder Erastus Snow.
January 9. 1877: Temple ordinances were begun.
April 6, 1877: Dedication by Daniel H. Wells.
November 1928: Fire destroyed the temple annex.
1937-1938: The temple was extensively remodeled.
1950s: New temple annex was added.
October 15-25, 1975: Public open house.
November 11, 1975: Re-dedication by President Spencer W. Kimball.
November 7, 1977: Put on the National Register of Historic Places (#1977001325)
November 4, 2019: The temple was closed for renovation.
2022: The temple is expected to reopen.



HISTORY
President Young arrived in St. George early in December 1870 to spend the winter. He was not in good health and the mild Dixie climate appealed to him. For nearly two months he made observations, and from them he must have gained a pretty good idea of the general feeling of the people. Brigham Young was getting old. He wanted to see a temple established in the west in his lifetime. His desires had been frustrated in Salt Lake City by federal authorities. No significant work had been done on the Salt Lake Temple in seven years. He knew that the people were restless and needed something to unify and sustain them when the tabernacle was completed. Dixie was a difficult mission and some wanted to leave. He also knew that some of his most trusted, experienced and loyal followers were there. The place was relatively isolated and would be freer from government and Gentile interference. Skills, labor and materials were available. The people needed subsistence to see them through the pioneer period. The cotton factory in Washington was in trouble and the natural scourges of flood, famine, and Indian molestations were competing with the sun as excuses for some of the people to go elsewhere.

Brigham Young wanted the Church to be self-sufficient, and St. George was a key location for travel, supply and defense. The colony had to be maintained. The temple construction would reinforce St. George's status as an emerging regional hub. People from all over Utah, Nevada, Arizona, and even Mexico would travel to St. George to receive their temple ordinances.

No public utterance was given until late in January when he preached at the School of the Prophets in St. George. Then at a meeting of the stake presidency, high council, and the bishops of the various wards, President Young asked the assembled brethren "what they thought of building a temple in St. George." The question apparently was a complete surprise. Erastus Snow expressed his feelings with a "Glory! Hallelujah!" which was echoed by his excited companions. When the matter was put to a vote it was approved with hearty unanimity. This was on January 31, 1871. Following consultation with the other general authorities at the April general conference that year. President Young sent a letter, dated April 5 to Erastus Snow in St. George, announcing the decision. The letter arrived on April 15th. He described the temple as two stores high with a basement housing a baptismal font. The structure was to be 196 feet long, 142 feet wide and eighty feet high, built of stone and plastered inside and out. This letter was read at a meeting of the School of the Prophets. Charles L. Walker, present at the meeting, wrote in his diary:

A thrill of joy seemed to pass over the assembly of Elders present.... Brother Brigham and George A. Smith will be down next October to commence the work and give directions concerning its erection. Brothers Edward Bunker, James G. Bleak, Robert Gardner and H. Harriman spoke on the great blessing the Saints would receive in the temple in administering for the dead and attending to other ordinances pertaining to the Gospel of Jesus Christ.

When the high council convened on June 10, 1871, it was announced that President Young had authorized President Snow to use the tithing of the Saints from Beaver south for the completion of the tabernacle and the building of the temple.

Brigham Young arrived as promised in October of 1871 and selected the site, south of the city, on a low hill. The city would later expand and surround the temple. The architectural design of the temple, by L.D.S. Church Architect, Truman 0. Angell, was directly influenced by President Young; but, even more importantly, the form of the ceremony in the temple would be developed under his guidance. The temple was originally patterned after the Kirtland and Nauvoo temples with two large assembly halls featuring a set of pulpits at each end. The lower hall was partitioned with screens for presentation of the endowment. The economic impact was significant too; for one thing, 100 men came from Sanpete County to serve as construction workers. They would return home and build the Manti Temple.

Among President Young's main concerns, besides the economics of the region, centered in Mormon belief is the doctrine of marriage for time and eternity and the ceremonial work needed for one's kindred dead, who during their lives had no opportunity to embrace the gospel; hence proxy work being necessary for the dead by the living. The faithful member received first his/her own endowments in the temple; thereafter he/she performed the same rites for deceased individuals. One of the very first things Brigham Young did after the arrival of the first Saints in Salt Lake Valley was to select a site for a temple. But the magnitude of that structure was such that it was forty years in buildings; therefore, a temporary substitute for a temple, the Endowment House, was built in Salt Lake City, where people could go for marriage and to do work for their dead. Many couples after marriage for time only, journeyed from the Cotton Mission in Dixie to the Endowment House to have their ceremony performed for eternity. The trip was difficult and time-consuming, and for many it was one good reason for leaving the mission.

On November 5, 1871, Dixie Church members voted to sustain the decision to build the temple. At the conference President Young prefaced his talk with these words: "This is a desert country, but it is a splendid place to rear Saints. I regret to hear of any wishing to leave; however there are but few." He explained that the people of St. George and the little settlements of the surrounding area were better able to build the contemplated temple in St. George than the whole Church had been in Kirtland and Nauvoo. "I was there," said the prophet. "I knew the circumstances of the Church at the building of the temple[s] at Kirtland and Nauvoo. And I know the circumstances of the people in St. George and in those settlements named." President George A. Smith told the people that if they willed, they could rear a temple. So, in the afternoon, President Young spoke again, saying, among other related matters: "Joseph Smith and Brigham Young worked on that building (the Kirtland Temple) day after day. They did not have much fine flour bread to eat. Did not always have molasses to eat with their Johnny cake; sometimes they had shoes sometimes not; sometimes they would have tolerable pants, and, sometimes, very ragged ones. It was about the same experience in building the Nauvoo Temple.

Four days later the groundbreaking ceremony was held. The Swiss Bank from Santa Clara and John M. Macfarlane's choir were on hand to furnish the music. President George A. Smith dedicated the block chosen for the sacred edifice. With sympathetic feeling born of long-shared experiences with the people of the Southern Mission he prayed: "May Thy peace be upon the pioneers of this desert and upon all those who have labored to reclaim the same: may eternal blessings rest upon them and their posterity forever. Yes, bless all thy servants who have done this great work, bless their wives, their children, their substance, and do thou bless them in all their labors.

"We thank thee, 0 God, for these barren hills, and for the shelter of these rugged rocks and deserts as peaceful dwelling places for thy Saints. Bless this land that it may be sacred as an abode of peace and safety and happy homes for the people. Bless this ground on which this temple is to be erected, that it may be held sacred for this purpose; yea, do grant that this temple ground may never be under the dominion or control of the wicked."

President Young then reiterated his earlier statement that Dixie was a splendid place for raising Saints. "The idea may arise," he said, "that this is a hard land in which to get a living. Now I am very thankful for the land just as it is." He advised that the excavation for the foundation be apportioned to the various wards. Then he called for a show of hands from those willing to unite "by faith, prayer, and good works" in building the temple. The vote was unanimous. After a song by the choir and a number by the band, President Young took a shovel in his hands and said, touching the stake which marked the southeast corner of the building site, "Immediately under this stake and in the foundation will be place a stone containing sacred records, and immediately over this stake, when the building is completed, will be placed another stone containing the records of the temple." Then matching his words with appropriate action he said, "I now commence by removing this dirt - in the name of Israel's God." Everyone in the large audience said with feeling, "Amen."

After the choir and congregation sang "The Spirit of God Like a Fire is Burning," President Young moved the dirt on the east side of the stake, passed the shovel to George A. Smith who took a shovelful from the south side; Erastus Snow moved the soil from the north, and Joseph W. Young from the west. Other dignitaries and prominent citizens took the shovel one by one and removed some earth. President Young again addressed the multitude after which he led them in the Hosanna Shout.

The excavation soon ran into serious water problems. About one-fourth of the foundation rested on solid limestone (on the north side), but the remainder of the building site was marshy. The problem was solved by draining the ground and transporting volcanic lava rocks from the west black mesa near where the airport is today [2010]. A road had to be built on the hill and wagons were needed to bring the stones to the temple site. It was tedious work to quarry the volcanic rock, transport it to the temple site, and drive it into the ground. Today the remnants of the road and quarry can be visited by taking a short hike beginning at the city park near the airport.

Thousands of tons of small rocks were first placed in the marshy soil. Workers then pounded the huge quarried volcanic blocks on top of the small ones. Temple builders developed a pile driver by encasing a field artillery cannon from the Mexican War in heavy ash timbers bound by iron bands. The heavy weight was rigged to cables that pulled it into the air and then released it to fall and pound the large, squared stones deep into the wet soil. By this tedious and laborious method, a firm foundation was created that has served to keep the building solid and unharmed through nearly a century and a half of elements, including a major earthquake in 1992 of 5.7 magnitude on the Richter Scale. The work was slow - draining the ground and pounding each stone until the pile driver bounced three times - indicating that the footing was solid.

Milo Andrus recorded that he was "at work on the temple, which is progressing very well. There are over one hundred men engaged directly on the ground; over one hundred men working in the quarry, and over forty men at Mount Trumbull getting out the lumber. In addition some men are on the road for the purpose of getting wood, coal, etc. Every day the President [Brigham Young] and George A. Smith come to see how the work is progressing." The Huntsman family indicates that three of the sons of James William Huntsman and Hannah Davis were constantly involved in bring food supplies from the northern settlements to help feed the workers. With as many as 240 men active in the construction at one time, the ripple effect of this employment on the local economy was substantial, allowing the establishment of a bakery and several other enterprises nearby.

It took more than two years to complete the temple foundation; its completion was the occasion of a major celebration. During that time, volunteers had constructed a road to Mt. Trumbull on the Arizona Strip where they built a mill to produce a million board feet of lumber.

Red sandstone was brought from the tabernacle quarry for the temple walls; that work consumed another two years. The timbers were then placed and the interior work was begun. The baptismal room was installed in the basement. Iron oxen were cast in Salt Lake City to support the baptismal font. C. L. Christensen (age twenty) and several companions, traveled to the rail station in Juab County to pick up the font and freight its parts to the temple. He recalled that his load, which was the bottom of the font, weighed 2,900 pounds, along with two cast oxen, each weighing 600 pounds. Much of the travel back to St. George was done at night when it was cooler for both men and oxen. On the return trip, Christensen and other freighters frequently were forced to search for oxen that had broken away in search of water. But as Christensen relates: "The teamsters had plenty of good Dixie wine to keep them cool and we certainly enjoyed it."

The entire undertaking was a construction saga. Most of the labor was performed by volunteers who were "called" to the task. They left families to come to the site; families that had to be supported by neighbors or by payments in kind from the tithing office (if the goods could be transported to them). There was a real camaraderie amongst the workers, many of whom learned their skills on the job. In general, the project was completed without serious accident, though John Burt fell seventy feet from the scaffolding and was not expected to live. He did, however, and was back at the building site within two weeks to visit his brethren. It was a thrill to all and an achievement -- that no lives were lost during the building of the temple; nor of the tabernacle.

When the baptismal room and lower floor of the temple were completed, they were dedicated by Apostle Wilford Woodruff on January 1, 1877; temple ordinances were begun on January 9. Some non-temple marriages and baptisms had taken place in the temple prior to its dedication. This temple was the first temple where endowments for the dead were performed. The temple was finally completed for the Church's general conference on April 6. 1877. The Quorum of Twelve Apostles and The First Presidency gathered in St. George for the conference. It was a momentous occasion. The people of southern Utah felt it was their own achievement; and certainly all the area tithe payers had given measurably to the edifice. Local records show donations of $.25 and up to $5.00 per family from time to time during the construction. Wilford Woodruff was appointed temple president.

The completion of the temple was not without its quirks. When Brigham Young saw the completed building, he was disappointed with its steeple. He felt that it was too squat, not achieving the dignity worthy of the grand structure; however, in deference to the builders, he did not require a change in its height. He had been willing to insist on a lowering of the balcony in the tabernacle because that was a matter of function, but the temple steeple was mainly decorative. Perhaps his desire to see the dedication as soon as possible overrode his disappointment with the tower; however, his displeasure about the short tower was not secret. Had he insisted on changing it, he would not have lived to see the temple completed. He died just six months after the temple dedication. As shown above, some two years later, in a severe cloudburst, lightening struck the temple tower. It had to be replaced. The builders got the message. The new tower was twice as tall as the former. Was Brigham Young allowed to orchestrate that lightening strike? It would not be surprising if that were the case.

Completion of the temple seemed to signal the end of the pioneer period in Dixie. By that time communities had been firmly established throughout the area, into Nevada, Arizona, and all over southern Utah. Communications with the growing California population was continual. The Native Americans in many cases had joined the Church; warfare with them was basically over. Many had died from associations with the Mormons as recently discussed by Edward Leo Lyman in an important lecture on how the two cultures interacted and changed.

The Church's public works projects had been a great boon to the economy. Roads, mills, and craft shops that had been created for the tabernacle and temple could be utilized in other projects without subsidy. Clearly St. George and its sister communities nearby were firmly established as the southern bastion of Mormon country. They would now become the sponsor of other new settlements including those on the Little Colorado River in Arizona and in New Mexico and Mexico.

The founding fathers of the United States of America appeared twice to President Wilford Woodruff in the temple, asking why their temple work had not been performed on their behalves. Many other notables personages of history were subsequently done as part of this process.

In November 1928, fire broke out, destroying the temple annex. All records and furnishings were saved.

The St. George Temple was extensively remodeled for over a year from 1937 to 1938. The lower hall was permanently divided into progressive-style muraled endowment rooms.

Today's annex, located on the north side of the temple, was constructed in the 1950s and serves as the entrance to the temple.

Following a second major renovation project, the St. George Temple nearly doubled its 56,062 square feet. The progressive-style ordinance rooms, used to present 3 live-acting endowment sessions a day, were replaced with three motion-picture ordinance rooms that presented 14 sessions a day.

A public open house was held on October 15-25, 1975.

The temple was rededicated on November 11-12, 1975 by Spencer W. Kimball.

The St. George Temple was put on the National Register of Historic Places (#1977001325) on November 7, 1977.

Presidents of the St. George Temple
Wilford Woodruff (1877-1884)
John D. T. McAllister (1884-1893)
David H. Cannon (1893-1924)
Thomas P. Cottam (1925-1926)
Edward H. Snow (1926-1932)
George F. Whitehead (1932-1937)
Harold S. Snow (1937-1963)
Rudger C. Atkin (1963-1970)
Reed Whipple (1970-1976)
Grant M. Bowler (1976-1981)
John M. Russon (1981-1986)
Thomas L. Esplin (1986-1989)
Conrad V. Hatch (1989-1992)
J. Thomas Fyans (1992-1995)
Kenneth R. Metcalf (1995-1998)
Malcolm S. Jeppsen (1998-2001)
L. David Muir (2001-2004)
Harold H. Hiskey (2004-2007)
Robert F. Orton (2007-2010)
Bruce C. Hafen (2010- )



PHOTOS
| | |
| --- | --- |
| East/front side of the Temple (A. D. Roberts, July 1976) | South and east/front sides of the Temple (A. D. Roberts, July 1976) |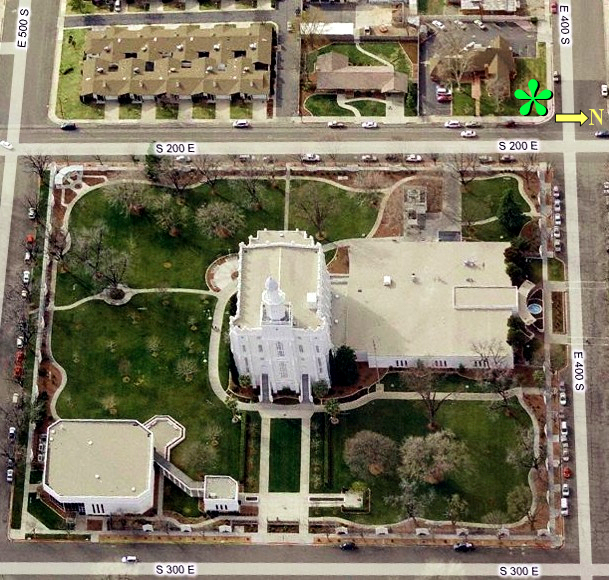 Aerial view of the Temple block about 2011

WCHS photos:
WCHS-00556 Jon Bowcutt sketch of the St. George Temple
WCHS-00703 2nd annual Pioneer Courthouse Invitational Art Exhibit poster
WCHS-00713 12th annual Pioneer Courthouse Invitational Art Exhibit poster
WCHS-00881 St. George Temple postcard
WCHS-00882 St. George Temple postcard
WCHS-00883 St. George Temple postcard
WCHS-00884 St. George Temple postcard
WCHS-00885 St. George Temple postcard
WCHS-00886 St. George Temple postcard
WCHS-01128 Photo of group of temple workers with a horse drawn wagon used to transport them
WCHS-01129 Photo of the horse drawn Temple Wagon
WCHS-01130 Photo of the partially completed St. George Temple
WCHS-01131 Photo of the St. George Temple
WCHS-04183 Photo of the St. George Temple

Other photos on the web:
http://contentdm.li.suu.edu/cdm4/item_viewer.php?CISOROOT=/adams&CISOPTR=80
http://contentdm.li.suu.edu/cdm4/item_viewer.php?CISOROOT=/palmer&CISOPTR=1386
http://contentdm.li.suu.edu/cdm4/item_viewer.php?CISOROOT=/palmer&CISOPTR=1387
http://contentdm.li.suu.edu/cdm4/item_viewer.php?CISOROOT=/palmer&CISOPTR=1389
http://contentdm.lib.byu.edu/cdm4/item_viewer.php?CISOROOT=/RelEd&CISOPTR=2995
http://contentdm.lib.byu.edu/cdm4/item_viewer.php?CISOROOT=/RelEd&CISOPTR=4704
http://contentdm.lib.byu.edu/cdm4/item_viewer.php?CISOROOT=/RelEd&CISOPTR=5703
http://contentdm.lib.byu.edu/cdm4/item_viewer.php?CISOROOT=/RelEd&CISOPTR=5704
http://content.lib.utah.edu/cdm4/item_viewer.php?CISOROOT=/Photo_Arch_Two&CISOPTR=1941
http://content.lib.utah.edu/cdm4/item_viewer.php?CISOROOT=/Photo_Arch_Seven&CISOPTR=2304
http://content.lib.utah.edu/cdm4/item_viewer.php?CISOROOT=/Photo_Arch_Seven&CISOPTR=2382
http://content.lib.utah.edu/cdm4/item_viewer.php?CISOROOT=/Photo_Arch_Seven&CISOPTR=2883
http://content.lib.utah.edu/cdm4/item_viewer.php?CISOROOT=/USHS_Shipler&CISOPTR=8501
http://content.lib.utah.edu/cdm4/item_viewer.php?CISOROOT=/USHS_Class&CISOPTR=5493
http://content.lib.utah.edu/cdm4/item_viewer.php?CISOROOT=/USHS_Class&CISOPTR=5560
http://content.lib.utah.edu/cdm4/item_viewer.php?CISOROOT=/USHS_Class&CISOPTR=5561
http://content.lib.utah.edu/cdm4/item_viewer.php?CISOROOT=/USHS_Class&CISOPTR=5562
http://content.lib.utah.edu/cdm4/item_viewer.php?CISOROOT=/USHS_Class&CISOPTR=5563
http://content.lib.utah.edu/cdm4/item_viewer.php?CISOROOT=/USHS_Class&CISOPTR=5564
http://content.lib.utah.edu/cdm4/item_viewer.php?CISOROOT=/USHS_Class&CISOPTR=5565
http://content.lib.utah.edu/cdm4/item_viewer.php?CISOROOT=/USHS_Class&CISOPTR=5566
http://content.lib.utah.edu/cdm4/item_viewer.php?CISOROOT=/USHS_Class&CISOPTR=5567
http://content.lib.utah.edu/cdm4/item_viewer.php?CISOROOT=/USHS_Class&CISOPTR=5568
http://content.lib.utah.edu/cdm4/item_viewer.php?CISOROOT=/USHS_Class&CISOPTR=5569
http://content.lib.utah.edu/cdm4/item_viewer.php?CISOROOT=/USHS_Class&CISOPTR=5570
http://content.lib.utah.edu/cdm4/item_viewer.php?CISOROOT=/USHS_Class&CISOPTR=5571
http://content.lib.utah.edu/cdm4/item_viewer.php?CISOROOT=/USHS_Class&CISOPTR=5572
http://content.lib.utah.edu/cdm4/item_viewer.php?CISOROOT=/USHS_Class&CISOPTR=5573
http://content.lib.utah.edu/cdm4/item_viewer.php?CISOROOT=/USHS_Class&CISOPTR=5574
http://content.lib.utah.edu/cdm4/item_viewer.php?CISOROOT=/USHS_Class&CISOPTR=5575
http://content.lib.utah.edu/cdm4/item_viewer.php?CISOROOT=/USHS_Class&CISOPTR=5576
http://content.lib.utah.edu/cdm4/item_viewer.php?CISOROOT=/USHS_Class&CISOPTR=5577
http://content.lib.utah.edu/cdm4/item_viewer.php?CISOROOT=/USHS_Class&CISOPTR=5578
http://content.lib.utah.edu/cdm4/item_viewer.php?CISOROOT=/USHS_Class&CISOPTR=5579
http://content.lib.utah.edu/cdm4/item_viewer.php?CISOROOT=/USHS_Class&CISOPTR=5580
http://content.lib.utah.edu/cdm4/item_viewer.php?CISOROOT=/USHS_Class&CISOPTR=5581
http://content.lib.utah.edu/cdm4/item_viewer.php?CISOROOT=/USHS_Class&CISOPTR=5582
http://content.lib.utah.edu/cdm4/item_viewer.php?CISOROOT=/USHS_Class&CISOPTR=5583
http://www.rootsweb.ancestry.com/~utwashin/postcards/temple3.html
http://protophoto.com/picture.html?pic=11297
http://protophoto.com/picture.html?pic=11298
http://protophoto.com/picture.html?pic=11299
http://protophoto.com/picture.html?pic=11300
http://protophoto.com/picture.html?pic=11302
http://protophoto.com/picture.html?pic=11303
http://protophoto.com/picture.html?pic=11304
http://protophoto.com/picture.html?pic=11305
http://protophoto.com/picture.html?pic=11306
http://protophoto.com/picture.html?pic=11308
http://protophoto.com/picture.html?pic=11312
http://dostgeorge.com/images/st-george-temple6.jpg
http://dostgeorge.com/images/st-george-temple-5.jpg
Photos from the National Register of Historic Places nomination form



VIDEOS
A Temple Dressed in White
Quadcopter tour of the outside of the St. George Temple
REFERENCES
Official St. George Temple website

St. George Temple Brochure

History of the St. George Temple

History of the St. George Temple

History of the St. George Temple
A BYU masters thesis by Kirk M. Curtis, October 19, 1964

Historical remarks dealing with the building of the St. George Temple
by Heber C. Jones given at a High Priest meeting, March 20, 1977

All That Was Promised, The St. George Temple and the Unfolding of the Restoration
Book by Blaine M. Yorgason, Richard A. Schmutz, Douglas D. Alder
2013

Wikipedia History of the St. George Temple

National Register of Historic Places, Inventory - Nomination Form

Historical Buildings of Washington County (Volume 2), pp. 4-5.

Landmark and Historic Sites: City of St. George
First Edition, January 2, 2009, pp. 48-1 through 48-2
Compiled by the St. George Community Development Department

Landmark and Historic Sites: Informational Guide of Historical Sites within the City of St. George
Second Edition, Revised 2011, pp. 103-104
Compiled by the St. George Community Development Department

Andrew Karl Larson, "I Was Called to Dixie", pp. 577-592.

Brigham got his way
Unidentified newspaper article

SOUTHERN UTAH MEMORIES: St. George Temple
by Loren R. Webb, August 26, 2012

St. George Temple day; a significant, sacred beacon for over 140 years
Article by Reuben Wadsworth, St. George News, October 21, 2018

St. George LDS temple to close for renovations
Article by Mori Kessler, St. George News, January 25, 2019

'Absolutely incredible'; LDS church reveals details of pending St. George Temple renovations
Article by Mori Kessler, St. George News, May 22, 2019

Renovation work on St. George Temple reaches 1-year milestone
Article by Mori Kessler, St. George News, November 6, 2020