LOCATION
97 E. St. George Blvd.
St. George, UT 84770
(435)632-1215
pioneer.courthousesg@gmail.com
https://www.stgeorgepioneercorner.com
https://www.facebook.com/pioneercourthousestg



BACKGROUND
The Pioneer Courthouse, in cooperation with the City of St. George, is currently being managed by the Washington County Historical Society (WCHS), Daughters of Utah Pioneers (DUP), Sons of Utah Pioneers (SUP), and Arts to Zion (A2Z). Starting in December of 2019, this historic building has been dedicated to the promotion and education of Dixie history and the arts. The building had been cleaned up and decorated with displays about the history of the area. Each of the four organizations has a room with displays relating to their areas of inerest. The old courtroom upstairs is available for lecture and other related programs. The old sheriff's office and jail cells in the basement have been opened to visitation. The Courthouse is open to the public with free admission and convenient parking. Current hours are Monday, Friday and Saturday 11:00 AM to 3:00 PM.



UPCOMING ACTIVITIES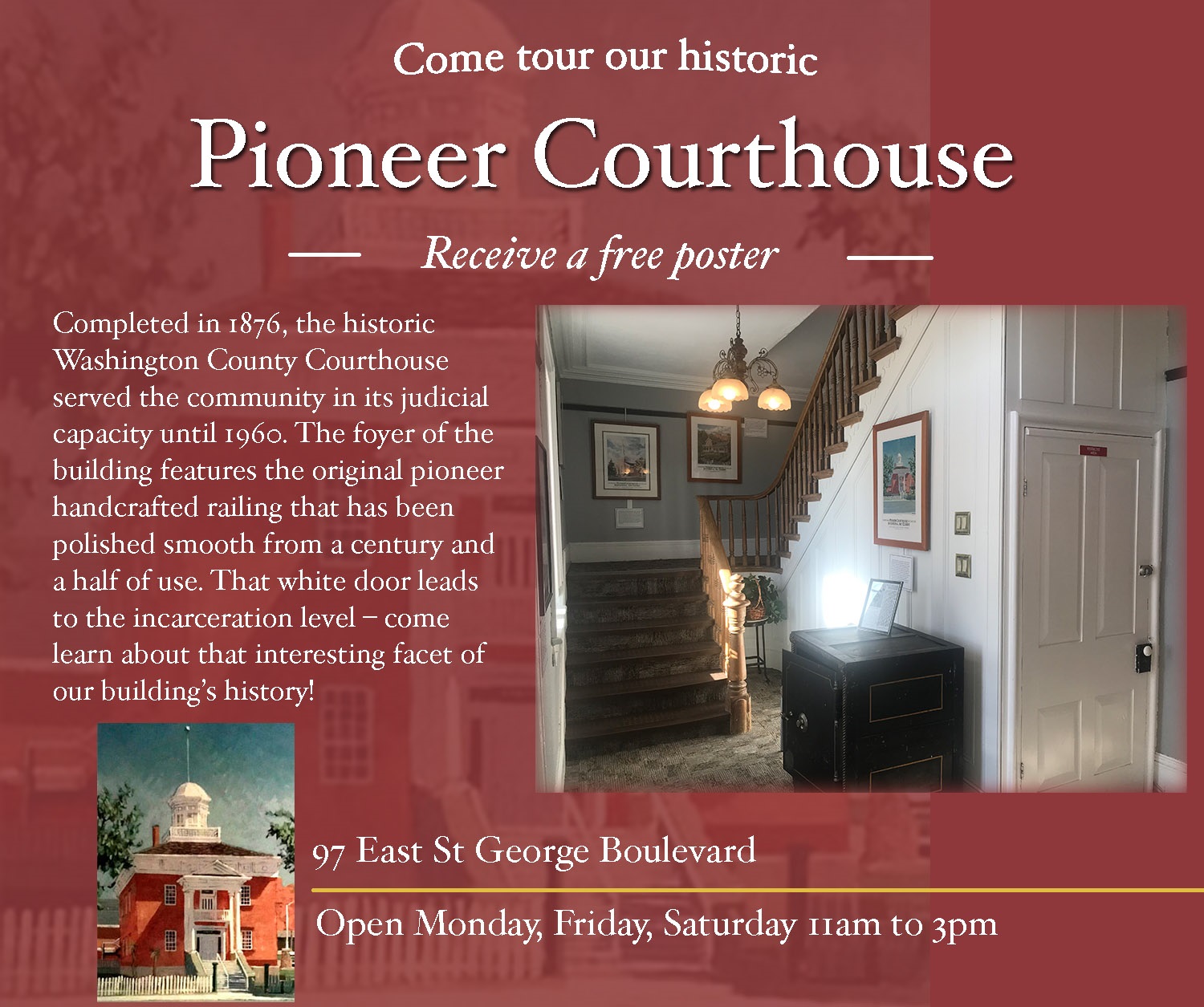 Other than the open house and tours, no other public activities are currently scheduled.



PAST ACTIVITIES
12/5/2019: WCHS Lecture: Richard Kohler on "Washington County's Transformations During Utah's ..."
1/2020: Courthouse January 2020 Calendar of Events
1/9/2020: WCHS Lecture: Dr. Douglas Alder on "The Astounding Achievements of Juanita Brooks"
1/11/2020: Heritage Day Reception and Tour
1/28/2020: SUP Program: Jim Sevy on "This is the Place" Musical Stories
2-3/2020: Courthouse Open Hours for February and March
2/6/2020: WCHS Lecture: Kelton Crooks on "Silver in Sandstone"
2/19/2020: Dixie Encampment Chapter SUP Meeting: Stanley Esplin speaking on the Arizona Strip
2/25/2020: SUP Program: "Dixie Jam", a Dixieland Dance Band Reminiscent of George Staheli's Band
3/5/2020: WCHS Lecture: Dr. Leo Lyman on "The Political Life of Anthony Ivins"
3/31/2020: SUP Program: "Wooden Tantrum", An Award Winning Celtic Band *** CANCELED ***
4/2/2020: WCHS Lecture: Lee Bracken on "The Mountain Meadows Massacre" *** CANCELED ***
5/7/2020: WCHS Lecture: Susannah Nilsson on "Stories of Juanita Brooks" *** CANCELED ***
6/13/2020: St. George Live: Jacob Hamblin and Jane Thompson Bleak.