DESCRIPTION
Historic St. George Live! is a tour of historic venues in St. George, Utah. A minibus takes participants to various
locations where costumed volunteers take the part of early pioneers talking about their times and places.
Restrooms and water are available at each venue.

The purpose of the tour is for guests to interact with the pioneers, to see a replica of the odometer that crossed
the Plains, participate in an irrigation trial, hear the stories of the settlers, and gain a new appreciation for those
who came before us.

Historic St. George LIVE! is planned to entertain family and school reunions, youth and church classes,
women's and business lunch clubs, newcomers, long-time residents, tourists and bus tours. Volunteers include
prominent residents of Washington County, mostly retired, who devote a week each summer to playing the part
of the pioneer, day captain, bus driver, or tour guide.

Tour guides and locations include:
Jacob Hamblin on the Plaza
Orson Pratt in the The St. George Opera House
Erastus Snow in the St. George Tabernacle
Judge John Menzies Macfarlane in the The Old Pioneer Courthouse
A pioneer woman at The Daughters of Utah Pioneers (DUP) McQuarrie Memorial Museum
Brigham Young at the The Brigham Young Winter Home & Office

Tickets can be purchased at the St. George Art Museum. They are $3 per person for ages 12 and older;
children are free when accompanied by an adult. The bus and tour guide are provided.
For more information, contact Debbie Mortenson at (435)668-4213. To schedule group tours, call
Nancy Carlton at (801)458-0717.



STARTING LOCATION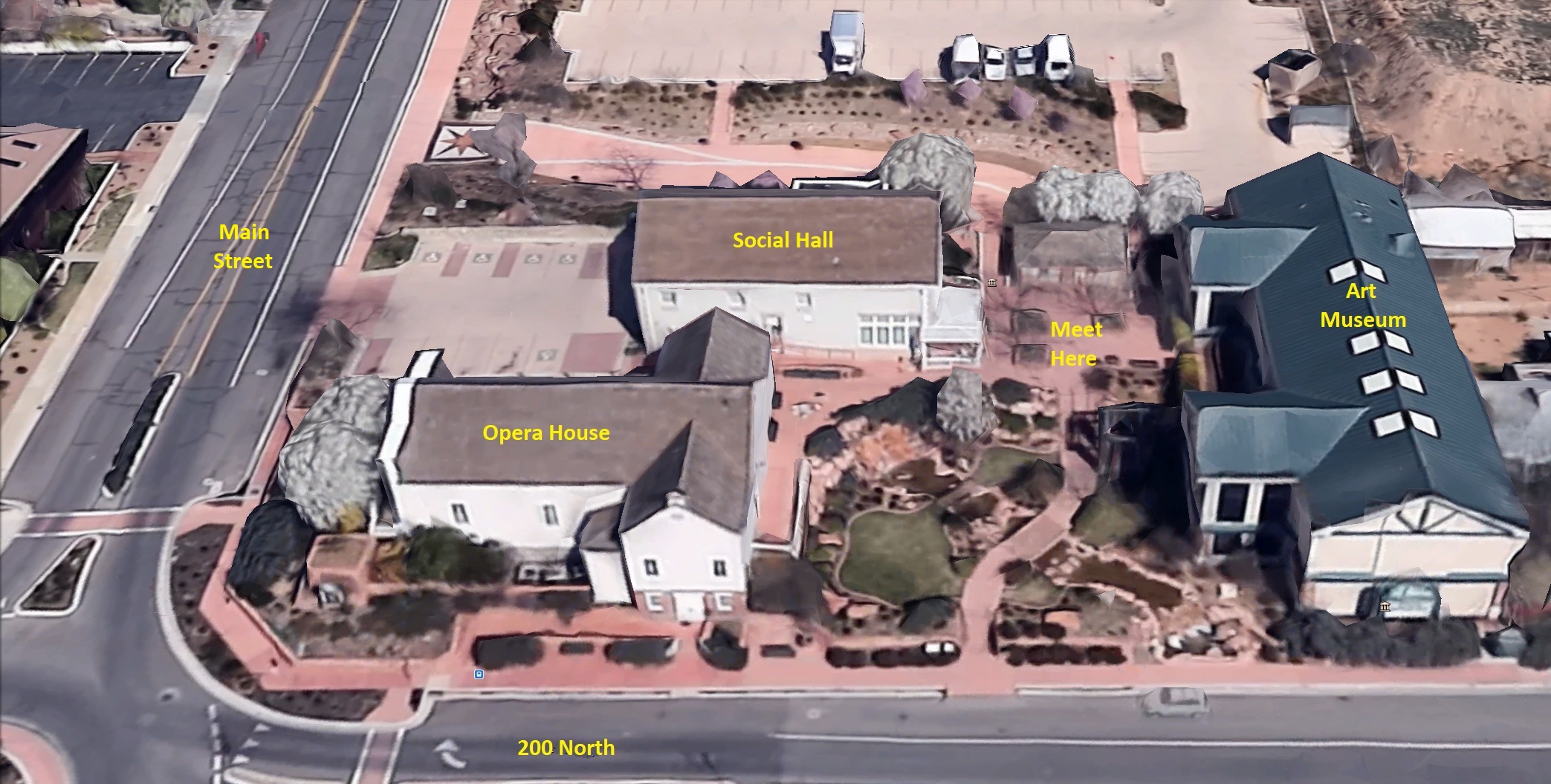 The 2-hour tours begin at 10 a.m. daily on Thursdays, Fridays, and Saturdays, June 3 through August 28, 2021
(except July 3 and 24). Meet at the plaza between the Pioneer Opera House and the Art Museum. Come by
9:45 a.m. to see a flute player, a wool spinner or play some games the pioneer children enjoyed..

St. George Art Museum in the Pioneer Center for the Arts
47 East 200 North, St. George UT 94770
(across from the Main Post Office).

37° 6' 43.03" North Latitude, 113° 34' 57.12" West Longitude
37.1120° North Latitude, 113.5825° West Longitude
2,805 feet (855 meters) MSL



HISTORY
St. George LIVE! started in 1996 as part of Utah's Centennial celebration. It has continued during each
June, July, and August since then.



PHOTOS
TBD



REFERENCES
Historic St. George Live! begins 24th year of entertaining, educating
Article in the St. George News, 6/1/2019