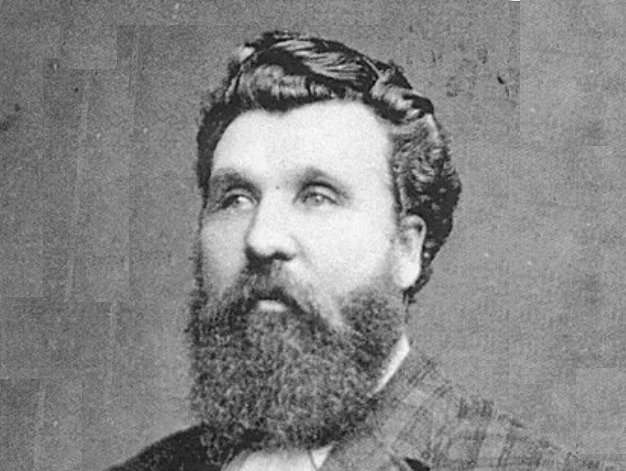 WASHINGTON COUNTY HISTORICAL SOCIETY (Washington County, Utah)
JOHN MENZIES MACFARLANE
(early settler, musician, teacher, farmer, surveyor, attorney, and judge)
BIOGRAPHY
John Menzies Macfarlane was born on October 11, 1833 in Stirling Scotland.

His father died when he was thirteen. When he was sixteen, he moved with his mother, brother, and sister to Glasgow. They immigrated to America and crossed the plains in a wagon company to the Utah Territory, arriving on September 3, 1852 with the first company came under the Perpetual Emigration Fund. They settled in the Sessions Settlement near Salt Lake for a year where John taught school. Church authorities called John to go to Cedar City in 1853 where he also taught school. In June of 1857, Macfarlane was listed as an adjutant to Captain John M. Higbee in one of the companies of the Iron County militia. However, over the summer the militia was reorganized. By September 1857, at the outbreak of the Utah War, Higbee had advanced to major of the 3rd Battalion, and Macfarlane became adjutant to Major Isaac Haight in the 2nd Battalion. It is unclear whether he was present at the 1857 Mountain Meadows Massacre.

Macfarlane moved to the new settlement of Toquerville in 1859. If his crops hadn't failed that year, he might have been a prominent member of that community. He was the first postmaster of Toquerville, and the first postmaster south of Cedar City. He also worked as surveyor, surveying towns, fields and canals. Later in 1859, Macfarlane was requested to return to Cedar City to head their community choir.

Macfarlane was in Cedar City from late 1859 to 1868. In 1862, Macfarlane was one of those who mediated a dispute over water rights between the settlers in St. George and Santa Clara. In 1866, Macfarlane became the Superintendent of Schools in Iron County.

While Macfarlane worked variously as teacher, surveyor, postmaster, attorney, and judge, what garnered him the most renown in his community was his ability as a musician, chorister and song writer. In 1868, Mormon leader Erastus Snow requested that he move to St. George to take over the choir there. John took his two wives (Ann and Tillie) and made the move to St. George.

He was the choir director in St. George for 20 years. He composed two hymns that are still sung in the Church of Jesus Christ of Latter-day Saints. He wrote both words and music to "Far, Far Away on Judea's Plains" (1869), and he composed the music to "Dearest Children, God Is Near You", lyrics written by his associate Charles L. Walker. In the 1870s, a spirit of cooperation among Catholics in the mining town of Silver Reef and Mormons in St. George led the Mormons to offer Father Lawrence Scanlan the use of the recently completed St. George Tabernacle to celebrate mass. Macfarlane's choir provided music for the mass. John surveyed many sites around southern Utah and Eastern Nevada. Because of his Mormon contacts and familiarity with massacre participants, John aided John D. Lee's defense team in providing background on the massacre and contacting witnesses. Macfarlane testified briefly in the 1875 trial on collateral matters such as the whereabouts of certain witnesses. He did not work for Lee in the 1876 trial. He was a County Prosecuting Attorney and District Attorney. In 1879 he was elected as probate judge, which was a county judge in the Territory of Utah. He served there until 1883, when he resigned due to the fact that he couldn't carry out his duties because he was often in hiding from federal marshals looking for polygamists. Macfarlane helped establish the St. George Academy in 1888.

During the anti-polygamy raid of the late 1880s, Macfarlane fled with his third wife (Lizzie) to the Mormon colony in Mexico to escape the warrants of federal marshals. He lived an interesting life in Mexico for several years. His second wife (Tillie) and some of her children joined him in Mexico in 1891.

In 1892, he returned alone to St. George to get some medical attention, and died there on June 4 from heart failure as a complication of diabetes.



FAMILY
Parents and Siblings:
John Macfarlane
Annabella Sinclair
John Menzies Macfarlane
Daniel Macfarlane
Xxxxxxx X. Xxxxxxxx

(xx/xx/xxxx-xx/xx/xxxx) (married xx/xx/xxxx)
(xx/xx/xxxx-xx/xx/xxxx)
(10/11/1833-6/4/1892) (see the wives listed below)
(xx/xx/1837-xx/xx/xxxx) (married Xxxxxxx X. Xxxxxxxx)
(xx/xx/xxxx-xx/xx/xxxx) (married Xxxxxxx X. Xxxxxxxx)

First Wife and Children:
Ann Chatterley
Isaac Chancev Macfarlane
Charlotte Ann (Annie) Macfarlane
Annabella (Bella) Macfarlane
John Morton Macfarlane
Joseph Chatterley Macfarlane
Ellen Macfarlane
Elizabeth Macfarlane
Kate Macfarlane
Daniel Sinclair Macfarlane
William Chatterley Macfarlane


(xx/xx/1837-xx/xx/1926) (married 12/30/1854)
(xx/xx/xxxx-xx/xx/xxxx) (married Xxxxxxx X. Xxxxxxxx)
(xx/xx/xxxx-xx/xx/xxxx) (married Xxxxxxx X. Xxxxxxxx)
(xx/xx/xxxx-xx/xx/xxxx) (married Xxxxxxx X. Xxxxxxxx)
(xx/xx/xxxx-xx/xx/xxxx) (married Xxxxxxx X. Xxxxxxxx)
(xx/xx/xxxx-Infantcy)
(xx/xx/xxxx-Infantcy)
(xx/xx/xxxx-Infantcy)
(xx/xx/xxxx-Infantcy)
(xx/xx/xxxx-Infantcy)
(xx/xx/xxxx-xx/xx/xxxx) (married Xxxxxxx X. Xxxxxxxx)

Second Wife and Children:
Agnes Eliza (Tillie) Heyborne
Sarah Ann Macfarlane
Agnes Eliza (Aggie) Macfarlane
Robert Urie Macfarlane
Catherine Heyborne (Caddie) Macfarlane
Archibald Macfarlane
Jennie Belle Macfarlane
Ann Macfarlane
Menzies John (Bud) Macfarlane
Erastus Heyborne Macfarlane


(xx/xx/1846-xx/xx/1932) (married 10/9/1866)
(xx/xx/xxxx-xx/xx/xxxx) (married Xxxxxxx X. Xxxxxxxx)
(xx/xx/xxxx-xx/xx/xxxx) (married Xxxxxxx X. Xxxxxxxx)
(xx/xx/xxxx-xx/xx/xxxx) (married Xxxxxxx X. Xxxxxxxx)
(xx/xx/xxxx-xx/xx/xxxx) (married Robert Nathaniel Andrus)
(xx/xx/xxxx-xx/xx/xxxx) (married Xxxxxxx X. Xxxxxxxx)
(xx/xx/xxxx-xx/xx/xxxx) (married Xxxxxxx X. Xxxxxxxx)
(xx/xx/xxxx-xx/xx/xxxx) (married Xxxxxxx X. Xxxxxxxx)
(xx/xx/xxxx-xx/xx/xxxx) (married Xxxxxxx X. Xxxxxxxx)
(xx/xx/xxxx-xx/xx/xxxx) (married Xxxxxxx X. Xxxxxxxx)

Third Wife and Children:
Elizabeth Jane (Lizzie) Adams
Emma Adams (Em) Macfarlane
Donald Macfarlane
Samuel Alexander (Alec) Macfarlane
Elizabeth Adams (Bess) Macfarlane
Jane Macfarlane
John Macfarlane
Hubert Adams Macfarlane


(xx/xx/1858-xx/xx/1948) (married 1/30/1879)
(xx/xx/xxxx-xx/xx/xxxx) (married Xxxxxxx X. Xxxxxxxx)
(xx/xx/xxxx-xx/xx/xxxx) (married Xxxxxxx X. Xxxxxxxx)
(xx/xx/xxxx-xx/xx/xxxx) (married Xxxxxxx X. Xxxxxxxx)
(xx/xx/xxxx-xx/xx/xxxx) (married Xxxxxxx X. Xxxxxxxx)
(xx/xx/xxxx-xx/xx/xxxx) (married Xxxxxxx X. Xxxxxxxx)
(xx/xx/xxxx-xx/xx/xxxx) (married Xxxxxxx X. Xxxxxxxx)
(xx/xx/xxxx-xx/xx/xxxx) (married Xxxxxxx X. Xxxxxxxx)
PHOTOS
| | |
| --- | --- |
| John Menzies Macfarlane | John Menzies Macfarlane |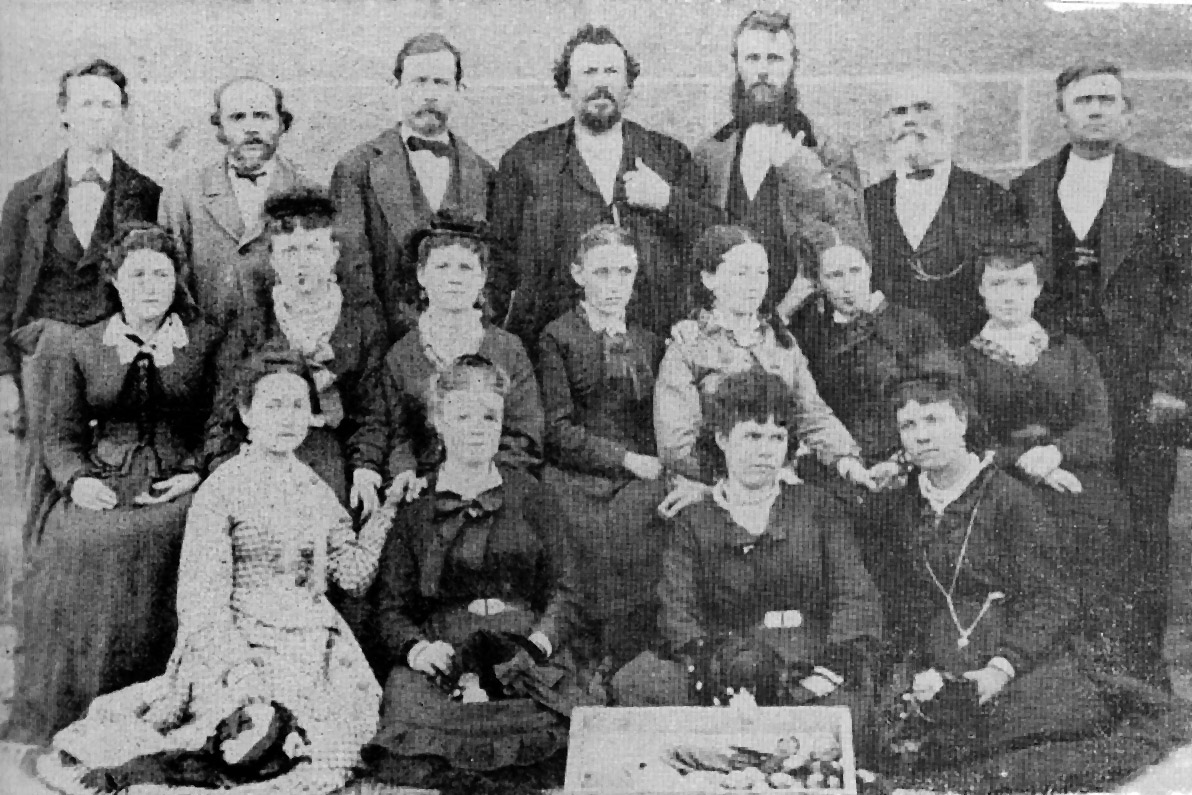 St. George Choir in the 1870s; Choral Director Macfarlane is in the middle of the back row with his hand
on his lapel



REFERENCES
Wikipedia article on John Menzies Macfarlane

Biographical information on the Macfarlane-Sinclair family website

John Menzies Macfarlane
A research report by Elaine Young, Ph.D.

Nothing Wavering article on John Menzies Macfarlane

The Keepapitchinin article on John Menzies Macfarlane

Iron County Militia article on John Menzies Macfarlane

" Musicians of Southern Utah"
Compiled by Doug Liston with H.C. & Kay Hunt and Carol Liston
See Page 260

Find-A-Grave entry for John Menzies Macfarlane