BIOGRAPHY
Lawrence Scanlan was born September, 28, 1843 in Ballytarsna, near Cashel, County Tipperary, in Ireland to Patrick and Catherine (née Ryan) Scanlan.

He studied at All Hallows College in Dublin, where he was ordained to the priesthood on June 28, 1868.

He departed for the United States the following July, later arriving at the Archdiocese of San Francisco in California in November. He then served as a curate at St. Patrick's Church and later at St. Mary's Cathedral. In 1869 he became pastor of Pioche, Nevada.

After briefly returning to California to serve in Petaluma, Father Scanlan volunteered for the mission in the Utah Territory. He arrived in Salt Lake City on August 14, 1873. The church in Salt Lake city did not have a permanent priest even though the parish covered the largest area of any parish in the United States, 84,900 square miles in Utah and 72,667 square miles in Nevada. Of the 800 Catholics in the territory, only 90 lived in the Salt Lake and Ogden areas. So Father Scanlan traveled by horseback, stagecoach, or rail, developing a fairly regular circuit in which he visited the mining camps at Park City, Bingham Canyon, Mercur, Stockton, and Ophir.

Archbishop Joseph S. Alemany of the Diocese of San Francisco asked Father Scanlan to settle in the mining town of Silver Reef and to minister to the miners and their families there.

In 1879, Father Scanlan established the St. John's Catholic Church, the Silver Reef Hospital, and St. Mary's School in Silver Reef.

At the invitation of his friend and housemate, John Macfarlane, a deputy U.S. mineral surveyor at Silver Reef, Father Scanlan offered mass in the newly completed St. George Tabernacle. The St. George Tabernacle choir sang and three thousand people attended the mass. This was the first high mass celebrated in southern Utah.

Father Scanlan was appointed Vicar Apostolic of Utah on November 23, 1886.

Father Scanlan was ordained a Bishop on June 29, 1887.

Father Scanlan was appointed Bishop of Salt Lake City on January 30, 1891.

The greatest achievement during Scanlan's tenure was the Cathedral of the Madeleine in Salt Lake City. The construction of the cathedral was begun in 1900 and completed in 1909. On August 15, 1909, the cathedral was dedicated by Cardinal James Gibbons of Baltimore. The total cost of the construction itself was $344,000, a small fortune for the Utah Catholics of that time.

Father Scanlan died May 10, 1915 at Holy Cross Hospital in Salt Lake City. He was 71 years old. He was buried in the Cathedral of the Madeleine.



PHOTOS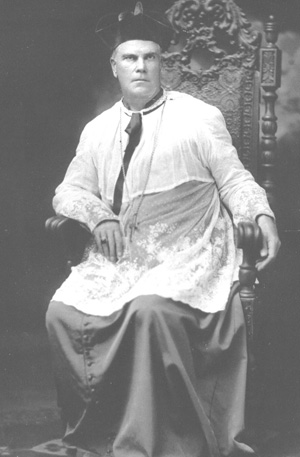 Father Lawrence Scanlan



REFERENCES
Lorraine M. Boyce, "Faith Flourishes in the Desert: A History of St. George Catholic Church".

Bernice Maher Mooney and Msgr. J. Terrence Fitzgerald, "Salt of the Earth, The History of the Catholic Church
in Utah, 1776-2007".

Robert J. Dwyer, "Pioneer Bishop: Lawrence Scanlan, 1843-1915,",
Utah Historical Quarterly (UHQ), Volume 20 (1952)
Pages 135-158

Wikipedia article about Father Scanlan

Utah History to Go article about Father Scanlan

Father Lawrence Scanlan
A research report by Elaine Young, Ph.D.

Utah History Encyclopedia article on the history of the Catholic Church in Utah

Article about the 5/15-16/2004 St. George tribute to Father Scanlan

SOUTHERN UTAH MEMORIES: Father Scanlan Story by Loren R. Webb, September 22, 2012