LOCATION
Silver Reef, UT



HISTORY
Archbishop Joseph S. Alemany of the Diocese of San Francisco asked Father Lawrence Scanlan to settle in the mining town of Silver Reef and minister to the miners and their families. Father Denis Kiely arrived in Utah in 1874 and assisted Father Scanlan in Silver Reef. Fathers Henry T. Hyde, P. O'Conner, and P. Galligan also also served the people in Silver Reef from 1880 to 1882.

In 1879, Father Scanlan established the St. John's Catholic Church, the Silver Reef Hospital, and St. Mary's School in Silver Reef.

When the church was first constructed, it didn't have a tower. But Father Hyde collected money and eventually the tower was erected and a 400 lb bell was installed.

St. John's Church was closed in 1885.

In 1895, William Stirling purchased and moved the vacant St. John's Catholic Church from Silver Reef to Leeds. He converted the building into the Leeds Social Hall or "Old Stirling Hall."



PHOTOS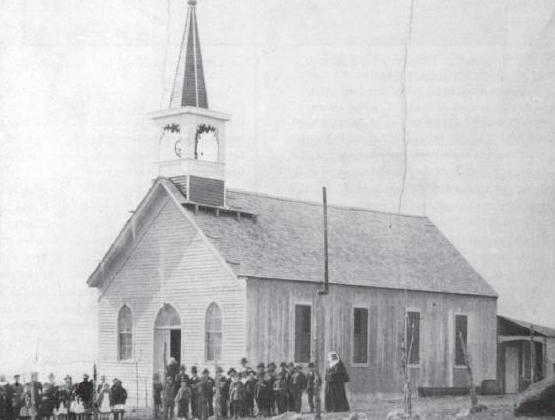 St. John's Catholic Church in Silver Reef, about 1880



REFERENCES
Lorraine M. Boyce, "Faith Flourishes in the Desert: A History of St. George Catholic Church".

Bernice Maher Mooney and Msgr. J. Terrence Fitzgerald, "Salt of the Earth, The History of the Catholic Church in Utah, 1776-2007".