BIOGRAPHY
Arthur went to ungraded schools in St. George until the 7th grade. He graduated from 8th grade in 1904. The next fall he started at the Branch Normal School (B.N.S.) in Cedar City where he graduated in 1907. Since the B.N.S. was a branch of the University of Utah, normally he would have gone there to finish. But he decided to go to BYU instead. Arthur finished high school at BYU and the took college classes earning a teacher certificate which qualified him to teach in the public schools of Utah.

He served as principal of the Santa Clara schools during the 1908-1909 school year and taught 6th, 7th, and 8th grades.

Rather than teaching the next year, Arthur decided to go to college. He received an A.B. degree in May 1912 and an M.A. degree in 1926, both from BYU. He also attended the University of California at Berkeley in 1918 and later the University of Southern California. In 1932 he attended the University of New Mexico at Albuquerque to study Spanish. For his master's thesis, he made a survey of the reading material in the homes of several of the towns in Washington County.

He was elected Superintendent of Schools for Washington County in 1914 and acted in that capacity for one year as well as teaching at the St. George Academy. He was offered the appointment for another year, but decided he liked teaching more than administration.

After getting married, Arthur & Orilla rented homes for three winters, first in the Morris Home until March when it was sold to become a hospital. They them moved to the A. B. Andrus Home on the northeast corner of First West and First South. The summer of 1914, they lived on the homestead in Grassy (Bull Valley). During the two winters, they lived in part of the Charles & Jennie Foster Home on First West and First North and lived in Santa Clara that summer. In the fall of 1915, they bought the home at 148 East Tabernacle that they lived in for the rest of their lives.



FAMILY
Arthur Hafen's Parents and Siblings:
John Hafen
Lenora Knight Hafen
Arthur Knight Hafen
Guy Hafen
Susette Hafen
Jessie Lenora Hafen
Carrie Hafen
John Weston Hafen
Orval Hafen
Maxwell Hafen

(11/27/1862-11/21/1946) (married 2/10/1887)
(2/8/1862-11/7/1913)
(1/14/1888-11/15/1971) (married Orilla Woods)
(11/3/1889-4/25/1983) (married Althea Rebecca Gregerson and Nellie Brown Weiler)
(1/20/1892-2/5/1902)
(8/3/1893-11/15/1953) (married Vivian J. Frei)
(5/20/1896-3/24/1897)
(8/14/1898-8/10/1899)
(11/16/1903-10/3/1964) (married Ruth Clark)
(11/16/1903-7/22/1979) (married Estella Bowler and Emily Jones Lee)

Orilla Woods' Parents and Siblings:
Lamond Cresson Woods
Elizabeth Terry Woods
Orilla Minerva Woods
Ada Woods
Lyman Lamond Woods
Erma Elizabeth Woods
Albert Sirles Woods

Heber Grant Woods
Joseph Frederick "Fred" Woods
Marion Cresson Woods
Luther Eugene "Gene" Woods


(10/31/1866-1/5/1952) (married 11/23/1890)
(10/1/1870-10/3/1907)
(10/13/1891-12/31/1983) (married Arthur Knight Hafen)
(2/18/1893-8/26/1913) (married William Charles Staheli on 5/18/1912)
(4/21/1895-1/23/1959) (married Isa Chadburn on 10/13/1914)
(12/11/1896-5/3/1967) (married Heber M. Holt on 3/27/1918)
(8/29/1898-4/3/1971) (married Monta Neilson on 6/25/1925;
later Lula Johnson Tobler on 1/6/1938, divorced; Lydia Belman Case on 9/2/1944)
(7/7/1900-1/15/1964) (married Gladys Sparks on 11/24/1927)
(8/26/1902-1/15/1964) (married Orpha Hardy on 2/26/1926)
(5/21/1904-4/12/1972) (married ???)
(4/18/1906-6/7/1978) (married Ruth Schumann on 6/12/1934)

Arthur & Orilla Hafen's Family:
Arthur Knight Hafen
Orilla Woods Hafen
Kay Woods Hafen
Carma Hafen
Farrel Arthur "Slim" Hafen
Ada Hafen
Herschel Hafen
Harold John Hafen
Ruth Hafen
Lenora Hafen
Linford Lamond Hafen
Eldon E. Hafen
Erma Hafen
Kenneth Ernest Hafen
L. Kelton Hafen
Lyman K. Hafen
Linda Hafen
Kenneth N. Hafen
Larry Edward "Edd" Hafen
Donald R. Hafen


(1/14/1888-11/15/1971) (married 9/11/1912)
(10/13/1891-xx/xx/xxxx)
(7/31/1913-10/7/1918)
(9/17/1914-11/16/1984) (married Woodrow W. Staheli on 4/20/1932)
(12/26/1915-8/18/1995) (married Vilda Jolley on 6/11/1937)
(6/7/1917-9/7/2008) (married McKay Neilson on 8/6/1940)
(1/22/1919-xx/xx/xxxx) (married Ramona Sproul on 3/26/1948)
(8/23/1920-1/19/2008) (married Colleen M. Atkin on 8/15/1944, divorced; Lorena Brown on 3/17/1952)
(3/16/1922-xx/xx/xxxx) (married Phil E. Squire on 3/24/1943)
(11/16/1923-xx/xx/xxxx) (married Raymond L. Hobbs on 11/29/1942)
(12/6/1925-3/1/1926)
(2/27/1927-xx/xx/xxxx) (married Maxine Pymm)
(12/5/1928-xx/xx/xxxx) (married Leo T. Syphus on 11/26/1948)
(1/10/1931-7/22/1956)
(5/16/1932-xx/xx/xxxx) (married Peggy Ruth Neilson on 11/2/1954)
(9/2/1955-xx/xx/xxxx) (married Debbie Xxxxx)
(6/19/1957-xx/xx/xxxx) (married Xxxxxx X. Xxxxx)
(6/30/1961-xx/xx/xxxx) (married Xxxxxx X. Xxxxx)
(xx/xx/xxxx-xx/xx/xxxx) (married Xxxxxx X. Xxxxx)
(7/19/1933-7/1/2020) (married Elva A. Jones and Sharon X. Xxxxx)
PHOTOS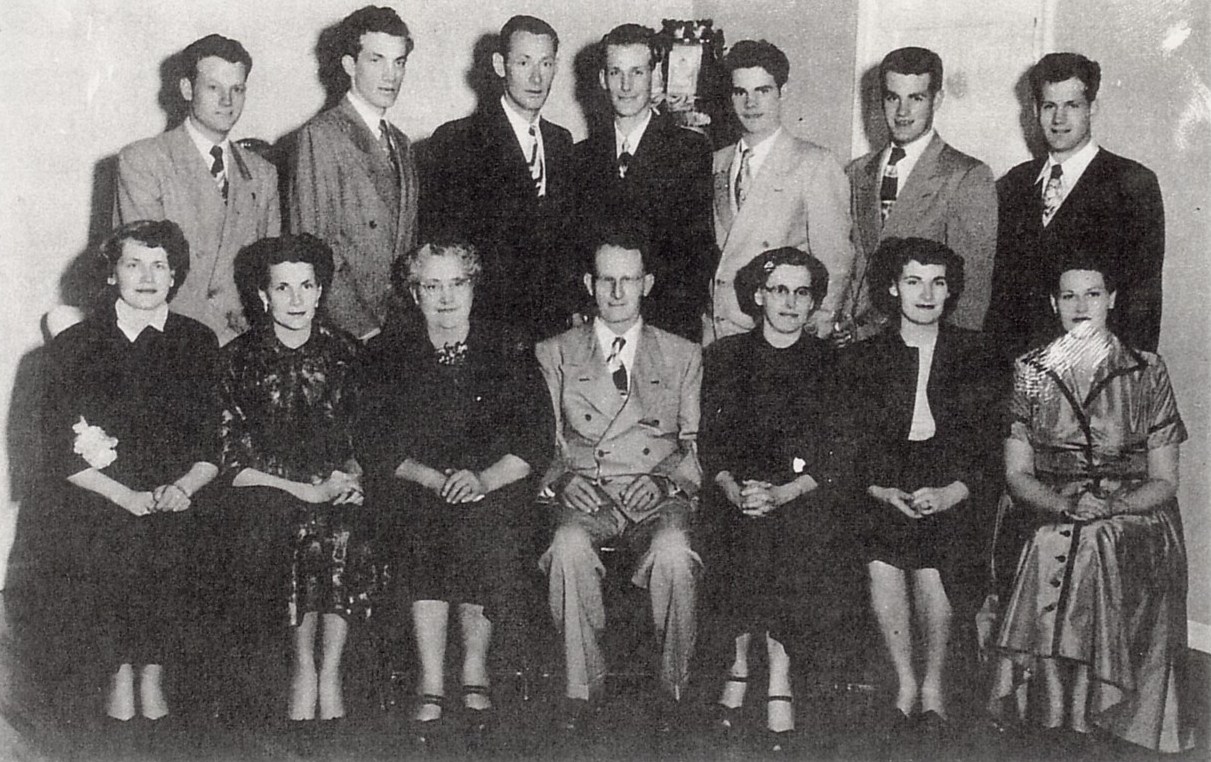 WCHS-01500 Photo of the Arthur & Orilla Hafen and their children

Other WCHS photos:
WCHS-01496 Photo of Arthur & Orilla Hafen in front of their home in St. George
WCHS-01498 Photo of the Arthur & Orilla Hafen
WCHS-01499 Photo of the Arthur & Orilla Hafen
WCHS-01501 Photo of the Arthur & Orilla Hafen family in 1952
WCHS-01502 Photo of the Arthur & Orilla Hafen family
WCHS-02979 Photo of Dallis Mangum and Eldon Hafen in front of an old rock inscription



PUBLICATIONS
Devoted Empire Builders (Pioneers Of St. George)
Book by A. K. Hafen
Published privately, 1969
See the information page.

Dixie Folklore and Pioneer Memoirs
Book by Arthur Knight Hafen
St. George: Privately printed, 1961, 1964
Click here to download the 1961 version



REFERENCES
Autobiographical Sketches of Arthur K. Hafen & Orilla Woods Hafen
Arthur K. and Orilla Woods Hafen Family
Arthur K. Hafen's Dixie State College 1999 Hall of Fame inductee bio
Clippings and photos about the Hafens in Utah
FamilySearch entry for Arthur Knight Hafen
Find-A-Grave entry for Arthur Knight Hafen
FamilySearch entry for Orilla Minerva Woods
Find-A-Grave entry for Orilla M Woods Hafen