BIOGRAPHY
When Melvin was only 13 or 14, he used to drive the mail truck to Cedar. That was before you had to have a driver's license. Like most, he liked to drive cars and he was a very good driver. For years, he drove the car that pulled the hearses to the cemetery. His father, Warren, had one of the first cars that came to St. George so this was a special service that they did willingly for many years.

When Melvin was 16, he went to live at the Arrowhead Hotel his father and mother owned at that time. He spent most of his time working in the Garage and watching the Hotel in the evening and at night.

During his youth and after his marriage he worked at several jobs in several Western states: mechanic, building the road through the Zion Park tunnel, selling cars, etc.

Melvin and Harriet were married on August 24, 1924.

In 1933, they began a business called the Arrowhead Department Store. Their son, Norman Cox, bought the business around 1971.

The Melvin & Harriet Cox family moved into their new home at 555 West 600 North in 1939.

Melvin was always good in math and tried to get all of his grandchildren to learn the times-tables and tell them to him quickly. He would give them a silver dollar if they could say them fast enough. He brought the money bag home with him at night and would have them practice counting back change so that they would be prepared when they started working.

Melvin died on August 3, 1960 of kidney cancer which spread to his lungs. He was buried in Plot C_27_6_5 of the St. George City Cemetery.

Harriet died on December 12, 1986 and was buried in Plot C_27_6_4 of the St. George City Cemetery.



FAMILY
Melvin's Parents and Siblings:
Warren Cox
Mary Etta Lee
Paul Raymond Cox
Lee Warren Cox
Areta Cox
Melvin "Mel" Eugene Cox
Lida Cox
Leona Cox
Vinal Loraine "Coxie" Cox
Kenneth "Ken" Lavon Cox
Marie Cox
Irene Cox
Noma Cox

(7/4/1872-7/3/1954) (married 9/5/1894)
(4/6/1875-8/17/1968)
(6/17/1895-6/17/1895)
(6/17/1896-10/8/1932) (married Golda Maude Prince on 6/12/1919)
(7/9/1898-2/20/1978) (married Vernon Church on 6/14/1917)
(12/18/1900-8/3/1960) (married Harriet Hoyt on 8/24/1924)
(5/19/1903-7/12/1978) (married William Harvey Prince on 3/31/1922)
(12/21/1905-1/23/1992) (married Rudger Clawson Atkin on 2/5/1925)
(2/25/1908-5/12/2005) (married Anna Carter on 9/12/1929; Lutie Lytle on 11//14/1996)
(1/11/1910-3/14/1989) (married Anna Ida Farrer on 2/12/1936)
(6/11/1913-) (married Athe Meeks on 3/15/1933)
(7/13/1915-4/28/2001) (married Walter Stevens Brooks on 8/1/1939)
(11/25/1917-3/14/1993) (married Richard Sullivan Bentley on 12/19/1934)

Harriet's Parents and Siblings:
Josiah Miller Hoyt
Ellen Alice Spencer
Nellie Louisa Hoyt
Howard Orson Hoyt
Israel Hoyt
Frederick Cross Hoyt
Edith Hoyt
Josiah Miller Hoyt
Timothy Hoyt
Annie Hoyt
Ervin Hoyt
Edward Vincent Hoyt
Harriet Hoyt


(4/26/1863-2/21/1904) (married 3/10/1882)
(4/22/1866-12/17/1957)
(xx/xx/1884-xx/xx/1967) (married Xxxxxxx X. Xxxxxxxx)
(xx/xx/1886-xx/xx/1887)
(xx/xx/1888-xx/xx/1965) (married Xxxxxxx X. Xxxxxxxx)
(xx/xx/1890-xx/xx/1976) (married Xxxxxxx X. Xxxxxxxx)
(xx/xx/1892-xx/xx/1969) (married Xxxxxxx X. Xxxxxxxx)
(xx/xx/1894-xx/xx/1967) (married Xxxxxxx X. Xxxxxxxx)
(xx/xx/1896-xx/xx/1970) (married Xxxxxxx X. Xxxxxxxx)
(xx/xx/1897-xx/xx/1976) (married Xxxxxxx X. Xxxxxxxx)
(xx/xx/1899-xx/xx/1974) (married Xxxxxxx X. Xxxxxxxx)
(xx/xx/1902-xx/xx/1902)
(3/16/1904-7/18/1984) (married Melvin Eugene Cox on 8/24/1924)

Melvin & Harriet's Children:
Mona Cox
Norman Hoyt Cox
LoLeta Cox
Lorna Cox


(2/12/1926-12/12/1986) (married Robert Charles Smith, Cloyd Garth Barton)
(2/16/1927-2/12/2013) (married Mary Dawn Barton)
(8/12/1930-5/7/2013) (married Harold Herman Jackson)

PHOTOS
| | |
| --- | --- |
| Melvin in 1924 | Melvin in 1944 |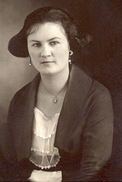 Harriet in 1924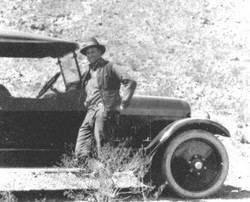 Melvin and his car

WCHS photos:
WCHS-01079 Photo of the Cox Garage with Melvin and others
WCHS-01080 Photo of Melvin Cox in front of the Arrowhead Garage
WCHS-01084 Photo of the staff in front of the Arrowhead Department Store
WCHS-01085 Photo of Melvin Cox and a gas pump in front of the Arrowhead store
WCHS-01086 Photo of Melvin Cox with his arrowhead shaped beard
WCHS-01087 Photo of Melvin Cox with his arrowhead shaped beard
WCHS-01109 Photo of the Warren Cox family dressed up for a Halloween Ball
WCHS-01110 Photo of the Warren Cox family dressed up for a Halloween Ball
WCHS-01111 Photo of Harriet & Melvin Cox at their home in St. George
WCHS-01112 Photo of Melvin Cox with a thresher he and his brother, Lee, made
WCHS-01113 Photo of Mary Etta Cox and Melvin Cox
WCHS-01114 Photo of Melvin Eugene Cox and Warren Lee Cox
WCHS-01115 Photo of Melvin Cox and three of his siblings
WCHS-01118 Photo of Lee and Melvin Cox's silage crew working
WCHS-01119 Photo of Lee and Melvin Cox's threshing crew working
WCHS-01120 Photo of Lee and Melvin Cox's silage crew working
WCHS-01121 Photo of work on the Zion tunnel
WCHS-01122 Photo of work on the Zion tunnel
WCHS-01125 Photo of people at a Mutual Improvement Association (MIA) meeting



REFERENCES
Biography of Melvin Cox written by Harriet Cox in 1975
Biography of Melvin Eugene Cox
Genealogy of Melvin Eugene Cox
Find-A-Grave entry for Melvin Eugene Cox with links to ancestors and descendants
Find-A-Grave entry for Harriet Hoyt Cox with links to ancestors and descendants
Find-A-Grave entry for Mona Cox Barton with links to ancestors
Find-A-Grave entry for Warren Cox with links to ancestors and descendants
Find-A-Grave entry for Mary Etta Lee Cox with links to ancestors and descendants