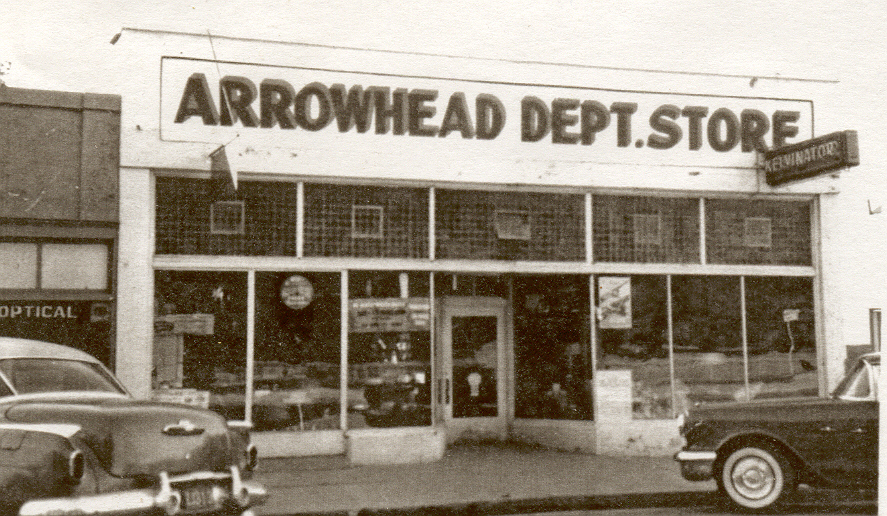 WASHINGTON COUNTY HISTORICAL SOCIETY (Washington County, Utah)
ARROWHEAD DEPARTMENT STORE
(aka Arrowhead Garage, aka Arrowhead Appliance Co, aka Arrowhead Furniture, aka Arrowhead Electronics)
St. George, Utah
LOCATION
56 East Tabernacle
St. George, Utah 84770
Telephone 129 in the 1941 telephone book (listed as Arrowhead Garage and Arrowhead Appliance Co)
Telephone ORchard 3-3586 in the 1958, 1961, and 1972 telephone books (listed as just Arrowhead in 1972)

37° 6' 28" North Latitude, 113° 34' 57" West Longitude
2,741 feet MSL

Plat A, Block 15, probably Lot 6 on the old pioneer map of St. George.



HISTORY
In 1933, Melvin Eugene & Harriet Hoyt Cox rented the Whitehead Store building at 56 Tabernacle for $50 per month. This allowed them to add saled of farm machinery and appliances to their previously existing car sales and repair business.

They sold J.I. Case Farm Machinery and later John Deere farm machinery. They also got a contract to sell Kelvinator appliances. They had a sales floor for appliances in front and continued the garage in the back part of the building. They had two old trucks they used to deliver the appliances around the St. George area and as far away as Mesquite and Bunkerville Nevada.

At one point, they had a fire. The building was made of cement, including the roof, but there was a lot of interior damage. But there was one beneficial result. They had tried to buy the building, but the owner wouldn't sell. Because of the fire, they were able to purchase the building for $6,000. Their payments continued at about $50 per month, so it took a long time to pay off but they eventually owned the building.

They didn't have the garage in the store after the fire. It was then that they built the warehouse and garage in the back part of the lot. It was during those years after the fire and repair of the building that they decided to go into the furniture business.

The store evolved into a department store that sold everything from clothing, nick nacks, gifts, appliances, furniture, toys, Madam Alexander dolls, paint, wallpaper, tools, and other items for a home as well as the tractors for the farmers. It was variously known at the Arrowhead Appliance Company, Arrowhead Furniture, and by 1955 had taken on the name, Arrowhead Department Store. In later years, the store sold electronics and was known as Arrowhead Electronics.

For many years they had a fun event called "John Deere Days" where they would have movies about the John Deere factory and show off the tractors.

Melvin Cox wore a beard cut in the shape of an Arrowhead for an event sponsored by one of the civic clubs to raise money. They fined him for advertising! See WCHS-01086 and WCHS-01087.

Melvin & Harriet's son, Norman Cox, bought the business about 1971. He had been working it since he got out of the Navy. He, along with his wife, Joyce, and son, Ronald, continued to run the business for a number of years.

The building is currently vacant; see WCHS-00519.



PHOTOS

Other WCHS photos:
WCHS-00386 Photo of the Arrowhead merchantile store in St. George
WCHS-00519 Photo of the vacant Arrowhead Department Store building in 2009
WCHS-01083 Photo of the front of the Arrowhead Department Store
WCHS-01086 Photo of Melvin Cox with his arrowhead shaped beard
WCHS-01087 Photo of Melvin Cox with his arrowhead shaped beard
WCHS-01088 Cover of the Farmer's Pocket Ledger Notebook from John Deere



REFERENCES
Biography of Melvin Cox written by Harriet Cox in 1975, Pages 9-10