BIOGRAPHY
Charles Beal Westover, Jr. was born in Salt Lake City on October 16, 1850.

Ellen Parker was born in Beaver, Utah on February 5, 1860.

Charles and Ellen were married in Washington City on April 22, 1883.

In 1900 census (6/21/1900), Charles & Ellen were living next door to Ellen's parents, Robert and Ann Parker. In
the 1910, census the Westovers were living on Main Street in Washington. Page 244 the book "Under Dixie Sun"
says Charles Westover had a small store directly across and west of Nisson's store. That would be the lot across
from todays post office.
In the book, "Utah's 'Dixie' Birthplace", there is a map showing lot numbers. It may be we can locate the house
they lived in. Lots 6, 7, 11 & 13 of Section 19 and lots 6 & 7 of Section 20.

Charles died in Washington City on January 8, 1921 and was buried in the Washington City Cemetery
on January 11.

Ellen died in Washington City on October 22, 1939 and was buried in the Washington City Cemetery.



FAMILY
Charles' Parents and Siblings:
Charles Beal Westover
Eliza Ann Haven Westover
Charles Haven Westover
Oscar Fitzland Westover
Eliza Ann Westover
Harriet Azalia Westover
Theressa Maria Westover
Artemetia "Mishie" Westover
John Haven Westover
William Albert Westover
Lewis Burton Westover

Minnie Temple Westover
Clara Ellen Westover

(11/25/1827-11/4/1919) (married 10/14/1849)
(5/15/1829-1/20/1923)
(10/16/1850-1/8/1921) (married Ellen Parker)
(11/3/1852-xx/xx/xxxx) (married Elizabeth Annie Xxxxxxxx)
(12/17/1854-3/17/1938) (married Lemuel Hardison Redd, Jr.)
(1/9/1856-xx/xx/xxxx) (married Charles Grasey)
(1/28/1859-6/10/1899) (married Charles Edward Thompson Knell)
(1/3/1861-3/10/1926) (married Leonard Smith Conger)
(4/20/1863-8/17/1864)
(6/26/1865-xx/xx/xxxx) (married Xxxxxxx X. Xxxxxxxx)
(5/14/1868-8/28/1966) (married Eliza Johanna Funk
and Pearl King Leonhardt)
(11/18/1870-3/24/1945) (married Arthur Alfred Paxman)
(2/10/1873-2/28/1875)

Ellen's Parents and Siblings:
Robert Parker
Ann Ruth Hartley Parker
Maximillian Parker
Martha Alice Parker
Margaret Ann Parker
Arthur Hartley Parker
Emily Parker
Ada Parker
Robert Parker
Ellen Parker
Ruth Caroline Parker


(3/19/1820-2/24/1901) (married 5/24/1843)
(3/22/1819-1/25/1899or1901)
(6/8/1844-7/28/1938) (married Ann Campbell Gillies)
(5/22/1846-12/17/1925) (married John Stillman Woodbury)
(3/8/1848-7/28/1848)
(4/18/1850-7/16/1869)
(6/16/1852-6/16/1852)
(5/29/1855-5/7/1930) (married Brigham Young McMullin)
(1/12/1858-2/xx/1859)
(2/5/1860-10/22/1939) (married Charles Westover, Jr.)
(4/5/1862-9/2/1945) (married David McMullin)

Charles & Ellen's Family:
Charles Beal Westover, Jr.
Ellen Parker Westover
Ellen Theresa Westover
Edgar Leroy Westover
Charles Herbert Westover
Hella M. "Nellie" Westover
Parker Elbridge Westover
Lawrence Anthony Westover
Arthur Haven Westover
Ruth Westover
Ralph Westover


(10/16/1850-1/8/1921) (married 4/22/1883)
(2/5/1860-10/22/1939)
(5/22/1984-6/20/1930)
(11/8/1885-4/6/1937) (married Mary Ann Beacham)
(4/1/1886-1/4/1940) (married Esther Adelia Adams)
(5/26/1887-5/25/1966) (married John David Moss)
(5/10/1890-10/29/1975) (married Phoebe May Averett)
(8/21/1892-10/24/1980) (married Delpha Jolley)
(2/17/1895-2/18/1895)
(2/23/1897-8/30/1988) (married Samuel Melvin Wittwer)
(2/23/1897-8/24/1956) (married Alta Celcilia Oakley and Rosamond Snow)
PHOTOS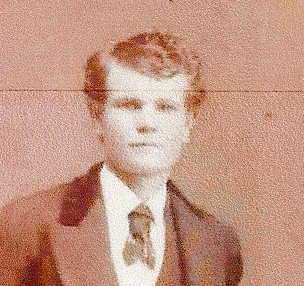 Charles Westover, Jr.



REFERENCES
Charles Westover
A research report by Elaine Young, PhD.

Charles Westover, Jr.'s homestead certificate

Newspaper notice about the death of Charles Westover, Jr.
Iron County Record, January 7, 1921, Page 4

Newspaper article about the death of Charles Westover, Jr.
Washington County News, January 27, 1921, Page 1

Death certificate for Charles Westover

Find-A-Grave entry for Charles Westover, Jr

Newspaper article about the hit-and-run death of Ellen Westover
The Daily Herald, October 24, 1939, Page 1

Newspaper obituary of Ellen Parker Westover

Find-A-Grave entry for Ellen Parker Westover