BIOGRAPHY
Arthur Alfred Paxman was born in Bishops Stortford, Hertferd, England on October 13, 1865.

In July of 1870, the Paxman family (including four children of Elizabeth by a former marriage) emigrated from England to Utah. Shortly after arriving in Salt Lake, Pres. Brigham Young asked the family to go down and settle in Southern Utah. David's four stepchildren and George stayed in Salt Lake, but David, Elizabeth, and the other four children made the move.

David ran the flour mill in Washington for all his working years. Arthur helped his father in the mill and learned the trade. After the death of Arthur's mother, his father married a widow, Frederika Thompson on February 21, 1885. She had a little daughter, Cora.

Arthur married Minnie Westover in the St. George Temple on her 17th birthday, November 18, 1887.

[Add information about their life in Washington before and during Arthur's mission]

Arthur left on a misson on October 4, 1899. He was assigned to the Ohio Conference of the Southern States Mission. There he served for about two years, returning in 1901.

During the latter part of Arthur's mission, Minnie worked as a cook out at the Grand Gulch Mine on the Arizona Strip. She took the three younger children with her, but Alice stayed with the Westover grandparents so that she could go to school. After Arthur returned from his mission, he was offered a job out at the Grand Gulch Mine and he worked there briefly. But the Paxmans soon moved back to Washington to have Alice join them.

[Add information about their properties and life in Washington]

Shortly after returning from his mission, Arthur was called into the bishopric of the Washington Ward. He served in that bishopric for the rest of his life. He was the Second Counselor to Bishop Andrew Sproul Sr. and Andrew Hyrum Larson was First Counselor. When Calvin Hall was put in as Bishop of the Washington Ward, Arthur was selected as First Counselor. In 1924, Bishop Hall resigned and on September 21 Arthur was made Bishop with Victor Iverson and John Tanner as his counselors.

In the Fall of 1906 and again in 1912, Arthur was elected County Assessor on the Democratic ticket. Later, he was appointed Justice of the Peace in Washington. In 1914, he won the election for County Attorney. On November 7, 1916, Arthur was elected State Representative from Washinton County and served in the capacity for two years.

Arthur served on the Washington County Council of Defense.



FAMILY
Arthur's Parents and Siblings:
David Paxman
Elizabeth Ann Blunden Paxman
George Paxman
Rhoda Esther Paxman
Emily "Em" Paxman
Elizabeth Paxman
Hyrum Paxman
Arthur Alfred Paxman
Ellnon Paxman
Alice Paxman

(xx/xx/xxxx-xx/xx/xxxx) (married 7/22/1854)
(xx/xx/xxxx-2/2/1883)
(xx/xx/xxxx-xx/xx/xxxx) (married Xxxxxxx X. Xxxxxxxx)
(xx/xx/xxxx-xx/xx/1871)
(xx/xx/xxxx-xx/xx/xxxx) (married Gason/Gearson Bastian)
(xx/xx/xxxx-xx/xx/xxxx) (married James E. Turner)
(xx/xx/xxxx-xx/xx/xxxx)
(10/13/1865-3/28/1925) (married Minnie Temple Westover)
(5/29/1867-8/xx/1870)
(4/16/1869-8/xx/1870)

Minnie's Parents and Siblings:
Charles Beal Westover
Eliza Ann Haven Westover
Charles Haven Westover
Oscar Fitzland Westover
Eliza Ann Westover
Harriet Azalia Westover
Theressa Maria Westover
Artemetia "Mishie" Westover
John Haven Westover
William Albert Westover
Lewis Burton Westover

Minnie Temple Westover
Clara Ellen Westover


(11/25/1827-11/4/1919) (married 10/14/1849)
(5/15/1829-1/20/1923)
(10/16/1850-1/8/1921) (married Ellen Parker)
(11/3/1852-xx/xx/xxxx) (married Elizabeth Annie Xxxxxxxx)
(12/17/1854-3/17/1938) (married Lemuel Hardison Redd, Jr.)
(1/9/1856-xx/xx/xxxx) (married Charles Grasey)
(1/28/1859-6/10/1899) (married Charles Edward Thompson Knell)
(1/3/1861-3/10/1926) (married Leonard Smith Conger)
(4/20/1863-8/17/1864)
(6/26/1865-xx/xx/xxxx) (married Xxxxxxx X. Xxxxxxxx)
(5/14/1868-8/28/1966) (married Eliza Johanna Funk
and Pearl King Leonhardt)
(11/18/1870-3/24/1945) (married Arthur Alfred Paxman)
(2/10/1873-2/28/1875)

Arthur & Minnie's Family:
Arthur Alfred Paxman
Minnie Temple Westover Paxman
Alice Eliza Paxman
Arthur Alfred Paxman, Jr.
Charles Haven Paxman
Hattie Azalia Paxman
Golden David Paxman
Minnie Elizabeth Paxman
Lula Paxman
Lynn Westover Paxman


(10/13/1865-3/28/1925) (married 11/18/1887)
(11/18/1870-3/24/1945)
(4/9/1889-2/3/1940) (married Louis Romney Lund)
(9/18/1891-3/12/1962) (married Mary Ann McAllister and Linna Snow)
(4/22/1894-7/16/1973) (married Eva Pearl Alger)
(12/31/1896-7/27/1951) (married Bert Webb)
(2/4/1903-9/14/1952) (married Rokah Tanner)
(9/11/1905-10/30/1982) (married Lorenzo Power Vincent)
(10/13/1908-12/15/1979) (married James Clark Chadburn)
(5/18/1912-3/23/1992) (married Arline Estella Webb,
Flora Gwen Jenkins, and Ethel Riordan)
PHOTOS
| | | |
| --- | --- | --- |
| Young Arthur | Older Arthur | Minnie |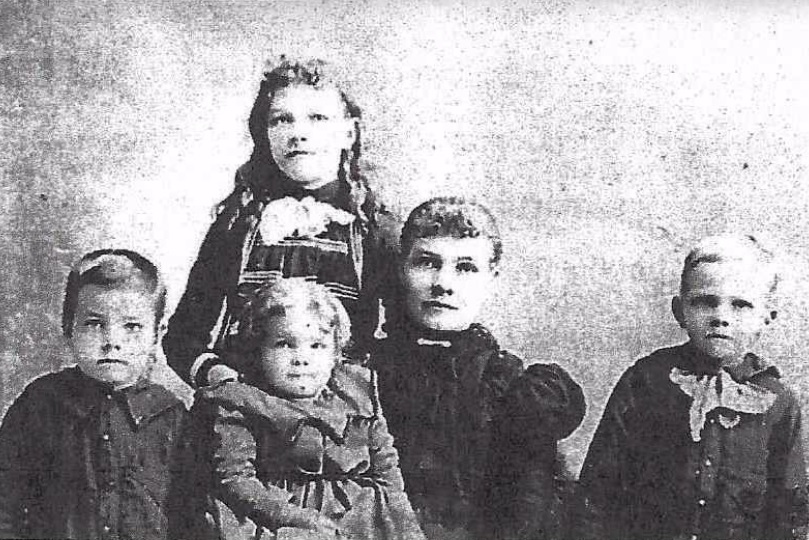 Left to right: Haven, Hattie, Alice (back), Minnie, and Artie about 1899

Photos on the web:
Arthur Alfred Paxman in the Utah House of Representatives
Arthur Alfred Paxman in the Washington County Council of Defense



REFERENCES
"And Some Are Given Other Talents"
A Life History of Arthur A. Paxman
by Eva A. Paxman and Audrey P. Tobler

"Stoop To Help - Stand Tall In Pride"
A Life Story of Minnie W. Paxman
by Minnie P. Vincent

Latter-Day Saint Biographical Encyclopedia (Volume 4, Page 594) entry for Arthur Alfred Paxman

Geni.com entry for Minnie Temple Paxman

FamilySearch entry for Arthur Alfred Paxman

Find-A-Grave entry for Arthur Alfred Paxman

FamilySearch entry for Minnie Temple Westover

Find-A-Grave entry for Minnie Westover Paxman