HISTORY
In 1907, a number of exploratory wells were drilled near Virgin and oil was discovered at a point about 2 miles northeast of the town. For a short time, exploration was very active. About 15 wells were drilled, most of them grouped around Virgin, but a few of them at some distance from it. Most of the wells were failures, making only small or no showings of oil and gas, though one well in Virgin is said to have produced enough gas to make a flame several feet long for a 2 inch pipe. One well produced some oil and three came in with production stated variously as high as 36 barrels a day, but probably in reality no more than half of that. There was no market for the oil at the time of discovery except as fuel for further drilling, and as the financial panic of 1907 cut down the capital necessary for such exploratory work all activity ceased abruptly.

Nothing more was done in the field until 1918, when the three producing wells were cleaned out and shot. Pumping was started, and a small local refinery was built. A new well was drilled near the old wells and had a production of 4 or 5 barrels a day; a second hole put down on the north bank of Virgin River, about a mile south of the first one, proved to be dry. The total production from the four wells, which were uncased holes 550 to 600 feet deep, was about 20 barrels a day as of September, 1920. The bulk of this amount came from one well, with the other wells pumping much more water than oil. The refinery could handle 800 gallons of crude oil per 8-hour shift, and the products found a ready local market. But the relatively small amounts of oil produced and the lack of transportation (roads and railroads) did not justify sending the oil outside the local area.

The most prominent structural feature of the district west of the Hurricane fault was the Virgin anticline, with its three superimposed domes: the Harrisburg dome, the Washington dome, and the Bloomington dome. In 1919, a well was started on the Harrisburg Dome and by September 1920 had reached a depth of 2,200 feet.

Oil was also discovered in Bloomington.

On the evening of March 6, 1935, the Escalante oil well 5 miles south of St. George exploded killing 10 people and seriously injuring 2 others. For details on the event, click here.



PHOTOS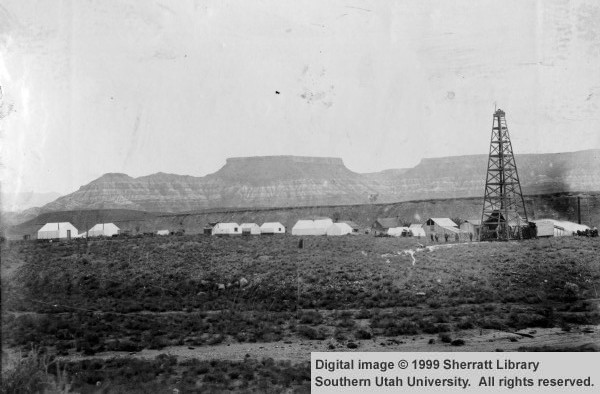 SUU-0024 Oil Field in Virgin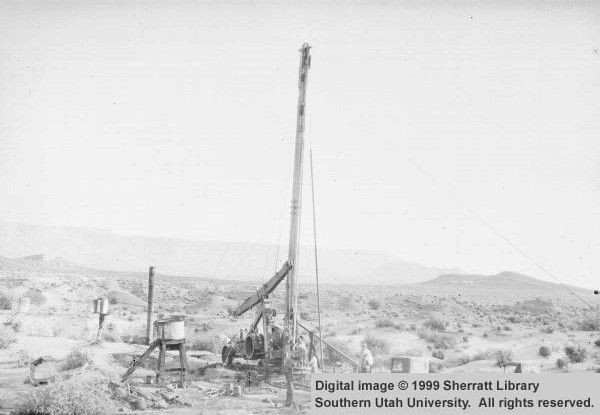 SUU-0027 Oil well near St. George

WCHS photos:
WCHS-01099 Photo of the Escalante No. 1 oil derek south of St. George
WCHS-02490 Photo of a crowd of people in front of an old well in 1919



REFERENCES
An interactive application for displaying Utah oil and gas data

Washington County News, Volume 1 Number 1 January 30, 1908
The front page with a number of articles about the Virgin River Oil Field

Oil Prospects in Washington County, Utah
by Harvey Bassler and John B. Reeside, Jr.
Pages 87-107 in Contributions to Economic Geology (Short Papers and Preliminary Reports), 1921
Washington: Government Printing Office, 1922

Brief History Of Local Oil Development
Washington County News, March 26, 1931, Page 5

St. George Oil Field Is In Public Eye
Washington County News, August 10, 1933, Page 5

Washington County Chapter, Daughters of the Utah Pioneers, "Under Dixie Sun"
1950 with 1978 Supplement
Pages 278-279.

Douglas D. Alder and Karl F. Brooks, "A History of Washington County From Isolation to Destination"
Published by the Zion Natural History Association, Second Edition (2007)
Pages 242-245.