LOCATION
Located on the northwest side of the Virgin River, south of St. George.

The original Bloomington was mainly right around Manzanita Road, between the Manzanita Chapel and the Wallace Blake home.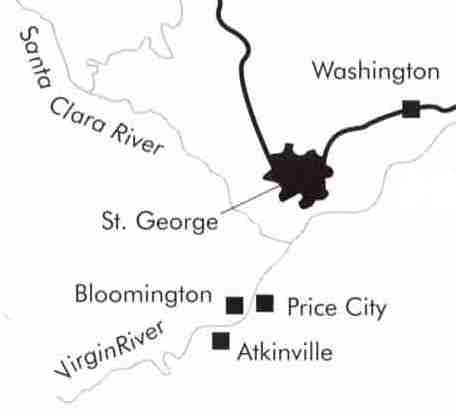 HISTORY
In 1861, William H. Carpenter and his family were the first to settle on the northwest side of the Virgin River. They camped near the location of the present Manzanita Chapel. Carpenter and his sons eventually each built homes in that area. The community was called Jamestown. They raised cotton and sugar cane, made molasses, and started a broom making business.

In 1870, David H. Cannon, William H. Carpenter, Harrison Pearce, and John D. L. Pearce (Harrison's son) dug a ditch leading to a plot of farm land. The first year didn't go very well, so Cannon and the Pearce families sold out to Carpenter in 1871.

In 1872, Carpenter enjoyed modest success. Elder Erastus Snow encouraged several of the local brethren to create a cooperative farming company and to reclaim the abandoned Heberville farm.

Jamestown was surveyed in 1875 by Joseph W. Carpenter who changed the name to Bloomington.

Most of the lumber for the structures in Atkinville, Bloomington, and Price came from Mount Trumbell in Arizona and was highly prized for both its strength and fine-grained appearance.

In the early 1900s, the town had around a dozen families. But by 1930, only four families remained. And they were all gone by the 1950s.

Beginning in the early 1970s, a company called Terracor began marketing St. George, and more specifically the country club community of Bloomington, all over the United States. This was the first planned community in the state of Utah. This was the catalyst that finally put St. George on the map.



HISTORIC SITES
Bloomington Homes

Bloomington Post Office
Bloomington Schoolhouse
Manzanita Chapel
Bloomington Stake Center
Mulberry Chapel
Bloomington Petroglyph Park
Virgin River Pump Station
Bloomington Broom Factory
Bloomington Country Club & Golf Course
Terracor



PHOTOS
TBD



REFERENCES
Bloomington, Dixie's modern-day bedroom community south of St. George has a rich pioneer history
Washington County News, May 1, 1987

OnlineUtah.com article about Bloomington

Washington County Chapter, Daughters of the Utah Pioneers, " Under Dixie Sun".
1950 with 1978 Supplement.
Page 117, Supplement Pages 9-10.

" History of Bloomington Utah"
by Carolyn Reinbold
Unpublished paper, 17pp, 1994
Note: This is a large file and may take a while to load.

Southern Utah Memories - Bloomington: From Broom Factory site to Utah's Palm Springs,
by Loren R. Webb, January 13, 2013

"Virgin Water: Below the Confluence"
by Richard Kohler
Pages 9-12 (old Bloomington) and 14-15 (new Bloomington).
To view, click here