LOCATION
Green Gate Village Historic Inn
76 West Tabernacle
St. George, UT 84770-3420
(435)628-6999
(800)350-6999
(435)628-6989 Fax
stay@greengatevillageinn.com
http://www.greengatevillageinn.com

Green Gate Village occupies the two lots (quarter block) originally owned by Orson Pratt as shown on the old pioneer map of St. George.



HISTORY
When they were crowded out of the restored Heinrich Gubler House by friends and paying guests, Dr. Mark Greene and his wife, Barbara, bought the Orson Pratt-Richard Bentley House in 1981 to restore as a family retreat. A year later they bought the Joseph Bentley House and Judd's Store and granary from Thomas Judd to prevent their demolition. These buildings and the 1917 Joseph Judd bungalow at the southwest corner of Green Gate Village are the buildings original to the site.

The complex was turned into a bed-and-breakfast type of inn.

Sometime around 2002, Ed & Lindy Sandstrom acquired the Green Gate Village. It is currently owned by Historic Village Properties LLC and managed by GGV Group LLC, both family owned companies.

This business and property are for sale as of 5/21/2014. For information, contact Beth-Ellen Bentley of Jubilee Realty at (435)627-8616 or Ellen@JubileeRealty.com.



FEATURES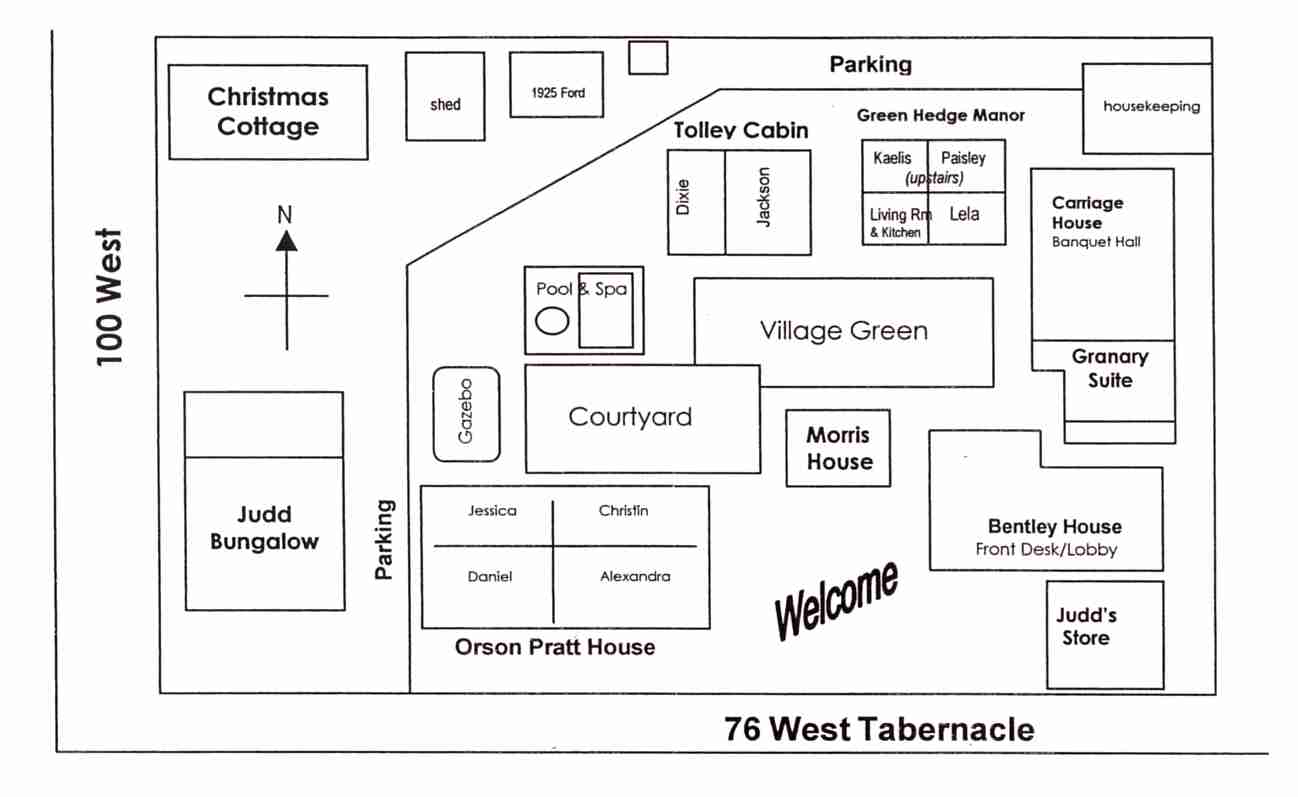 Historic Buildings
Orson Pratt House (Pratt-Bentley Home) (original to this site)
Bentley House (Joseph Bentley Home) (original to this site)
Green Hedge Manor (Thomas Judd Home)
Judd Bungalow (Joseph Judd Home) (original to this site)
Morris Home (Richard A. Morris Home)
Tolley Cabin
Christmas Cottage
The Carriage House and Granary
Judd's General Store (Thomas Judd's Store) (original to this site)



PHOTOS

REFERENCES
Green Gate Village Brochure and Self-Guided Tour

History of the Green Gate Village Buildings

Landmark and Historic Sites: Informational Guide of Historical Sites within the City of St. George
Second Edition, Revised 2011, p. 59
Compiled by the St. George Community Development Department