LOCATION
Virgin River Canyon
Hurricane, Utah
http://pahtempe.org

37° 11' 21.5" North Latitude, 113° 16' 18.9" West Longitude
37.1893° North Latitude, 113.2719° West Longitude
3,066 feet (935 meters) MSL



For an expanded image, click here



FEATURES
Natural water temperatures are in the range, 100° to 110° F with a high sulfur content.



HISTORY
These hot springs were used by native Americans for centuries before arrival of the white man. They considered it a sacred and healing place.

When the Mormon settlers arrived, they found and used the springs. Thomas Judd was the first to record ownership of the Sulphur Springs property (1888?). But the springs remained freely available to anyone who wanted to use them. Since there were no bathtubs at that time, many used the place for bathing.

In late 1914 and early 1915, the La Verkin Sanitorium and Resort Company was formed to develop the springs as a resort. It bought the springs and 170 surrounding acres from Thomas Judd. Roads were put in and waterways constructed. A cement swimming pool was built and opened on May Day in 1918.

Managers of the resort included:
1918-1920 George Judd
1920-1921 H. J. T. Sorenson
1921-1922 George E. Porter
1922-1923 ???
1924-1926 John Larsen
1926-1927 Roland Webb, Rodney Webb, and George Davis
1927-1928 J. Edward Gubler
1929-1930 Winferd Gubler
1930-1932 J. H. Larson
1932-1934 Winferd Gubler
1934-1936 John Larson

Around 1936, Morris Wilson had accumulated enough stock in the company that he had a controlling interest. He bought out the rest of the stockholders and the resort became privately owned.

In 1952, Elias Penn & Louie Harris Smith purchased what was then known as the Dixie Hot Springs Resort. Just as the Indians had, they felt that this place was a holy land, so they changed the name to the Pah Tempe Mineral Hot Springs. Pah Tempe is the name the ancient Ute Indians gave the sulphur springs at LaVerkin. Translated into English it means, water from the rock.

The Smith's operated the resort for a time. During the 1960's, Penn Smith perfected a technique to extract and dry the mineralized sulphur contained in the water. Using that process, he developed formulas for various cosmetic applications. Sadly those formulas were lost when Smith died in 1976, having never written them down. The resort was also managed or leased to various operators over the years. Among these were Ted & Norma Lerwill and later the Lewis Barlow family. Then in 1975, Don & Grace Bjarnson, along with their silent partner, Charles "Myke" Applebee, took over the operations of the springs on lease.

Troubled times for the resort began with the proposal for the Quail Creek Project in 1983. By 1984, heavy equipment was operating in the canyon and blasting was changing the structure of the aquifer. Water for the springs was reduced and at times dried up completely, resulting in the resort going out of business. The Washington County Water Conservancy District (WCWCD) had moved to condemn the entire 107 acres of hot springs property owned by Genevieve Smith and her step-children (children of Elias Penn & Louie Harris Smith), Jesse Smith and Salli Smith West. The property was at that time under lease to Myke Appleby and Grace Bjarnson.

In April 1985, Grace sold her lease hold interest and Myke Appleby and Kenneth R. Anderson became equal partner lessees. Anderson had just discovered the hot springs the previous fall. He had years of practice in city and regional planning and in landscape architecture, and thought they could revitalize and expand the Pah Tempe resort.

A few years later Sally sold Ken her one third fee title interest. Jessie and Genevieve kept theirs, but when Genevieve passed away, Jessie was in control of the remaining two thirds interest. He negotiated to sell that interest to Anderson in order to finalize Ken's fee title ownership in the property but he ended up selling the two thirds interest to the Washington County Water Conservancy District.

From 1985 to 2012, Ken Anderson operated and improved the Pah Tempe resort. He planted trees, repaired and added structures, and promoted all kinds of activities. Gradually Ken purchased an additional 180 acres surrounding Pah Tempe, to support his long range plan as well as to protect the original Pah Tempe property. For a time, the business thrived. But periods of reduced water and problems with WCWCD construction projects resulted in business shutdowns for periods of time. Relations between Anderson and the water district gradually deteriorated. There was legal feuding and court battles resulting in heavy expenditures for lawyers. And then around 2008, the banks stopped lending money and financing became a problem. Anderson ended up losing his ownership in bankruptcy court in 2012.

After a lot of legal wrangling, the Washington County Water Conservancy District took over the resort at Pah Tempe around May 2013. It was in a state of disrepair after years of only sporadically being open to the public.



PHOTOS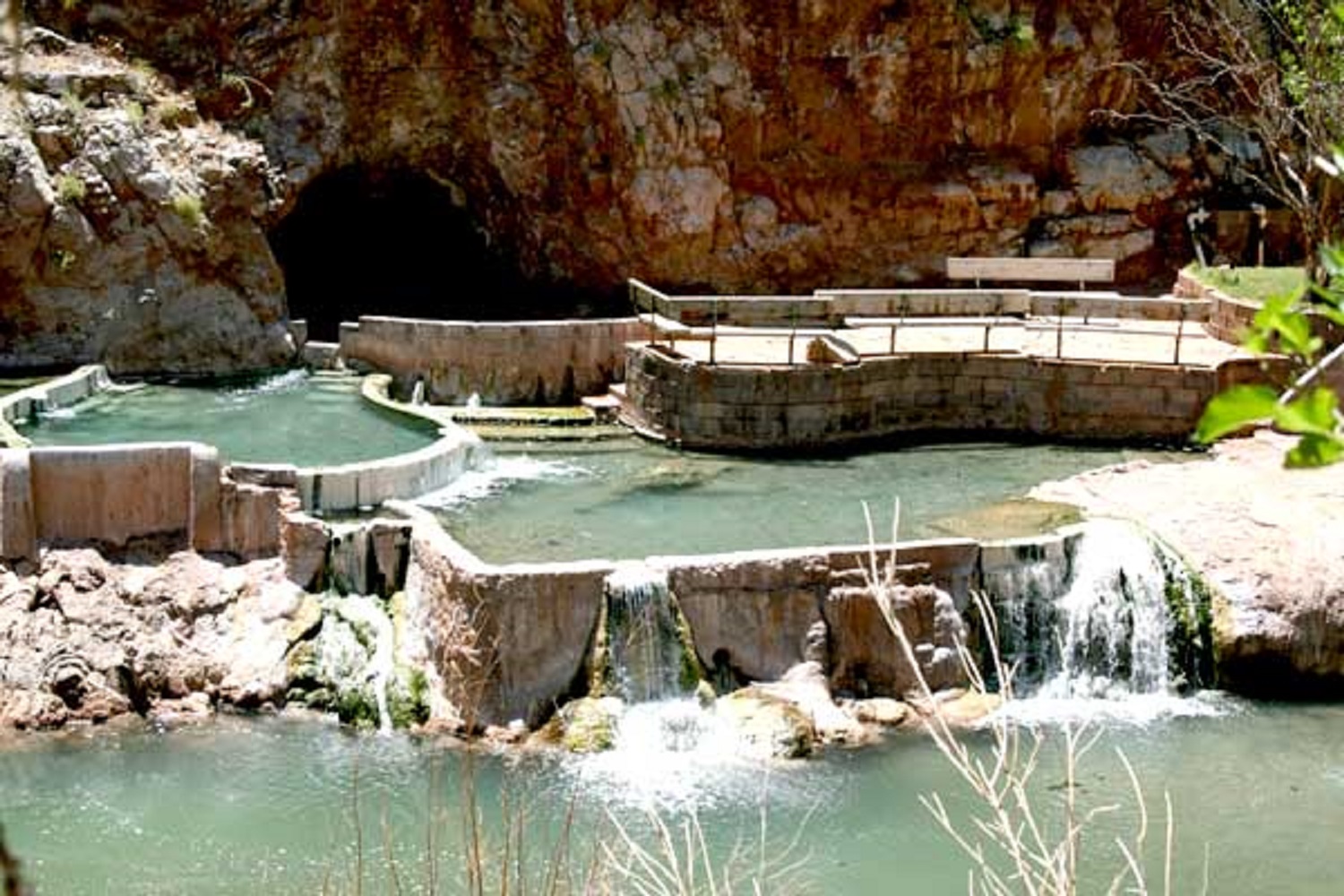 For an expanded image, click here

WCHS photos:
WCHS-01277 Photo of men and a people bridge at LaVerkin Hot Springs
WCHS-01278 Photo of a bunch of men and a water stream at LaVerkin Hot Springs
WCHS-01279 Photo of the grotto at LaVerkin Hot Springs
WCHS-01280 Photo of the inside pool at the LaVerkin Hot Springs
WCHS-01281 Photo of the bridge at LaVerkin Hot Springs
WCHS-01282 Photo of the bridges at LaVerkin Hot Springs

Other photos on the web:
Pah Tempe Photo Gallery"



REFERENCES
The LaVerkin Canal: A Story of Pioneer ingenuity and Perseverance
By Laura Hardy, June 18, 1983

A Brief History of the LaVerkin (Pah Tempe) Hot Springs and the LaVerkin Canal
Compiled by Ruby Webb, DUP President, 1986

Pah Tempe Hot Springs
Page 11 in "Selected Topics Related To Hurricane, Utah"
Written and/or compiled by Victor Hall, 2003.

Pah Tempe: The Past Thirty Years
By Cordura and Ken Anderson, October 2012

Pah Tempe Hot Springs Has a Longstanding History in the Southern Utah Community
By alouette, December 4, 2012

Pah Tempe Mineral Hot Springs Brochure

Hot springs future still uncertain: Water Conservancy District now owns Pah Tempe
Article by David DeMille
The Spectrum, June 21, 2013

Former owner continues Pah Tempe fight in appeals court
Article by David DeMille
The Spectrum, September 9, 2013