BIOGRAPHY
Solomon Angell was born April 21, 1806 in Florence, Oneida, New York. He and his family moved to North Providence, Providence County, Rhode Island when he was four years old.

Solomon married Eunice Clark Young in 1828 in Providence. The family had moved to Genesee County, New York, in 1832, where Solomon's mother heard the missionaries and the family joined Mormon Church. Solomon was a member of Zion's Camp, the expedition from Kirtland, Ohio, in 1837 to relieve the Saints in Missouri who were suffering persecution. After the camp was disbanded, Solomon returned to Kirtland. He belonged to the Nauvoo Legion. In 1840, they were living in Hanover, Licking County, Ohio

Solomon, his mother, his younger brother, and family departed to go west on June 5, 1848 with the Brigham Young Company. However, when they arrived at Winter Quarters, Solomon was instructed to remain to handle Church affairs. So Solomon put his widowed mother in the care of his brother and sent them on. Solomon and his family followed a year or two later with the Ira Eldredge Company.

Solomon was living with Eunice and four children in Great Salt Lake City in 1850. He married Lucy Ann Fry in 1852 in Salt Lake City. He married Lucinda Clark in 1857 in Salt Lake City. In 1860, Solomon was living with Eunice, Lucy, and two children in Great Salt Lake City Ward 8. Lucinda and her children lived nearby. Solomon helped to open the first granite ledge in Cottonwood Canyon where granite was cut to build the Salt Lake Temple. He was in charge of stone cutting according to specifications given by his brother, Truman O. Angell, church architect. He helped build the wall that encloses the Salt Lake Temple block. He was a millwright by profession, but also a carpenter and cabinet-maker. He carved much of the fancy work in Salt Lake building with his pocketknife, and made furniture for his home and others. In August 1863, his wife Lucy died in Salt Lake City and was buried there. Solomon married Anna Cajsa Johansson on October 31 in Salt Lake City.

Solomon and Eunice were called to go to southern Utah to help colonize that part of the territory. They first went to Toquerville and then settled in Long Valley in 1865, where they lived in a tent. The Indians drove them out and they found a sheltered place and called it Pocketville (later called Rockville). Eventually a fort was built and it was called Fort Johnson. The rains were torrential and often swamped their home. Eunice became very ill and was left an invalid with arthritis for the rest of her life; she was bedfast the last ten years. Solomon aided in the settling of Virgin City, Pocketville, Toquerville, Harrisburg, St. George, and finally Leeds. He built a home in each place, working as a blacksmith and dentist. He made coffins, his children's shoes, planted gardens and orchards, and brewed beer and made wine. With other pioneers, the Angell's established the community in Leeds and there they spent the remainder of their lives.

Solomon was the presiding elder of the Leeds Ward in the St. George Stake from 1869-1876. In 1870, he was living with his invalid wife Eunice in Leeds. She died in Leeds after a lingering illness of ten years and was buried in the Leeds Cemetery. On the 1880 census, Solomon was a carpenter, living with Anna and four children in Leeds. Solomon died at his home in Leeds, September 20, 1881, and was buried next to Eunice in the Leeds Cemetery. Lucinda died 1904 in Salt Lake City and is buried there. Anna died 1914 in Leeds and is buried in the Leeds Cemetery.



FAMILY
Solomon's Parents and Siblings:
James William Angell
Phoebe Ann Morton Angell
Mary Ann Angell
Jemima Angell

Solomon Angell
Hiram Angell
Truman Osborn Angell

Washington M. Angell
Phebe Ann Angell
Caroline Angell
James Angell
Abigail Morton Angell
Caroline Frances Angell

(10/15/1776-11/2/1850) (married 3/21/1804)
(3/28/1786-11/15/1854)
(6/8/1803-6/27/1882) (married Brigham Young)
(10/4/1804-7/16/1869) (married Valentine W. Young,
William Stringham, and Brigham Young)
(4/21/1806-9/20/1881) (married as shown below)
(7/17/1807-9/7/1829)
(6/5/1810-10/16/1887) (married Polly Ann Johnson,
Susan Eliza Savage, and Mary Ann Johnson)
(10/8/1812-1/12/1828)
(10/12/1813-xx/xx/1883) (married Dyer Cone Johnson)
(xx/xx/1815-xx/xx/~1825)
(12/7/1821-1/17/1828)
(6/xx/1823-10/10/1824)
(10/3/1825-10/28/1908) (married David Varner Davis,
George David Davis, and Joseph Holbrook)

First Wife and Children:
Eunice Clark Young Angell
Sarah Elizabeth Angell
Sarah Jane Angell
Alma Truman Angell
John Osborn Angell

Albert Angell
Mary Ann Angell
George William Angell
Lucy Caroline Angell
William Henry Angell
Emma Angell


(11/22/1809-2/8/1879) (married 4/13/1828)
(2/24/1831-xx/xx/1905) (married Jefferson Wright)
(5/28/1833-7/xx/1911) (married Xxxxxxx X. Xxxxxxxx)
(1/12/1834-6/12/1911) (married Charlotte Buys)
(1/10/1836-12/22/1920) (married Sarah Jane Mikesell
and Prudence Sarah Ermina Cahoon)
(8/25/1839-12/1/1906) (married Thirza Vilate Cahoon)
(11/22/1842-10/15/1936) (married Samuel Lozene Ensign)
(xx/xx/1844-1/4/1922) (married Xxxxxxx X. Xxxxxxxx)
(xx/xx/~1845-xx/xx/xxxx) (married Xxxxxxx X. Xxxxxxxx)
(xx/xx/1845-xx/xx/1850)
(xx/xx/1847-xx/xx/xxxx) (married Xxxxxxx X. Xxxxxxxx)

Second Wife and Child:
Lucy Ann Fry Angell
Lucy Caroline Angell


(6/3/1814-8/28/1863) (married 9/11/1852)
(7/16/1854-5/16/1922) (married Xxxxxxx X. Xxxxxxxx)

Third Wife and Children:
Lucinda Clark Angell
Lucinda Ester Angell
Solomon Angell III
Plus eight children


(1/15/1822-8/12/1904) (married 7/5/1857)
(4/21/1858-xx/xx/xxxx) (married Xxxxxxx X. Xxxxxxxx)
(11/15/1861-8/19/1922) (married Xxxxxxx X. Xxxxxxxx)
from Lucinda's pevious marriage

Fourth Wife and Children:
Anna Cajsa Johansson Angell
Charles August Angell
Phoebe Ann Angell
Adelaide Angell
Lavinia Angell


(10/9/1835-5/14/1914) (married 10/31/1863)
(1/29/1865-6/28/1944) (married Emma Frances Hartley)
(6/30/1867-2/3/1953) (married Eli Glover McMullin)
(2/23/1870-5/18/1896) (married Joseph Ellis Barlow)
(11/30/1872-1/30/1957) (married Donald Elijah Fuller)
PHOTOS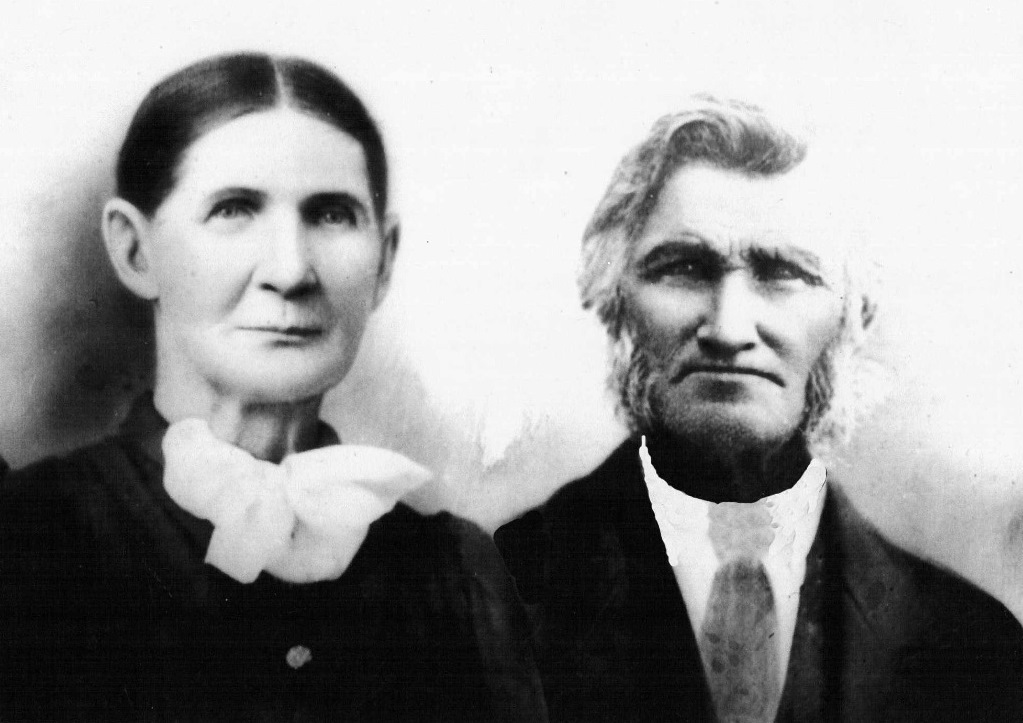 Anna & Solomon Angell



REFERENCES
Solomon Angell
A research report by Elaine Young, PhD.

FamilySearch.org entry for Solomon Angell

FamilySearch.org entry for Eunice Clark Young

FamilySearch.org entry for Lucy Ann Fry

FamilySearch.org entry for Lucinda Clark

FamilySearch.org entry for Anna Cajsa Johansson

Family group sheet for the James & Phoebe Angell family

Family group sheet for the Solomon & Anna Angell family

Find-A-Grave entry for Solomon Angell

Find-A-Grave entry for Eunice Clark Young Angell

Death certificate for Lucinda Clark Angell

Find-A-Grave entry for Lucinda Clark Angell

Death certificate for Anna Cisa Johanson Angell

Find-A-Grave entry for Anna Cajia Johanson Angell