BIOGRAPHY
John Raymond Kemple was born on June 4, 1907 in Salt Lake City, Utah. His parents are John Orson Kemple and Kate May Connelley. He was called Raymond throughout his life. It is not known what took the Kemple Family to Salt Lake City for Raymond's birth, but was probably because his father, John Orson Kemple had health problems and was seeing a doctor there, and liked the attention and service he received.

There is not much information about Raymond's early childhood, but the Kemple family was known to have lived in Los Angeles, California, and at the Yellow Pine Mine, and Goodsprings, Nevada. Raymond started school as a 1st grade student at the Goodsprings school. The Kemple's were living at Yellow Pine Mine at the time, but there weren't enough children of school age to have a school at the mine. The school district wouldn't provide a school unless there were at least six children. There were only five. A year or two later, there were six children living at the mine, and a Yellow Pine School was constructed. Raymond attended the Yellow Pine School. While at Goodsprings and Yellow Pine Schools, he consistently got straight A's on his report card.

As a young boy, Raymond, and his brother, Clifford, were given a 22 rifle by their father. The boys spent many hours hunting small game in the hills around the Yellow Pine. He frequently shot rabbits and other small animals.

The Kemple family moved to Los Angeles, and Raymond attended the Graham Grammar School. He graduated from the 8th grade as valedictorian student, and participated in the graduation ceremony by giving a speech. He chose the life of Luther Burbank as his topic.

Raymond attended the Compton High School from September to December after graduation from grammar school. The family moved to Goodsprings again and that ended his formal education.

Raymond worked at the mines in the Goodsprings area, and later got a job as a mechanic for the Studebaker car dealer in Las Vegas. It was during this time that he met Mabel Whitney, who would become his wife. Raymond went to the Whitney home in Goodsprings one evening to tell Burton Whitney, Mabel's Father, about a railroad car that needed to be loaded at Jean, and Leon, Mabel's brother, was trying to teach her to play poker. Mabel was struggling with the game and Raymond watched them play. Leon told Mabel that Raymond was the kind of man she should tie up with. Although Mabel didn't think too much of it at the time, a short while later they started going together and became sweethearts. They were married on July 25, 1930. Over the next twenty five years they become the parents of eight sons.

After He and Mabel were married, Raymond joined the Church of Jesus Christ of Latter-Day Saints, and raised his family in the Church. He believed strongly the principle of eternal families. He was impressed that the Church of Jesus Christ of Latter-Day Saints was the only religion which taught that principle as true doctrine. Raymond and Mabel were sealed in the St. George Temple on January 1, 1936. Raymond served in many positions including Presiding Elder of Goodsprings Branch, and in St. George as Scoutmaster, Ward clerk, Stake Missionary, Priesthood Advisor, Sunday School Superintendant and President of the 29th quorum of the Seventy.

In the early 1940's, Raymond moved his family to St. George, Utah to live. His father, John Orson Kemple, and Grandfather, John Kemple, had lived around St. George and Silver Reef and encouraged him to live there. He wanted his boys to be able to grow up within the environment of the LDS Church, and associate with other boys and girls who had the same religious beliefs. After a short period back at Goodsprings, the Kemple family moved to St. George for good.

Raymond leased the Apex Mine from Emerald Cox, and later operated the mine for the Kentucky-Utah Mining Company. Other mines he worked in Southern Utah were the Black Warrior, which was in the "West Mountain" area, and some uranium mines near Silver Reef, and Leeds. Raymond also worked as an auto mechanic at St. George Service, at Bob's Garage, and in his own service shop, which was located on 500 West in St. George. When the garage didn't work out, he converted it into a small house for his mother, Kate May Connelly Kemple.

In 1955, Raymond accepted a position with Raymond Carr to supervise a mining operation called the "Jupiter" mine. It was located on the west side of the Sandy Valley, in San Bernardino County, California. It was there that he died.

Raymond died on March 12, 1956 at the age of 49, and was buried in the St. George Cemetery on March 15, 1956. He was noted as being a hard worker, a loving husband, a kind and loving father, a faithful member of his Church, and a friend to all who came in contact with him.



FAMILY
Raymond's Parents and Siblings:
John Orson Kemple
Kate May Connelley Kemple
Ida Kate Kemple
John Raymond Kemple
George Clifford Kemple
Evelyn Jane Kemple
Grace Amelia Kemple

(8/8/1876-06/28/1950) (married 11/5/1902)
(8/7/1882-10/13/1960)
(9/29/1903-9/3/2000) (married Howard Cassity)
(6/4/1907-3/12/1956) (married Mabel Whitney)
(9/28/1909-12/12/1985) (married Juanita Lamb)
(1/29/1913-9/17/2007) (married John W. Stewart)
(6/8/1915-10/4/1929)

Mabel's Parents and Siblings:
Levi Burton "Bert" Whitney
Nellie Vilate Hughes Whitney
Mabel Whitney
Whitney Whitney


(7/25/1890-9/14/1963) (married 6/20/1910)
(12/13/1910-9/10/2001) (married John Raymond Kemple)
(7/20/1912-7/20/1912)

Raymond & Mabel's Family:
John Raymond Kemple
Mabel Whitney Kemple
John Raymond Kemple Jr.
Clifford Leon Kemple
James Edward Kemple
George Burton Kemple
Richard Lee Kemple
Robert Jay Kemple
Thomas LeRoy Kemple
Howard Kay Kemple


(6/4/1907-3/12/1956) (married 7/25/1930, sealed 1/1/1936)
(12/13/1910-9/10/2001)
(2/17/1932-xx/xx/xxxx) (married Nedra Eagar)
(5/24/1934-xx/xx/xxxx) (married Ana Luisa Martinez)
(3/31/1936-xx/xx/xxxx) (married Carol Stapley)
(10/12/1937-1/22/2021) (married Shirley Wilbourn)
(10/4/1938-xx/xx/xxxx) (married Deanna Dahl)
(8/31/1942-xx/xx/xxxx) (married married Venda Ence)
(12/4/1945-7/14/1997) (married Patricia Diane Dillaha)
(5/10/1951-xx/xx/xxxx) (married Gaylene Jones)
PHOTOS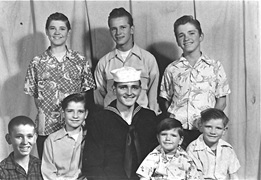 WCHS-01607 The eight sons of Raymond & Mabel Kemple

Other WCHS photos:
WCHS-01202 John Raymond & Ida Kate with grandfather John Kemple
WCHS-01205 Mabel and the older seven boys with grandfather John Orson Kemple
WCHS-01206 John Kemple descendents at a reunion in 1981
WCHS-01306 Mabel Whitney Kemple
WCHS-01941 Mabel Whitney and other students in front of the Woodward School about 1920



REFERENCES
The Rescued Mustang
A Memory of the Making of the Movie, "Stallion Canyon"
FamilySearch entry for John Raymond Kemple
Find-A-Grave entry for John Raymond Kemple
FamilySearch entry for Mabel Whitney
Obituary for Mabel Kemple Bollschweiler
Find-A-Grave entry for Mabel Whitney Bollschweiler