BIOGRAPHY
George Jarvis was born at Harlow, Essex, England on 1823 March 25, 1823.

Ann Prior was born at Stepney, Middlesex, London England on 1829 December 29, 1829.

George Jarvis & Ann Prior were married at a Parish Church at Savior, Southwark, Surrey, England on 1846 October 19, 1846.

George & Ann were baptized into the Church of Jesus Christ of Latter-day Saints on December 25, 1848.

On March 28, 1857, along with with 817 other immigrants under the direction of Elder James Park, George & Ann Jarvis started the 23-day voyage from Liverpool, England to Boston, Massachusetts aboard the ship, George Washington. They arrived in Boston Harbor on April 20.

Apostle George Q. Cannon visited George & Ann in Boston in 1860. Brother Cannon insisted that George and his family begin the journey for Utah. He said, "George you may loose your wife on the way, but you will surely loose her if you stay here." They first traveled to New York and then by rail to St. Joseph, Missouri. There they boarded a steamboat for Omaha, Nebraska. On June 19, 1860, George, Ann, and their six children left Florence (Omaha), Nebraska on their trek west. They were part of the Jesse Murphy Ox Train Company with 279 immigrants and 38 wagons. They arrived in the Salt Lake Valley, Utah Territory, on August 30, 1860.

George & Ann were sealed in the Endowment House in Salt Lake City on April 27, 1861.

At the October General Conference in 1861, George's name was not on the list of families called to go settle Dixie. But he volunteered to be among these first pioneers who established St. George. He and his family arrived in St. George on December 5, 1861.

George used his skills as a sailor in Her Majesty's Navy to help hoist and place the top of the St. George Temple in position.

On April 4th, 1878, Mary Webb, a widow, was sealed to George Jarvis as a plural wife in the St. George Temple.

Thomas William Jarvis was the last child of George and Ann Jarvis. He was killed by lightning on the steps of the St. George Tabernacle on April 5, 1881, when he was seven years old.

In 1902, George Jarvis was ordained a Patriarch in St. George.

George passed away in St. George on January 6, 1913, followed four days later by his wife, Ann. He was 89 and she was 84. George is buried in Plot A_D_74_1_NW and Ann in Plot A_D_74_2_WH of the St. George City Cemetery.



FAMILY
George's Parents and Siblings:
Thomas Jarvis
Elizabeth Billings Jarvis
Phillis Payne Jarvis
Mark James Jarvis
Henry Jarvis
Charles Jarvis
George Jarvis
Jonathan Jarvis
Sarah Elizabeth Jarvis
Martha Jarvis

(5/29/1789-3/17/1867) (married 1/13/1814)
(2/6/1788-10/17/1875)
(4/23/1814-9/25/1901) (married Frederick Robinson)
(2/2/1816-4/21/1873) (married Ruth Ellis)
(8/15/1818-3/30/1880) (married Sarah Pretlove)
(8/31/1820-10/9/1880) (married Emma Brett)
(3/25/1823-1/6/1913) (married Ann Prior)
(1/29/1826-xx/xx/xxxx) (married Sarah Hill)
(5/30/1828-6/1/1881) (married John Dawson)
(About 1830-6/1/1881) (married Alfred Perry)

Ann's Parents and Siblings:
William Prior Jr.
Catherine McEwan Prior
Margaret Prior
Xxxxxxx Prior
Ann Prior


(7/13/1780-11/24/1837) (married 3/10/1822)
(9/7/1781-5/16/1867)
(2/21/1823-5/10/1908) (married Joseph Evendon Noakes Cordwainer)
(About 1826-xx/xx/xxxx) (married Xxxxxxx X. Xxxxxxxx)
(12/30/1829-1/10/1913) (married George Jarvis)

George & Ann's Family:
George Jarvis
Ann Prior Jarvis
George Frederick Jarvis
Ann Catherine Jarvis
Brigham Young Jarvis
Amelia Jarvis
Samuel Walter Jarvis
Charles Godfrey DeFriez Jarvis
Margaret Jarvis
Elizabeth Frances Jarvis
Heber Jarvis
Emmaline Jarvis
Victoria Josephine Jarvis
Thomas William Jarvis


(3/25/1823-1/6/1913) (married 10/19/1846)
(12/30/1829-1/10/1913)
(6/16/1847-1/1/1919) (married Eleanor Cannon Woodbury and Roseine "Rose" Sylvester)
(10/27/1848-10/8/1956) (married David Milne)
(10/20/1850-1/15/1933) (married Mary Forsyth)
(1/3/1853-8/13/1908) (married William (Badcock) Webb)
(4/18/1855-2/7/1923) (married Frances Godfrey DeFriez and Pearley Dean Taylor)
(10/3/1855-8/5/1919) (married Margaret Jarvis) (adopted)
(11/28/1857-1/12/1934) (married Charles Godfrey DeFriez Jarvis)
(3/25/1859-7/16/1859)
(10/14/1860-10/8/1953) (married Susan "Susie" Janet Smith)
(3/21/1863/1863-9/21/1944) (married Thomas Punter Cottam)
(4/21/1866-5/4/1941) (married George Edmond Miles)
(10/4/1873-4/5/1881)
PHOTOS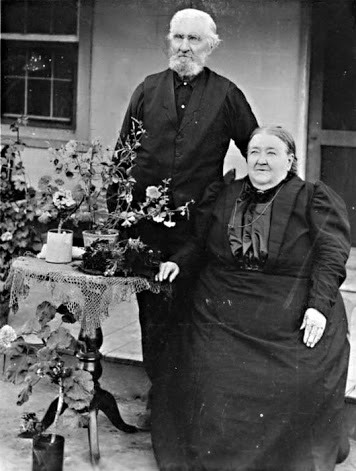 George & Ann Jarvis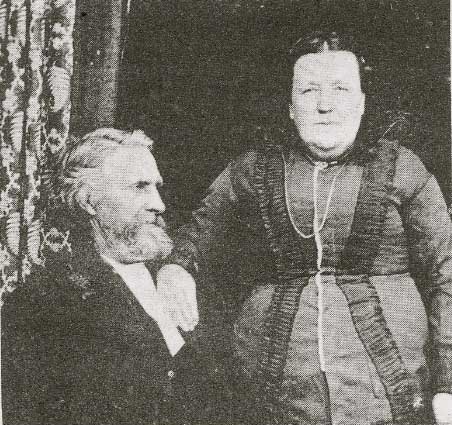 George & Ann Jarvis



REFERENCES
The George and Ann Prior Jarvis Family Web Site
This website has a wealth of information about the George & Ann Jarvis family, including both ancestors and descendants.

A Brief Outline of the History of the George and Ann Prior Jarvis Family
by Victoria Josephine Jarvis Miles

Chronology of George & Ann Prior Jarvis
by Colten Kollenborn

George Jarvis Autobiography
from "Biographies and Autobiographies of Heber Charles and Asineth Jarvis Cottam and Their Ancestors" by Ellen Raye Cottam Brown

A brief outline of George Jarvis' Life
by V. Josephine J. Miles

A brief history of Ann Prior Jarvis
by Eleanor Woodbury Jarvis Seegmiller with footnotes by Kelly Jarvis

My Great, Great Grandfather George Jarvis
by Russ Jones

A Visit with George E. Miles (George Jarvis, the Temple Tower and Water)
A record of a visit by Zora Smith Jarvis with her uncle, George E. Miles, on October 20, 1966

George & Ann Jarvis in the U.S. Census

Find-A-Grave entry for George Jarvis

Find-A-Grave entry for Ann Prior Jarvis