LOCATION
95 West 100 South
St. George, UT 84770

Southeast corner of 100 West and 100 South

Plat A, Block 11, Lot 5 on the old pioneer map of St. George.

37° 6' 22.72" North Latitude, 113° 35' 6.65" West Longitude
37.379° North Latitude, 113.111° West Longitude
2,717 feet (828 meters) MSL

Parcel# SG-165-B-2



DESCRIPTION
The original section of the house was built of red stone.

A two-story section was added in front of the orignal stone house. The adobe walls were one foot thick. There were one foot thick wooden beams in the floor and a center wall three feet wide for support. The new section had large rooms with high ceilings. There were four fireplaces, two upstairs and two down on either side of the house.

The home was eventually converted to apartments.



HISTORY
Jesse W. Crosby and his two oldest boys built a small stone house soon after they arrived in St. George in 1861. As they could get adobes made, they continued to build onto the house in 1862, adding a large two-story section in front of the original red rock structure. It was one of the largest homes in early St. George and one of the first finished. For this reason, its large rooms were used for church services, community meetings, city court cases, and some school until other public buildings could be completed.

Early St. George merchants held meetings in this home to organize a company to go to Califoria to trade cotton for other goods. Jesse Crosby took orders of St. George settlers and went to California to make the trades until the time that Woolley Lund & Judd Mercantile was organized (this company is described in a book by Albert Miller).

In 1865, Hannah Crosby, being a very industrious woman, started to open her big house to the traveling public to raise badly needed cash. The house became known as "The Crosby House", a hotel-like designation, where guests could stay and get meals.

Along with a few other women in St. George, Hannah raised silkworms, feeding them on the leaves of Mulberry trees planted around the house. Some of those trees were still standing in 1971.

Jesse W. Crosby obtained title to the land in 1875 with his wife Hannah.

The original little rock section of the house in back was torn down in 1914 for the purpose of remodeling and expanding the home.

The old home left the Crosby family when they sold it to a builder from Leeds named Stirling about 1949 or 1950. Stirling remodeled the home, lowering the ceilings and making the large rooms into several apartments.

In 1956 or 1957, Andrew & Verda Pace purchased it from Stirling.

In 1965 or 1966, the Steven Lorenzo and Illene H. Hafen family bought the home from the Paces.

The locust trees west of the home are over a century old and were brought here as seedlings on wagons from California.



BIOGRAPHY
Jesse Wentworth Crosby Click here.

Andrew & Verda Pace Click here.

Steven Lorenzo Illene H. Hafen TBD



PHOTOS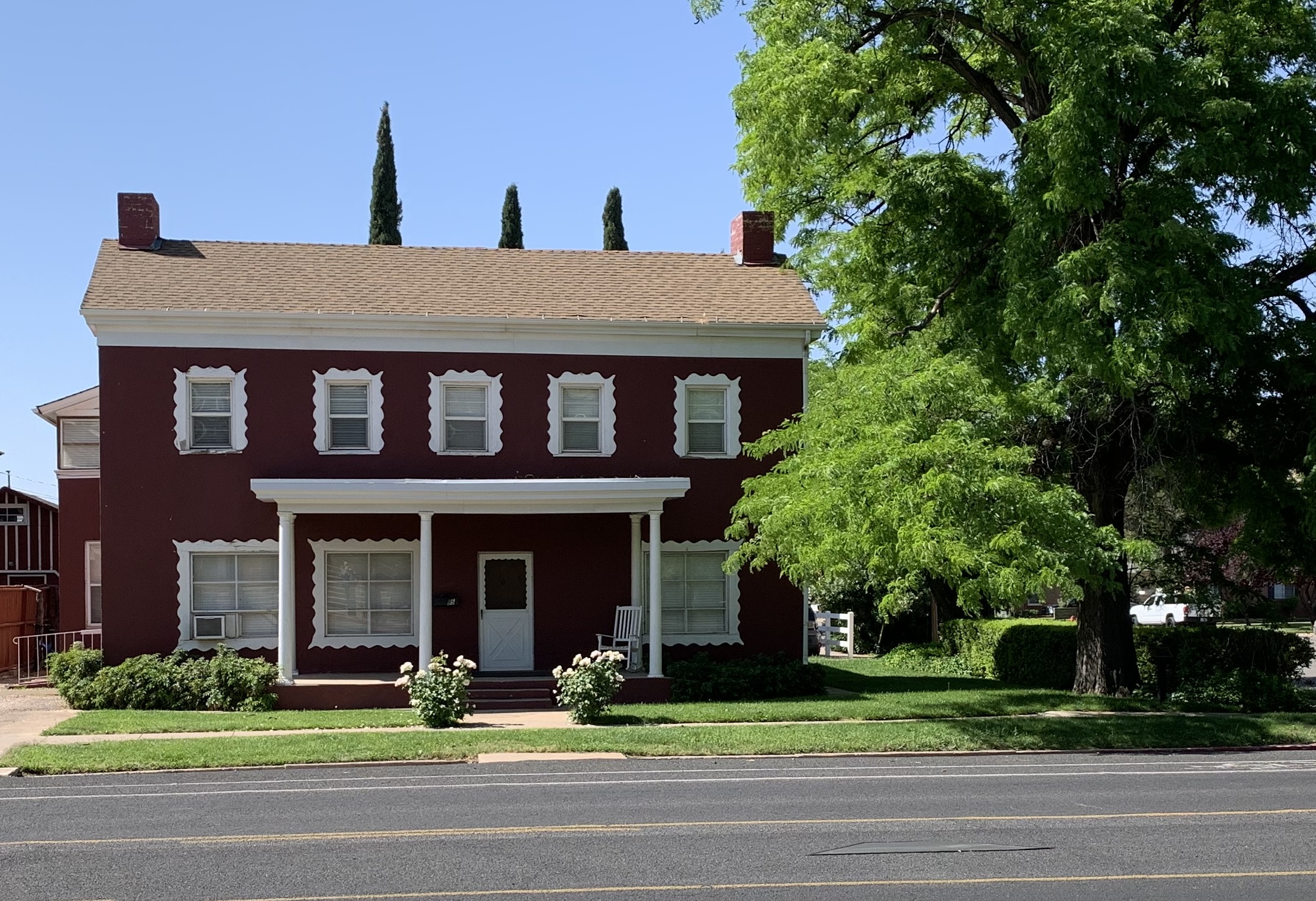 REFERENCES
Landmark and Historic Sites: City of St. George
First edition, July 2, 2009, Pages 41-1 through 42-2
Compiled by the St. George Community Development Department

Landmark & Historic Sites: Informational Guide of Historical Sites within the City of St. George
Second edition, Revised 2011, Pages 86
Compiled by the St. George Community Development Department

Landmark & Historic Sites: Informational Guide of Historical Sites within the City of St. George
Third edition, Revised 2015, Page 92
Compiled by the St. George Community Development Department

Letter from Steven & Ilene Hafen to Mrs. Larkin, March 6, 1981.

"Jesse Wentworth Crosby: Mormon Preacher - Pioneer - Man of God,
His Ancestry - His Life - Some of His Progeny"
Compiled, written, and edited by Samuel Wallace Crosby, 1977