Little Pinto or Page Ranch was an offshoot of Iron Town in Iron County. It was a very small settlement with only about a dozen or so
people. It was an important stopping point along what was once a major freighting and travel route through Southern Utah.



LOCATION
37° 34' 3.1" North Latitude, 113° 25' 23.3" West Longitude
37.5674° North Latitude, 113.4232° West Longitude
Elevation: 6,117 feet (1,864 meters)

Pinto Road = Forest Service Road NF-009
going notheast to State Route 56
and west to Pinto, Hamblin, and State Route 18
The road heading south is NF-029 or Old State Highway 144
and goes to New Harmony
A road a little to the west goes north up to Iron Town

For travel instructions to Page Ranch, click here.

For an aerial view of the ranch in recent times, click here.


DESCRIPTION
1357 acres

The main house is still standing.

There is a spring-fed pond.

There is a tree house not far from the Page Home. The tree is currently in a pond and has grown into and around the tree house.



HISTORY
Page Ranch was originally settled in 1858 by Robert Richey, an Indian missionary in the Jacob Hamblin group sent to Southern
Utah by Brigham Young in 1854. The ranch was owned by the Richey and then Page families from 1858 to 1934.

Daniel Richey Page and Robert Richey Page, grandsons of the Indian missionary, lived at the ranch with their grandparents after
their mother's death on March 16, 1868. In 1890 Dan and Robert received the ranch from their grandparents, and one year later
Robert sold out his share to Dan.

The Page Ranch House was designed by its original occupants, Daniel Richey Page and Sophia Ann Geary Page. Construction
began in 1898 and was completed in 1900. The builders were Jack & Harvey Fabian of St. George, who made and fired the brick
on the site using clay found immediately west of the building location. Architecturally, this house is a good example of the Double
Cross-Wing, a relatively uncommon house type in Utah. Dan and his wife Sophia operated the ranch until their divorce around 1905.

This location was a historical stopping point along what was once a major freighting and travel route in the Iron County region of
southwestern Utah. The house served for 34 years as the home of the Page family who owned and operated the ranch. It also
served regularly as an informal hotel for travelers and as a boarding house for men working in the nearby iron ore mines. A notice
said, "We Keep Travelers".

The house was placed on the National Register of Historic Places (#85000961) on May 9, 1985.

The house is unoccupied, but still standing.

As of June 26, 2016, the property was for sale. See
Fidelity Real Estate, St. George
Peter Durkson at (435)703-5754 or Cindy Roy at (435) 703-5755
http://www.thepageranch.com

By 2017, the old shingle roof had openings in it, letting in water and animals. Lisa Michele Chuch used the proceeds from
her new book and along with contributions from many others raised enough money to put on a new temporary metal roof.
Carlos ??? and his crew from New Horizon Roofing put on the roof in September of 2017.

Owners:
Robert Richey
Daniel Richey Page and Robert Richey Page
Daniel Richey & Sophia Geary Page
Ambrose J. & Dorothy S. Sherratt
William E. & LaRue S. Keller



PHOTOS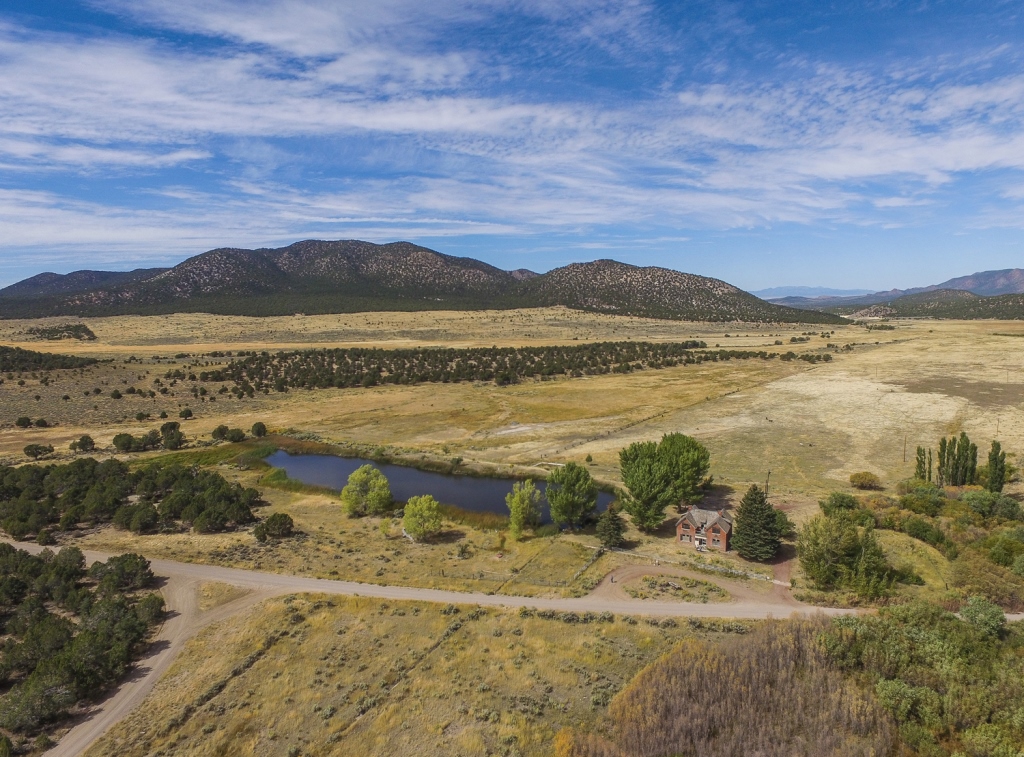 WCHS-03126 Aerial photo of the Page Ranch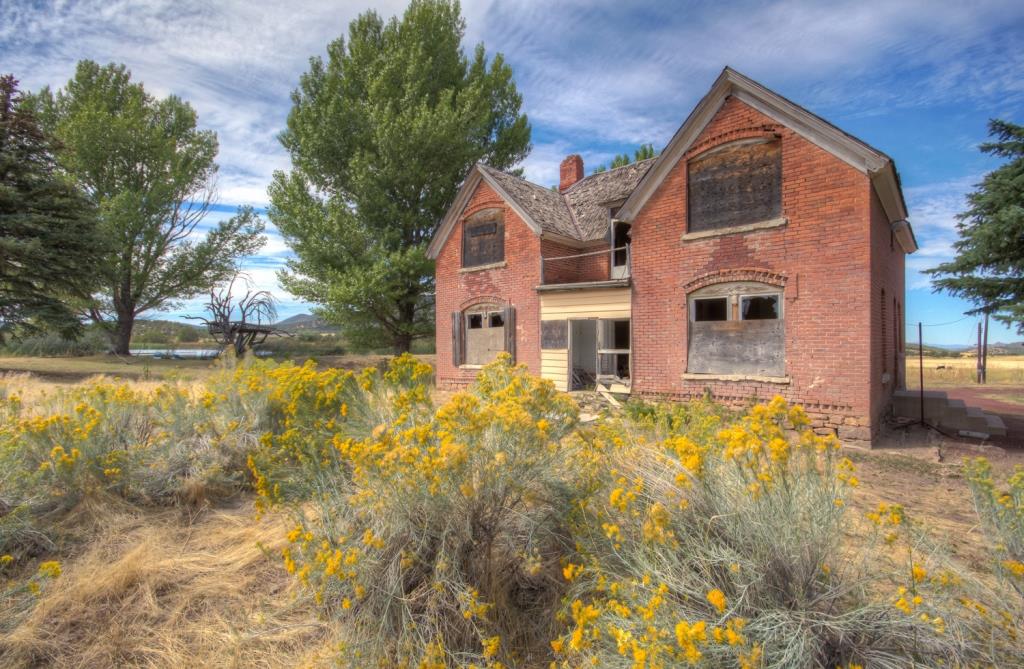 WCHS-03127 The ranch house and pond at Page Ranch


| | |
| --- | --- |
| Southwest corner of the Page House in October 1984 | Northeast corner of the Page House in October 1984 |

WCHS photos:
WCHS-02624 Photo of the house and some people at the Page Ranch
WCHS-02625 Photo of the old clapboard house and some people at the Page Ranch
WCHS-03128 Photo of signs showing distaces from Page Ranch and the ranch house in the background
WCHS-03419 Photo of the northeast corner of the dining room in the Page Ranch house
WCHS-03420 Photo of the northwest end of the kitchen in the Page Ranch house
WCHS-03421 Photo of the front of the Page Ranch house
WCHS-03422 Photo of the front of the Page Ranch house with people sitting in front
WCHS-03502 Photo of the new metal roof being put on the Page Ranch House
WCHS-03503 Photo of the new metal roof being put on the Page Ranch House

Photos on the web:
Photos on flickr taken by Mathew Montgomery 10/16/2008
Three photos by Bob Bezzant in Ghosttowns.com



REFERENCES
Sunlight and Shadows, The Page Ranch Story
Book by Lisa Michele Church

The Page Ranch Webpage

The Page Ranch Group Facebook Page

National Register of Historic Places completed Nomination Form
" October 1984 photos by Roger Roper

Markers and Monuments Database entry for Page Ranch House
Utah Division of State History

John Thomas Geary and Sophia Fryer Pioneer History

Brent Prince's Blog on Page's Ranch

Little Pinto Ghost Town, UT
in Southwest Backcountry: Exploring The West, Discovering the Past