LOCATION
Northwest corner of Main and Center Streets
Leeds, Utah 84306

[The National Register of Historic Places has the location
incorrectly listed as the southwest corner of 100 West
and 100 North]

37° 14' 10.40" North Latitude, 113° 21' 46.75" West Longitude
37.2362° North Latitude, 113.3630° West Longitude
3,450 feet (1,051 meters) MSL

DESCRIPTION
The Tithing Office was a well built stone building with a pitched wood roof. The 18-inch thick stone walls moderated the cold winter and warm summer temperatures. The upper floor was divided into two rooms with 11-foot ceilings and wood floors. Beesley moved the dividing wall and lowered the ceilings to 8 feet. Hadley restored the dividing wall to its original location and restored the ceiling to its original height.

The east room has windows on the south and east sides. It has a doorway and had an outside stairway on the south wall. Beesley added a cinder block front porch with a ramp on the west end leading down to the driveway. The porch covered the two basement windows on the south side and was eventually resurfaced with rock to match the walls.

The west room had windows on the north and south sides and an outside door through the west wall. Bushman added a sleeping porch on the west side of the building outside that door. Beesley removed the sleeping porch and converted the west door into a window. He also converted the north window into a door with the intent of building a porch on the north side of the building.

Steps on the north side of the building lead down to a full basement or cellar. It was here that perishables could be kept cool. At one time, there were wine barrels holding up to 300 gallons of wine there. The barrels were so large they had to be constructed in place. The basement had four small windows, two on the north side and two on the south side.

During the Ward's ownership, the only plumbing in the building was a water pipe and faucet. There was an outhouse in the back yard. Later, additional plumbing was added and the outhouse removed.

Beesley built a large garage on the back of the property. The Hadley's plan on converting it to living quarters so the Tithing House can be used as a museum and guest quarters.



HISTORY
The corner where the Leeds Tithing Office is located was originally owned by William Stirling who owned the entire block. He sold it to Charles A. Connelly in 1877. Connelly sold it to John H. Rice in 1878. In 1881, it was sold to Thomas Judd of Judd Dry Goods. Thomas & Mary Judd sold the property to the Leeds Ecclesiastical Ward in 1890.

Prior to the Tithing Office being built, the Wells Fargo Express Company operated an office, bank, and stage stop on this corner. When the Wells Fargo Bank was built in Silver Reef, the stage stop was moved to that location.

The Leeds Tithing Office and the rock wall around it was built in 1891 by the renowned stone masons of the era, Willard G. McMullin and Sons. Of the eight tithing offices built before or during the 1890s, only four were built of stone. The Leeds Tithing Office was one of those four. The stone wall in front of this tithing office is original, and although in need of repair, is unique in that no other tithing office in the state has the original wall still standing.

The settlers of Leeds were almost exclusively members of The Church of Jesus Christ of Latter-day Saints, also known as Mormons. Tithing, a pivotal expression of Mormon religious devotion, consists of donating 10 percent of a family's income to the church. In pioneer times, a settler's wealth was not typically interpreted in terms of cash. For tithing purposes, wealth was commonly measured in terms of produce, products, or even service. Many families paid tithing "in kind" with peaches, corn, figs, apricots, bottled meat, etc. In many communities a tithing office was established to collect, store, and redistribute the donated goods to those in need. The Leeds Tithing Office had both office and storage space. It was equipped with bins and barrels in the basement for storage and a big pair of scales for weighing produce. The large 200 and 300 gallon oak barrels used for storing wine were too large to go through the doors to the wine cellar, so they had to be constructed in place. Of the several early tithing offices built in the region, the Leeds building is the only remaining example of a stone tithing office that still stands with its original stone walls.

The in-kind tithing system was retired in the early 1920s. After that, the ward had no further need for this building. It was fixed up inside for living quarters and rented out for $12-$15 per month. It has housed quite a few families at different times through the years, including the Stanley & Saddie Fuller family (????-1940) and the Silas A. Bushman family (1937-1940).

During the 1950s, there was an attempt to fix this building up for a Relief Society house. $1,650 had been collected toward that end when it was determined the project was not feasible. It would be too expensive to heat.

The LDS Church sold the building and property to Joseph W. Beesley (of Beesley Music in Salt Lake) in 1964 for $500. It was used as a private residence for a while. Then for quite a while it remained vacant and gradually deteriorated.

It was put on the National Register of Historic Places (#1985000291) on January 25, 1985.

Kenneth & Patricia Hadley purchased the house in 2012 and are in the process of rehabilitating it.

Owners:
William Sterling
Charles A. Connelly
John H. Rice
Thomas & Mary Judd
Leeds Ecclesiastical Ward
Joseph W. Beasley
Kenneth & Patricia Hadley



PHOTOS

Southwest corner of the building
(Roger Roper, October 1984)

Southeast corner of the building
(Roger Roper, October 1984)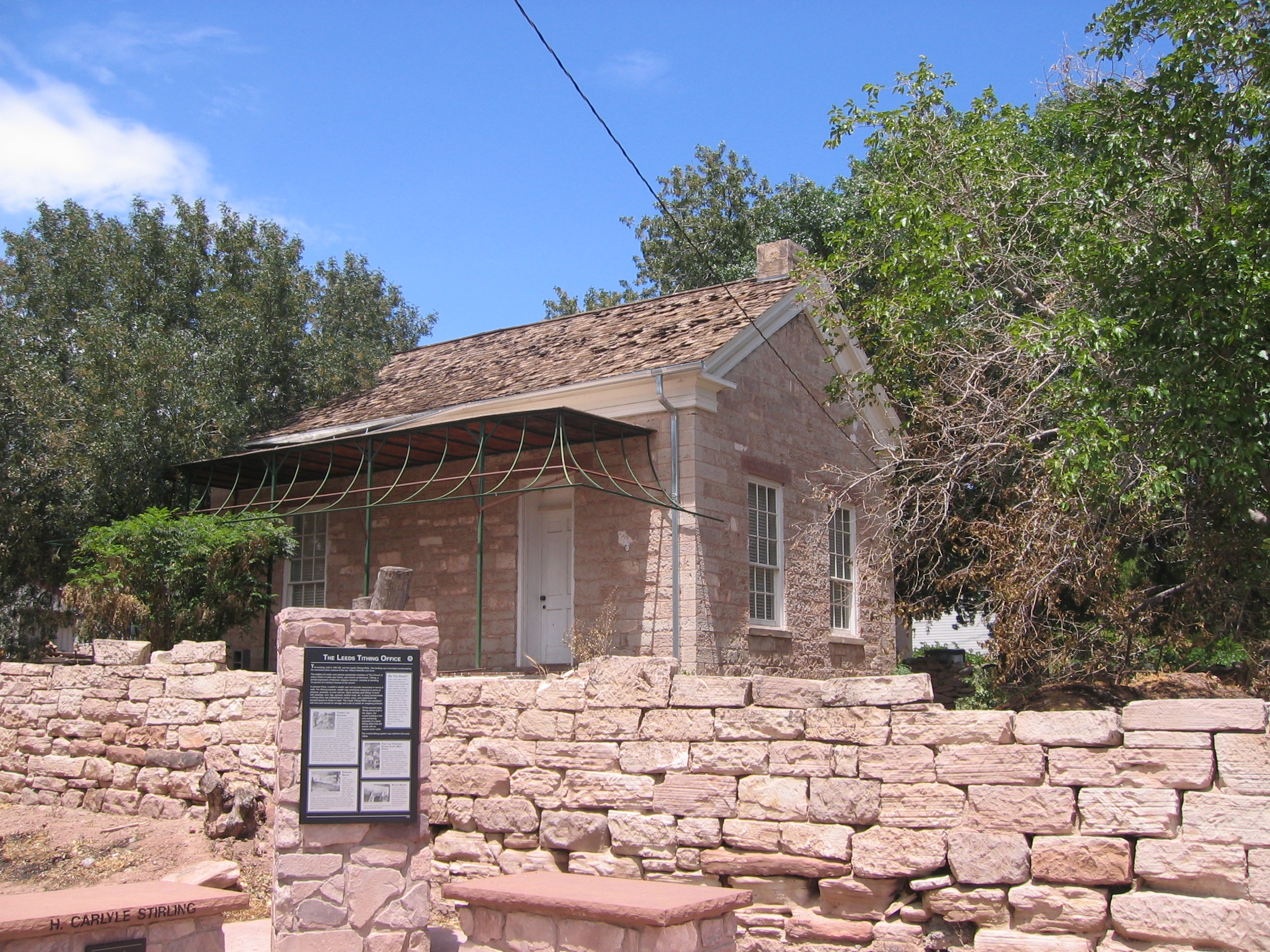 WCHS-00166 Photo of the interpretive sign in front of the Leeds Tithing Office

Other WCHS photos:
WCHS-00165 Photo of the Leeds Tithing Office in 2009
WCHS-00167 Photo of the Leeds Tithing Office in 2009
WCHS-00168 Photo of the Leeds Tithing Office in 2009
WCHS-00169 Photo of the Leeds Tithing Office in 2009
WCHS-02262 Photo of the southeast corner of the Leeds Tithing Office in 1997
WCHS-02263 Photo of the southeast corner of the Leeds Tithing Office in 1983-1985
WCHS-02264 Photo of the east side of the Leeds Tithing Office in 1983-1985
WCHS-02265 Photo of the east side of the Leeds Tithing Office in 1983-1985
WCHS-03094 Photo of the south and east sides of the Leeds Tithing Office
WCHS-03095 Photo of the south and east sides of the Leeds Tithing Office
WCHS-03096 Photo of the south side of the Leeds Tithing Office
WCHS-03097 Photo of the east side of the Leeds Tithing Office
WCHS-03098 Photo of the north side of the Leeds Tithing Office
WCHS-03099 Photo of the west end of the north side of the Leeds Tithing Office
WCHS-03100 Photo of the cellar window on the west end of the north side of the Leeds Tithing Office
WCHS-03101 Photo of the cellar window on the west end of the north side of the Leeds Tithing Office
WCHS-03102 Photo of the stairs & door to the cellar of the Leeds Tithing Office
WCHS-03103 Photo of the door to the cellar in the Leeds Tithing Office
WCHS-03104 Photo of a corner of the cellar door frame in the Leeds Tithing Office
WCHS-03105 Photo of the latching mechanism on the cellar door in the Leeds Tithing Office
WCHS-03106 Photo of an original square head nail in the Leeds Tithing Office
WCHS-03107 Photo of an old scale at the Leeds Tithing Office

Other photos on the web:
Photos from the National Register of Historic Places nomination form



REFERENCES
The Story of the Leeds Tithing Office

The Hadley Connection, Ken & Patricia Hadley
by Patricia Hadley

The Hadley Years, Ken & Patricia Hadley (a shortened version of "The Hadley Connection" above)
by Patricia Hadley

Leeds Interpretive Sign: The Leeds Tithing Office

National Register of Historic Places, Inventory - Nomination Form

Wilma Cox Beal, " Leed Historical Events in Bits & Pieces", pp. 47-48, 67.
August 1996, Southwestern Printing & Publishing Co, Leeds UT.

Tithing structures recall hardscrabble pioneer days
Article by Brian Passey
The Spectrum, May 18,2017