Founded in 1862 and abandoned between 1902 and 1905.



LOCATION
Hebron was located on Shoal Creek, 6 miles west of Enterprise, in the very northwest corner of Washington County. See the map of early Washington County.

Elevation: 5,476 feet (1,669 meters)

The Hebron Cemetery is located at
Latitude: 37.59060, Longitude: -113.82470

Go west 6.5 miles out of Enterprise on Highway 219. Turn right and go another 1.0 mile to the cemetery.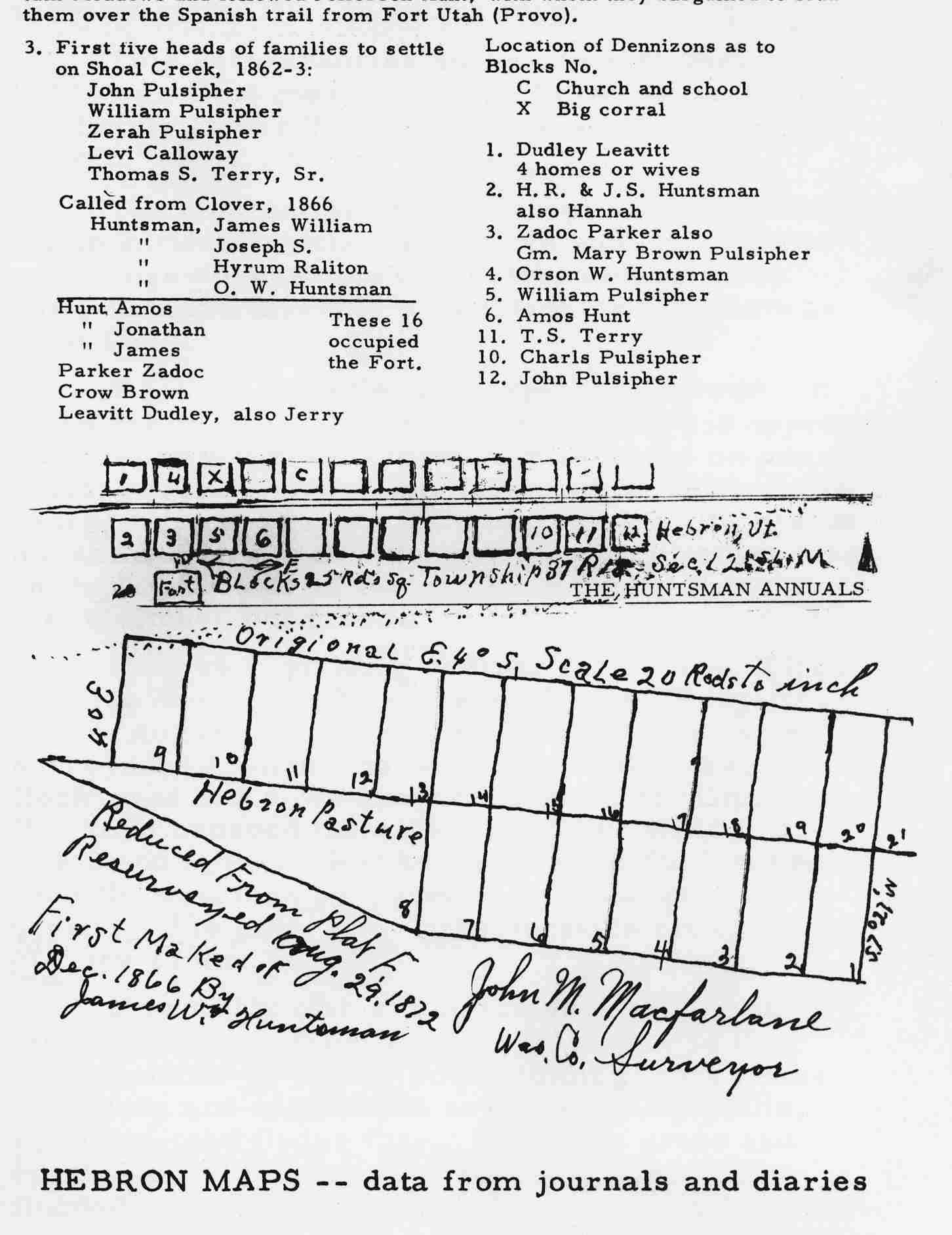 HISTORY
Pres. Erastus Snow of the Dixie Mission called John and William Pulsipher to gather up the surplus cattle and horse and to take them north from the St. George area to find better grazing grounds. Early in 1862, they started working their way north with stops in Dammeron Valley (which they named) and Chadburn's ranch. In the early part of May 1862, they settled at a place called Shoal Creek, so called because the creek was very shallow, sinking in the sand, and rising and sinking again.

Around Christmas 1862, John and William's father, Zera Pulsipher brought his family down from Salt Lake City to join the boys.

In May of 1863, Pres. Snow called Thomas S. Terry and his family to go up from St. George and join the Pulsipher's in caring for the church livestock herd.

At the beginning of the Black Hawk War in 1865, people from the surrounding areas started to congregate at Shoal Creek. A small fort was built there in 1866 and continued to be occupied until the fall of 1868 when the Indian trouble seemed about over.

A large log schoolhouse was built in 1867. In the spring of 1867, Elizabeth Hunt, wife of James W. Hunt, taught school. But she was soon replaced by Mary Ann Terry, a young woman of eighteen.

In the fall of 1867, a meeting was called and a committee appointed to divide up the farmable meadow land into lots of 2 to 3 acres. The men of the community selected their lots by drawing for them. During that winter and spring, the lots were fenced and ditches were dug.

In 1868, LDS Apostle Erastus Snow came to form a congregation. Snow directed the surveying of a formal townsite. John Pulsipher changed the name to Hebron after ancient Hebron in Palestine. Pulsipher was thinking of Abraham of old who took families, cattle, and horses, and traveled until he found a suitable place to settle - then called it Hebron. Shoal Creek had been a scattered, loosely-organized settlement, but Hebron became a fast-growing town. Soon it had a hotel, several stores, and freight offices.

In 1869, Hebron was organized into an LDS ward.

In the fall of 1872, the deseret telegraph lines were extended from St. George to Pioche by way of Hebron. A telegraph office was set up in Bishop Crosby's home with Daniel M. Tyler was the first operator.

US mail was coming to Hebron from Cedar City once a month. Around 1872, that was increased to once a week. Shortly after that, it was increased to twice a week and extended on to Clover Valley (now Barclay) and Pioche. When Silver Reef started to boom, mail was increased to once a day each way. Mail was carried on a one-horse buckboard.

On November 17, 1902, Hebron was severely damaged by a magnitude 6 earthquake centered at Pine Valley. Most of the rock homes in Hebron were irreparably ruined. On January 11, 1903, the men of Hebron met to discuss moving to Enterprise. Over the next monts, it was decided that Hebron residents should make the move. The rest of Hebron's residents moved, selling their water rights to the Enterprise Reservoir Company. In 1904, what was left of the town of Hebron sold all remaining water rights. The departing residents tore down the damaged buildings for the materials, leaving only rubble and a small cemetery. On October 19,1905 at a ward conference, the name of the Hebron Ward was changed to the Enterprise Ward, essentially ending the town of Hebron.

Population:
1868 75
1870 111
1880 110
1890 79
1900 100

Residents:
Note: This information should be taken with a grain of salt; there are many discrepancies in names and dates from the various sources.
Henritta Barnum
Libbie Barnum
Renza Barnum
Richard Bird
Iona Almira Pulsipher Burgess (9/8/1817or1818; died 3/8/1868)
" see Iona Almira Pulsipher below
Gazeliam Callaway (born 1/23/1871 and died 1/23/1871)
Mary Francis VanBuren Callaway (born 5/30/1832; died 2/14/1869)
Levi Calloway
??? Canfield
Eliza Chidester (born 2/20/1867 or 2/21/1869; died 2/25/1869)
Rebecca Jane Chidester (born 5/20/1866; died 5/30/1867)
May (Mary) Coleman (born 12/10/1892; died 7/30/1898)
George H. Crosby
Brown Crow
??? Emmett
Joseph Graham (born 1874; died 11/10/1874)
George A. Holt
George O. Holt
Amos Ray Hunt (3/30/1884-6/9/1896)
Adelia Geneva Hunt (born 4/1/1889; died 11/8/1889)
Aluna Rebecca Hunt (born 6/19/1881; died 1/5/1883 or 5/1/1893)
Amos Ray Hunt (born 1844; died 1896)
Celestia Terry Hunt (born 10/14or15/1854; died 5/1/1893)
Elias Hunt
Eliza Jane Hunt (born 2/1/1887; died 2/22/1904)
Elizabeth Vaughan Hunt (born 11/14/1849; died 11/16/1941)
Ellen Hunt
George Hunt
Grace Catherine Hunt (born 3/3/1885; died 1/31/1901)
Jacob Hunt
James Wilson Hunt (born 7/27/1843; died 8/11/1885)
John Ramball Hunt (born 3/27/1900; died 4/8/1900)
Jas R. Hunt (born 1904; died 1904)
Joe Hunt
Jonathan Hunt
Mary Elizabeth Hunt (born 3/26/1866; died 8/29/1866)
Nancy Garrett Welborn Hunt (born 8/7/1823; died 12/17/1896)
" see Nancy Garrett Welborn below
Nephi Hunt
Rebecca Wiggins Hunt (born 3/14/1843; died 9/19/1865)
Ruby Lois Hunt (1/10/1895; died 9/20/1896or1897)
William Edward Hunt (born 9/28/1873; died 2/22/1875)
Aaron Huntsman
Amos Pratt Huntsman (born 10/15/1870; died 2/5/1871)
Edward Huntsman (born 2/11/1872; died 2/11/1872)
Edwin Huntsman (born 2/11/1872; died 2/18/1872)
Emeline Huntsman
Emory Huntsman
Hannah Davis Huntsman (born 2/8/1816; died 8/14/1902)
Hyrum Raliton Huntsman
James William Huntsman (born 10/6or8/1806; died 2/26/1867or1887)
James William Huntsman (born 2/14/1869; died 3/17/1869)
James Huntsman (born 1904; died 1904)
Joseph S. Huntsman
Josephine Huntsman (born 2/15/1868; died 10/15or25/1868)
Lamond Huntsman
Mary Ann T. Huntsman
Nora Huntsman
Orson Welcome Huntsman
Perry Huntsman (born 1817; died ???/)
Thomas Terry Huntsman (born 9/17/1877; died 6/20or25/1880)
Martha Vaughan Jones (born 6/18/1840; died 2/9/1877)
William Ellis Jones
Mary Jane Laub (born 8/26/1876; died 6/20/1888)
Rozilla Laub (born 12/18/1878; died 7/27/1880)
Wilhelmina Terry Laub (born 4/14/1859; died 5/27/1890)
Wilhelmina Zelma Laub (born 2/27/1883; died 9/27/1883)
Hilaman Leavett or Leavitt (born 3/7/1870; died 2/7/1871)
Orilla Leavett (born 3/17/1874; died ????)
Dudley Leavitt
Jerry Leavitt
Orilla Leavitt (born 4/28/1859; died 3/17/1874)
Steven or Stephen Lund (born 7/17/1878; died 7/20/1878)
Wilson Lund
??? Mansfield
Miriam Parker Parker (born 10/14/1799; died 5/25/1883)
Zadock Parker (born 10/27/1804; died 6/22/1885)
Agustus C. Pulsipher (born 10or11/21/1873; died 8/8/1876)
Charles Henry Pulsipher (born 2/21or27/1871; died 8/13/1876)
Emily Sariah Pulsipher
Ester Chidester Pulsipher
Iona Almira Pulsipher (9/8/1817or1818; died 3/8/1868)
" see Iona Almira Pulsipher Burgess above
James Pulsipher (born 4/25/1881; died 8/18/1889) ???
James Bowler Pulsipher (born 4/25/1886; died 8/18/1890) ???
John Pulsipher (born 7/17/1827; died 7/9/1891 or 8/7/1891 or 8/9/1891 or 8/21/1891)
John David Pulsipher
Mary Ann Brown Pulsipher (born 3/2/1799; died 5/7/1886)
Mary Elizabeth Pulsipher (born 11/20/1865; died 5/24/1868) ???
Mary Esther Pulsipher (born 11/20/1864; died 5/24/1868) ???
Matilda Pulsipher (born 3/28/1889; died 12/3or8/1889)
Prudence MacNamara Pulsipher (born 7/31/1803; 2/27/1883)
Sarah Elzina Pulsipher Tyler (born 11/6/1854; died ???)
Rozilla (aka Rosella) Huffaker Pulsipher (born 1/24or25/1837; died 2/4or9/1871)
Sarah Jane Pulsipher (born 6/24/1865; 7/17/1865)
William Pulsipher (born 1/22/1838; died 5/2/1880) ???
William Lewis Pulsipher (born 1/21/1836; died 3/12/1880) ???
William Lewis (or just Lewis) Pulsipher (born 1/8/1866; died 4/24/1871)
Zerah (aka Zera) Pulsipher (born 1/24/1789 or 6/24/1788; died 1/1/1872)
Zera James Pulsipher (born 4/22/1863; died 7/17/1865) ???
Zerah James Pulispher (born 4/27/1863; 1/6/1879) ???
Rozilla Robbins (born 7/131875; died 11/15/1882)
William Amos Spencer (born ????; died 10/21/1877)
Charles Henry Terry (born 3/29/1868; died 9/11/1868or1869)
John William Terry (born 3/29/1868; died 9/4/1868)
Mary Ann Terry
Olive Amelia Terry (born 6/26/1869; died 7/25/1869)
Orvil Sils or Sirls Terry (born 1/13/1902; died 1/13/1902)
Tracy Roselee Terry (born 1/18/1875; died 8/16/1876)
Thomas S. Terry, Jr. (born 2/22/1866; died ???)
Thomas S. Terry, Sr. (born 10/3/1825; died 8/12/1920)
Jacob Truman
Thomas Tullis (born 1865; died 2/24/1865)
Andrew Tyler
Danial Tyler
Daniel (or Danial) Moroni Tyler (Justice of the Peace)
Emily Tyler
Esther Murry Tyler
John P. Tyler
Sarah Elzina Pulsipher Tyler (born 11/6/1854; died ???)
William Nathanial Tyler
Nancy Garrett Welborn (born 8/7/1823; died 12/17/1896)
" see Nancy Garrett Welborn Hunt above
John Brower Winsor (born 6/25/1882; died 6or7/7/1883)
Joseph Smith Winsor (born 12/23/1885; died 8/23/1887)

??? John F. Laub ???
??? George A. Burgon ???
???George W. Laub ???



PHOTOS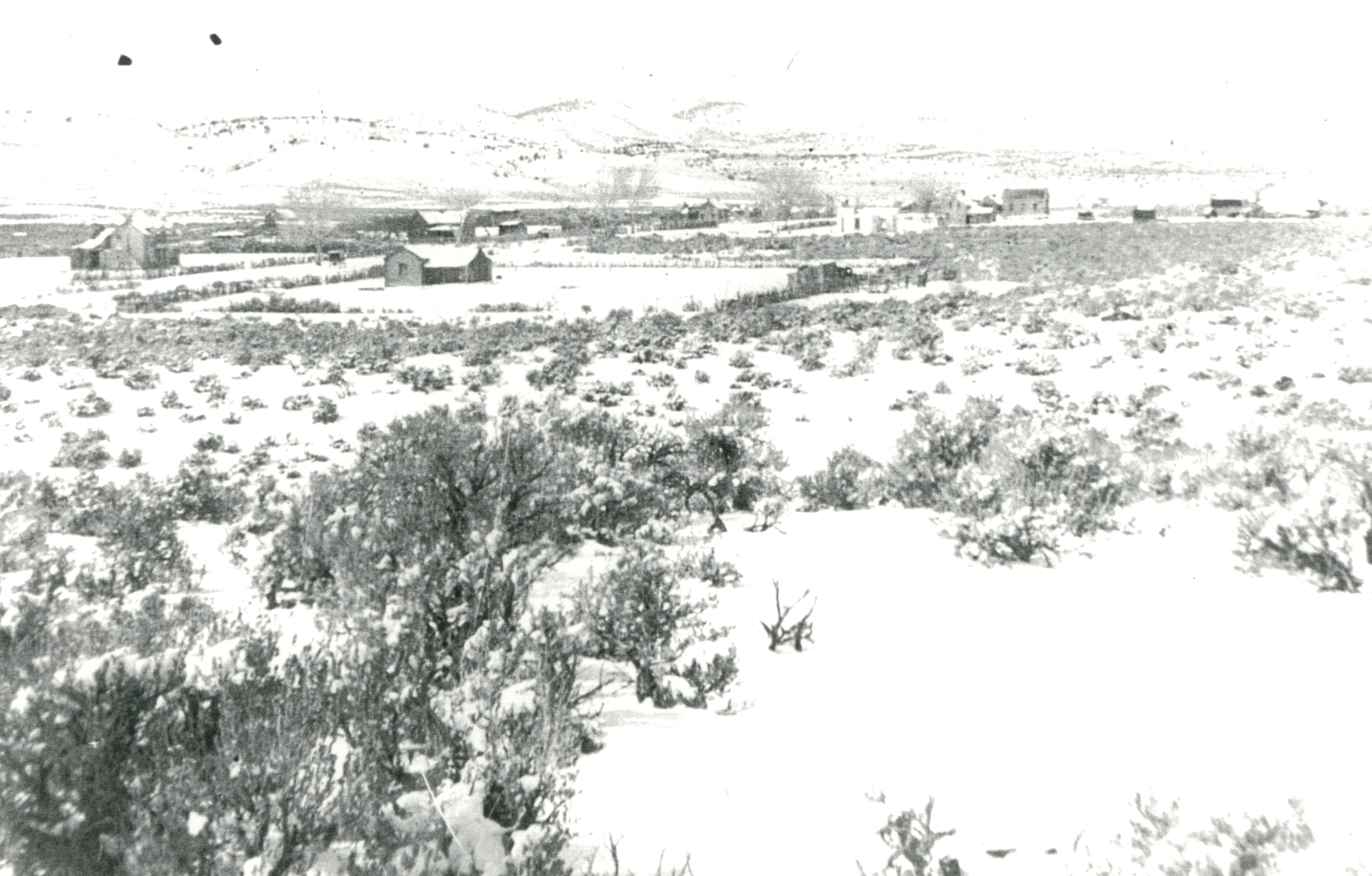 WCHS-03632 Photo of Hebron in the early spring of 1903

Other WCHS photos:
WCHS-00593 Photo of the Hebron Cemetery
WCHS-00594 Photo of a plaque at the Hebron Cemetery
WCHS-00595 Photo of an old gravestone at the Hebron Cemetery
WCHS-00596 Photo of the Gazeliam Callaway gravestone at the Hebron Cemetery
WCHS-00597 Photo of the Mary Frances VanBuren Callaway gravestone at the Hebron Cemetery
WCHS-00598 Photo of the Eliza Chidester gravestone at the Hebron Cemetery
WCHS-00599 Photo of the Thomas Terry Huntsman gravestone at the Hebron Cemetery
WCHS-00600 Photo of the Hannah Davis Huntsman gravestone at the Hebron Cemetery
WCHS-00601 Photo of the James W. & Hannah Davis Huntsman gravestone at the Hebron Cemetery
WCHS-00602 Photo of the Josephine Huntsman gravestone at the Hebron Cemetery
WCHS-00603 Photo of the Huntsman sons gravestone at the Hebron Cemetery
WCHS-00604 Photo of the James Huntsman gravestone at the Hebron Cemetery
WCHS-00605 Photo of a Huntsman? gravestone at the Hebron Cemetery
WCHS-00606 Photo of Huntsman marker at the Hebron Cemetery
WCHS-00607 Photo of the Martha Vaughan Jones gravestone at the Hebron Cemetery
WCHS-00608 Photo of the Hilaman Leavett gravestone at the Hebron Cemetery
WCHS-00609 Photo of the Orilla Leavett gravestone at the Hebron Cemetery
WCHS-00610 Photo of the Zadock & Mariam P. Parker gravestone at the Hebron Cemetery
WCHS-00611 Photo of the Pulsipher family gravestone at the Hebron Cemetery
WCHS-00612 Photo of the Zarah Pulsipher gravestone at the Hebron Cemetery
WCHS-00613 Photo of the Mary Ann B. Pulsipher gravestone at the Hebron Cemetery
WCHS-00614 Photo of a Pulsipher family marker at the Hebron Cemetery
WCHS-00615 Photo of the Joseph S. Winsor gravestone at the Hebron Cemetery
WCHS-03631 Photo of people in front of the old Hebron Church in 1888

Other photos on the web:
Old photo of Hebron
An old farm in Hebron



REFERENCES
Wikipedia article about Hebron

OnlineUtah.com article about Hebron

"Old Hebron: Stories"
Book by W. Paul Reeve and Doris Truman

"Cattle, Cotton, and Conflict: The Possession and Dispossession of Hebron, Utah"
Article by W. Paul Reeve
Utah Historical Quarterly (UHQ), Volume 67, Number 2 (Spring 1999)
Pages 148-175

" A Brief History of Shoal Creek, Hebron, and Enterprise From 1862 to 1922"
Booklet by Orson W. Huntsman of Enterprise, Utah
Published in 1929 in connection with the History Department of the Dixie College, St. George, Utah

" Southern Utah Memories: Earthquake Destroys Town of Hebron"
by Loren R. Webb, December 7, 2012

Washington County Chapter, Daughters of the Utah Pioneers, " Under Dixie Sun".
1950 with 1978 Supplement.
Pages 122-123.

"A History of Washington County From Isolation to Destination"
Second Edition, 2007
Book by Douglas D. Alder and Karl F. Brooks
Pages ???.

Hebron Cemetery Index
Hebron Cemetery Index