LOCATION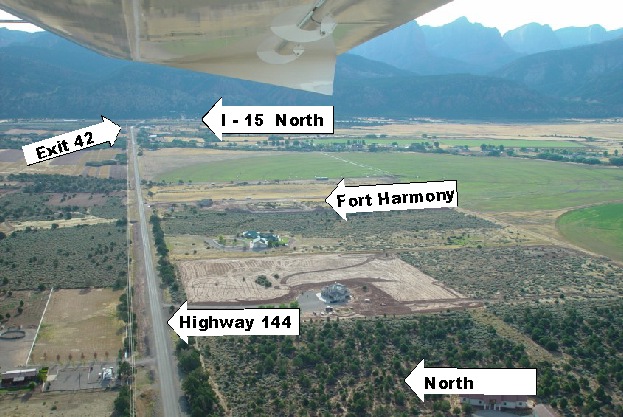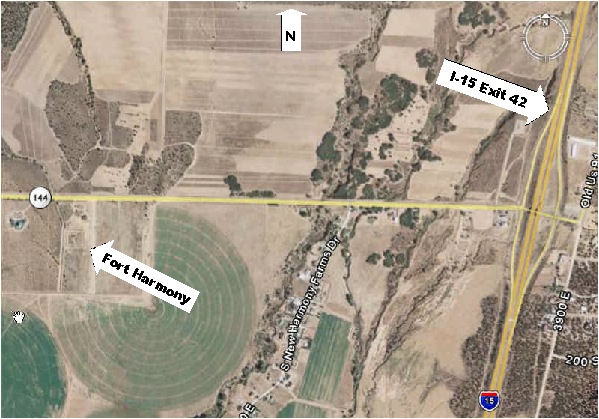 37° 28' 50" North Latitude, 113° 14' 36" West Longitude
37.48° North Latitude, 113.24° West Longitude
5,148 feet (1,569 meters) MSL



FEATURES
Fort Harmony was constructed of crude (without binding materials) adobe. The walls were 300 feet on a side. Houses along the inside of the 10 foot east wall were one story high. Houses along the inside of the 16 foot west wall were two stories high.

Culinary water was obtained from a well. Irrigation water for the fort and surrounding areas was supplied by Kanarra and Harmony Creeks.



HISTORY
Brigham Young sent missionaries to southern Utah to work with the Indians. In March of 1853, a wooden fort was built by the John D. Lee party near Ash Creek in northern Washington County. But they soon discovered the site was too small and too farm from the fields they would need to farm for their sustenance.

Subsequently, they located a site four miles to the north. Brigham Young gave them instructions as to how to build it and turned the first dirt on the southeast corner. A new adobe fort was built between May 1854 and February 1855. It was the first fort in the territory to be made of adobe brick, as the Spaniards suggested.

Fort Harmony served as the Washington County seat and was the hub of all colonization efforts south of the Great Basin. It served as a stopping place for traveler passing through the area.

The fort was occupied for seven years. But Fort Harmony was abandoned after 28 days of heavy rain washed away most of the adobe walls in January and February of 1862. The adobe bricks were not made with straw or horse hair that would have made them more durable. Most of the occupants moved a little ways west and created the town of New Harmony or moved east to Kanarraville.

Fort Harmony was put on the National Register of Historic Places (#1979003493) on November 16, 1979.



PHOTOS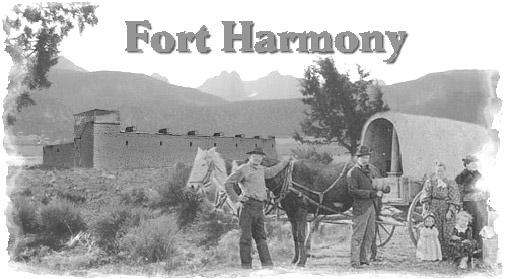 An artist's rendition of what Fort Harmony might have looked like

Photos on the web:
Northeast corner of Old Fort Harmony, probably in the 1930s
Photo of a crowd at the Fort Harmony site on 5/9/1936
Photo of a 1935 meeting at the Fort Harmony site
Photo of the monument at Fort Harmony
Photo of a crowd, band, and flagpole at the Fort Harmony side on 5/9/1936
Photo of the monument at the Fort Harmony site just before it was unveiled on 5/9/1936
Photo of William R. Palmer watching a boy scout speaks to the crowd at Fort Harmony on 5/9/1936
Photo of dignitaries and children beside the new monument at Fort Harmony on 5/9/1936
Photo of William R. Palmer reading a paper to the crowd at Fort Harmony on 5/9/1936
Photo of the crowd watching performers on a truck bed at Fort Harmony on 5/9/1936
Photo of Wilson Daniel Pace at Fort Harmony
Photos from the National Register of Historic Places nomination form



REFERENCES
Fort Harmony Historical Society's Accomplishments & Events

Fort Harmony Area Property Plans

Records Found

Harmony Valley & The Pioneers, Harmony Valley & The Native Americans

Fort Harmony & New Harmony Residents, 1852-1869

Archaeology Report

A history of Fort Harmony

History of Fort Harmony
A walk through of the remains of Fort Harmony, the history and the people.
By Dr. Lyman Platt
A DVD video available from the the Fort Harmony Historical Society

The Fort Harmony Monument
A DVD video available from the the Fort Harmony Historical Society

"Harmony, Fort Harmony, New Harmony and Surrounding Area"
Book by Sheldon Grant
Salt Lake City: Sheldon Grant, 1992, 2001

Washington County Chapter, Daughters of the Utah Pioneers, " Under Dixie Sun".
1950 with 1978 Supplement.
Page 127.

National Register of Historic Places, Inventory - Nomination Form

Temple Prophesy and Warning: Harmony Valley, Utah
A document about the Native American mission at Fort Harmony and the Kimball Prophecy
by L. Karen Platt, MS, MSW
Published by the Platt Family Records Center, 2013

Southern Utah Memories: Fort Harmony becomes mother community of Washington County,
by Loren R. Webb, June 13, 2013