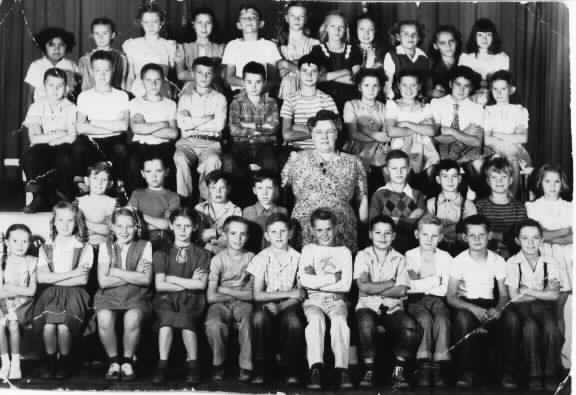 Photo of Florence Foremaster's 1946-1947 4th grade class at the old St. George Elementary School.

Rear row (left to right): Lorna Tillahash, Beatrice Condie, Cleone Wallis, Claudia Rowley,
Lorenzo W. "Mac" McGregor, Caroline Kimball, Mary Ruth Kirtland, Gloria ???, ???, ???, Marcia Crandall
Third row (left to right): Keith W. Reichmann, Jon Michael Hafen, Grant Christian, Ivor Jones, Danny Dustin,
Lowell Stevens, Clorinda Stratton, ???, Annette Snow, Lenore Syphus
Second row (left to right): Norman Carpenter, George Burton Kemple, Kenneth Nelson, Leroy Oliphant,
Florence Foremaster (teacher), Clark Church, Alma Bracken, Ronald "Ron" Leavitt, Mary Lynn Stucki
Front row (left to right): Jo ???, Gail Judd, Dorothy Hall, Erinae Woodbury, Robert "Bob" Lytle,
Monte "Mont" Burton, Joseph Kay Brooks, Bruce Stowell, Clark Nelson, LLoyd Booth, Reed Gardner

For a slightly enhanced version of this photo, click here.

Photo contributed by Clark Nelson on March 8, 2012.