BIOGRAPHY
Israel Ivins and his family emigrated from New Jersey to Salt Lake City, arriving in August 1853 after a
140-day journey.

Israel Ivins was living with his family in the Great Salt Lake City 14th Ward when at the October 1961 General
Conference of the LDS Church, he was called to take his family south to the Cotton Mission. He was part of
the first 309 families that settled in St. George.

Dr. Ivins was the first practicing physician in St. George. He also helped form the first city government and
provided surveying for the town. Dr. Ivins is the father of Apostle Anthony W. Ivins.
Anna died January 10, 1896 in St. George and is buried in Plot A_E_87_6_NH of the
St. George City Cemetery.



FAMILY
Parents and Siblings:
Anthony Ivins
Sarah Reeves Wallin Ivins
Margaret Wallin Ivins
Thomas Wallin Ivins
Emeline Ivins
Israel Ivins
Anthony Ivins
Anthony Ivins
Edward Wallin Ivins

(xx/xx/1781-xx/xx/1851) (married xx/xx/xxxx)
(xx/xx/1788-xx/xx/1856)
(xx/xx/1806-xx/xx/1886) (married Xxxxxxx X. Xxxxxxxx)
(xx/xx/1809-xx/xx/1877) (married Xxxxxxx X. Xxxxxxxx)
(xx/xx/1811-xx/xx/1855) (married Xxxxxxx X. Xxxxxxxx)
(5/19/1815-4/16/1897) (married Anna Lowrie Ivins and Julia Hill)
(xx/xx/1817-xx/xx/1817) (married Xxxxxxx X. Xxxxxxxx)
(xx/xx/1818-xx/xx/1870) (married Xxxxxxx X. Xxxxxxxx)
(xx/xx/1821-xx/xx/1880) (married Xxxxxxx X. Xxxxxxxx)

First Wife and Children:
Anna Lowrie Ivins
Caroline Augusta Ivins

Georgina Ivins
Anthony Woodward Ivins


(11/18/1816-1/10/1896) (married 3/19/1844)
(4/22/1845-2/2/1884) (married Theodore McKean
and John Ezra Pace)
(11/6/1847-3/xx/1848)
(9/16/1852-9/23/1934) (married Elizabeth Ashby Snow)

Second Wife and Children:
Julia Hill Ivins
Israel Hill Ivins
Julia Ann Ivins

Sarah Emeline Ivins
Marian Emly Ivins
William Howard Ivins
Margaret McKean Ivins
George Franklin Ivins
Edith May Ivins


(1/15/1833-2/14/1895) (married 2/12/1857)
(12/22/1857-8/13/1858)
(12/2/1859-1/17/1900) (married Aaron Johnson MacDonald
and John Ezra Pace)
(10/5/1861-10/16/1862)
(10/5/1863-8/xx/1864)
(12/18/1866-5/5/1937) (married Sarah Della Lancaster Redd)
(3/31/1868-1/14/1928) (married Joseph Charles Bentley)
(6/11/1871-11/19/1873) (married Xxxxxxx X. Xxxxxxxx)
(6/8/1873-7/18/1853) (married Walter Sparks Lamoreaux)
PHOTOS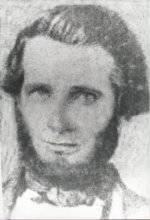 WCHS-01922 Dr. Israel Ivins

Photos on the web:
Photos of Israel & Anna



REFERENCES
Israel Ivins
by Kimball Stewart Erdman, great-grandson of Israel Ivins
October 7, 2013

Israel Ivins: A Biography
by Kimball Stewart Erdman
1969

Young "Tony" Ivins: Dixie Frontiersman
by Ronald W. Walker
17th Annual Juanita Brooks Lecture, March 15, 2000

Young "Tony" Ivins: Dixie Frontiersman
by Ronald W. Walker
BYU Studies, Volume 40, Number 1, 2001, pp. 105-131

Washington County Chapter, Daughters of the Utah Pioneers,
" Under Dixie Sun".
1950 with 1978 Supplement.
Page 304.

Douglas D. Alder and Karl F. Brooks,
" A History of Washington County From Isolation to Destination".
Pages 38, 99, and 113.

BillionGraves entry for Israel Ivins

FamilySearch entry for Israel Ivins

Find-A-Grave entry for Israel Ivins

FamilySearch entry for Anna Lowrie Ivins

Find-A-Grave entry for Anna Lowrie Ivins Ivins

FamilySearch entry for Julia Hill

Find-A-Grave entry for Julia Hill Ivins