LOCATION
The Thompson Mansion (rental suites)
212 North 100 West
St. George, UT 84770
(435)680-3875
stay@thompsonmansion.com
http://www.thompsonmansion.com

The current lot has been cut out of the original William Thompson and J. Chesney lots shown on the old pioneer map of St. George.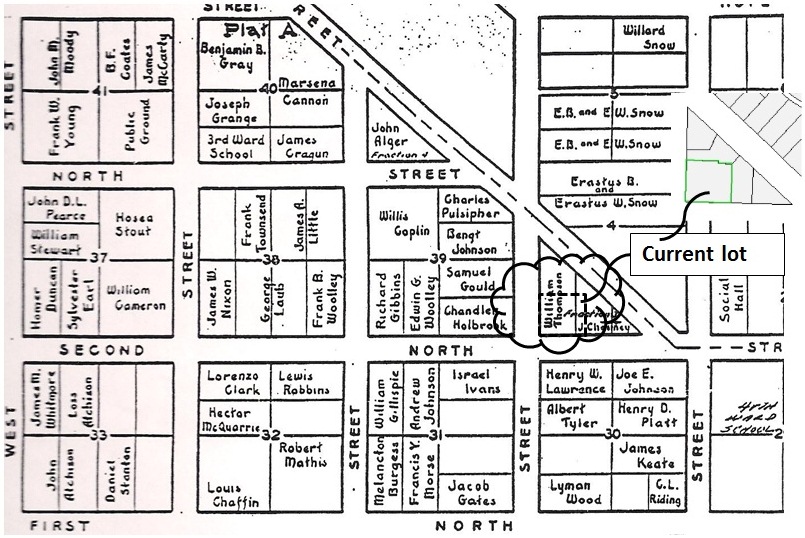 DESCRIPTION
TBD



HISTORY
This home was built in 1871 by William H. Thompson, but he didn't live in it very long.

In 1876, Thompson sold the home to Adolphus R. & Mary Whitehead. The Whiteheads owned the home for approximately 30 years. In 1905, Mary deeded the home to her children.

Subsequent owners included Floyd C. Stevens and his wife Leola, who owned the house from 1943 to 2001.

Michael Madsen bought the house in 2006. He recognized its potential as an income-producing property with its location in the Downtown Historic District near the Brigham Young Winter home and Ancestor Square. His application to have it designated a St. George Historic Landmark was approved in April 2007, with a conditional use permit to renovate it as a vacation rental issued shortly thereafter. This home has been restored and now serves as rental suites.

The mulberry tree in front of the house is said to be the oldest tree in St. George.

The thick 16 inch adobe walls still stand and the home still holds its original wood floors. In the basement, there is an old wood/coal burning furnace with holes in the floor used to distribute heat throughout the house.

Owners:
1876 William H. Thompson (original owner)
1876 Adolphus R. Whitehead
1879 Mary G. Whitehead
1905 George F. Whitehead, et al
1910 Mary E. Seegmiller
1931 Kenneth M. Cannon
1943 Floyd C. Stevens
2001 Leola J. Stevens
2002 Rosalee Ruesch & Stevens Enterprises LLC
2004 Roger K. Tay or & Mark D. Wade
2006 Mike Madsen / Interstate Rock Products, Inc. (current owner)



BIOGRAPHY
William Henry Thompson was a musician who had his own band at one time.

Adolphus R. Whitehead was the superintendent of the Washington Cotton Mill.



PHOTOS
TBD



REFERENCES
Landmark and Historic Sites: City of St. George
First Edition, January 2, 2009, pp. 37-1 through 37-5
Compiled by the St. George Community Development Department

Landmark and Historic Sites: Informational Guide of Historical Sites within the City of St. George
Second Edition, Revised 2011, pp. 33-34
Compiled by the St. George Community Development Department