LOCATION
On the south side of SR 9, 3.4 miles east of LaVerkin
and 0.9 miles east of the LaVerkin overlook sign.
2.7 miles west of Virgin and 1.5 miles west
of Sheep Bridge Road.

37° 12' 29" North Latitude, 113° 14' 14" West Longitude
37.208° North Latitude, 113.237° West Longitude
3,627 feet (1,106 meters) MSL


To expand this image, click here.
DESCRIPTION
This "cedar-post-corral" was built with closely spaced posts cut from juniper trees and tied together with heavy wire to make a solid fence.

There was a chute for loading the live stock onto trucks. After loading, the trucks then transported the market livestock to railcars in Modena or Cedar City in Utah or to Lund, Nevada.

This corral's design was unique in that it was built to accomodate both sheep and cattle. There are two side-by-side crowding alleys leading to the loading chute. One alley was built with taller posts for handling cattle, while the second adjoining alley was built with shorter posts to accomodate sheep. The shorter fence allowed the sheep herders to easily reach the animals and keep them moving through the alley to the loading chute.



HISTORY
This corral was built by the Civilian Conservation Corp (CCC) to assist in the management of livestock (sheep and cattle) which grazed on the public lands. This type of cedar-post-corral was called a Unit Corral.

Kolob and Cedar Mountain were primarily sheep country when this corral was built. The corral was used to hold herds overnight as they were trailed to or from Kolob and Cedar Mountain to their winter pastures on the Arizona Strip. I was the main location for the sheep to be sheared of their winter wool before going onto the mountain for the summer. It was not uncommon to see several herds of sheep out in these flats waiting for their turn to be sheared. After shearing, the wool was put into large burlap bags that held about 200 pounds of wool each. These bags were then hauled to the railhead and shipped to market.

As sheep were replaced by cattle, the focus of the corral changed. Since the location of the corral was actually a few miles west of the main trail, it wasn't used for this purpose as often as it might otherwise would have.

At least five [CCC?] corrals were built in Washington County. This was the largest of the five with another large one in Pine Valley. Smaller ones included the CCC Corral just north of Gunlock. Two of the corrals no longer exist: One in Central and one in St. George (in the Fort Pierce Industrial Area).

Additional corrals were also built on the Arizona Strip including Gould's, White Pockets, Clayholes, Short Creek, Fredonia, and Littlefield.



PHOTOS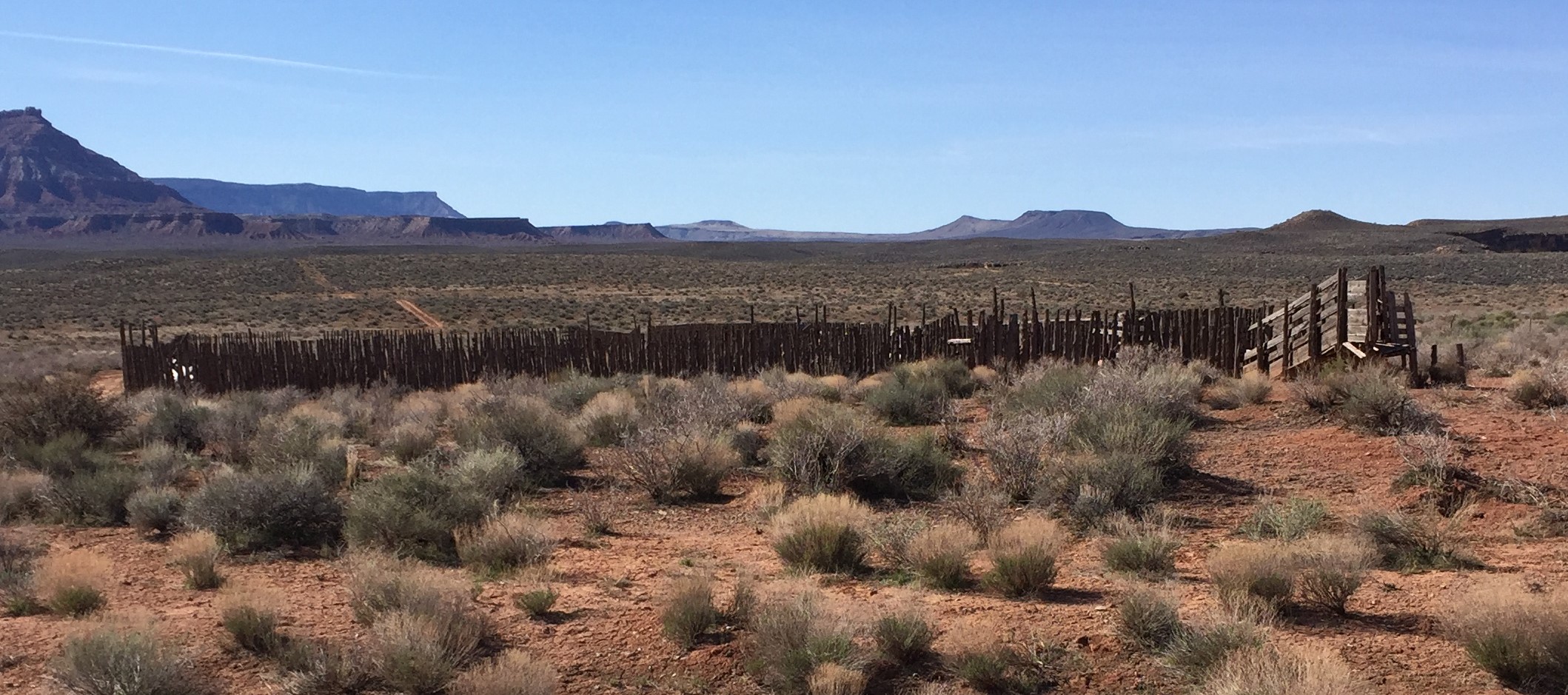 WCHS-03231 Photo of the Virgin CCC Corral

Other WCHS photos:
WCHS-03140 Photo of the Virgin CCC Corral in Virgin, Utah
WCHS-03141 Photo of the Virgin CCC Corral in Virgin, Utah
WCHS-03142 Photo of the Virgin CCC Corral in Virgin, Utah
WCHS-03227 Photo of the CCC Corrals plaque at the new informational kiosk at the Virgin CCC Corral
WCHS-03232 Photo of the animal loading ramp at the Virgin CCC Corral
WCHS-03233 Photo of the animal loading ramp at the Virgin CCC Corral
WCHS-03234 Photo of a holding pen at the Virgin CCC Corral
WCHS-03235 Photo of a holding pen at the Virgin CCC Corral
WCHS-03236 Photo of a holding pen at the Virgin CCC Corral
WCHS-03237 Photo of the south end of the Virgin CCC Corral
WCHS-03238 Photo of the south pen at the Virgin CCC Corral
WCHS-03239 Photo of the south pen at the Virgin CCC Corral
WCHS-03240 Photo of the southern part of the Virgin CCC Corral
WCHS-03241 Photo of the chute leading to the loading ramp at the Virgin CCC Corral
WCHS-03242 Photo of the chute leading to the loading ramp at the Virgin CCC Corral
WCHS-03243 Photo of the southwest corner of the VirginCCC Corral
WCHS-03244 Photo of the west fence of the Virgin CCC Corral
WCHS-03245 Photo of the west fence of the Virgin CCC Corral



REFERENCES
TBD