LOCATION
23 East 100 North
St. George, UT 84770
Telephone 149 in the 1941 telephone book (WASHINGTON COUNTY NEWS)
Telephone 150 in the 1954 telephone book (Washington County News news desk)
Telephone ORchard 3-4141 in the 1958 telephone book (Washington County News news desk)
Telephone ORchard 3-4141 in the 1961 telephone book (WASHINGTON COUNTY NEWS news desk)
Telephone 673-4141 in the 1972 telephone book (WASHINGTON COUNTY NEWS)



HISTORY
John R. Wallis published the Washington County News on an experimental basis from June 18, 1898 to
July 28, 1900. He then sold the paper to D.U. Cochrane who began publishing The Dixie Falcon.

The Washington County News began again on January 30, 1908. John R. Wallis was the editor and proprietor
for the next two decades.

Edgar R. Simpson bought the newspaper from Wallis in 1929 and published it until 1947 when poor health
forced him to sell.

The paper was then bought by a Mr. Lyman.

The Mountford family, publishers of the Washington County News, sold the newpaper to John Rogers on
March 20, 1986. They retained the rest of the business as Classic Printing Inc.

The Washington County News continued to be printed by Classic Printing until the newspaper ran into financial
trouble and was shut down on on March 8, 1988.



PHOTOS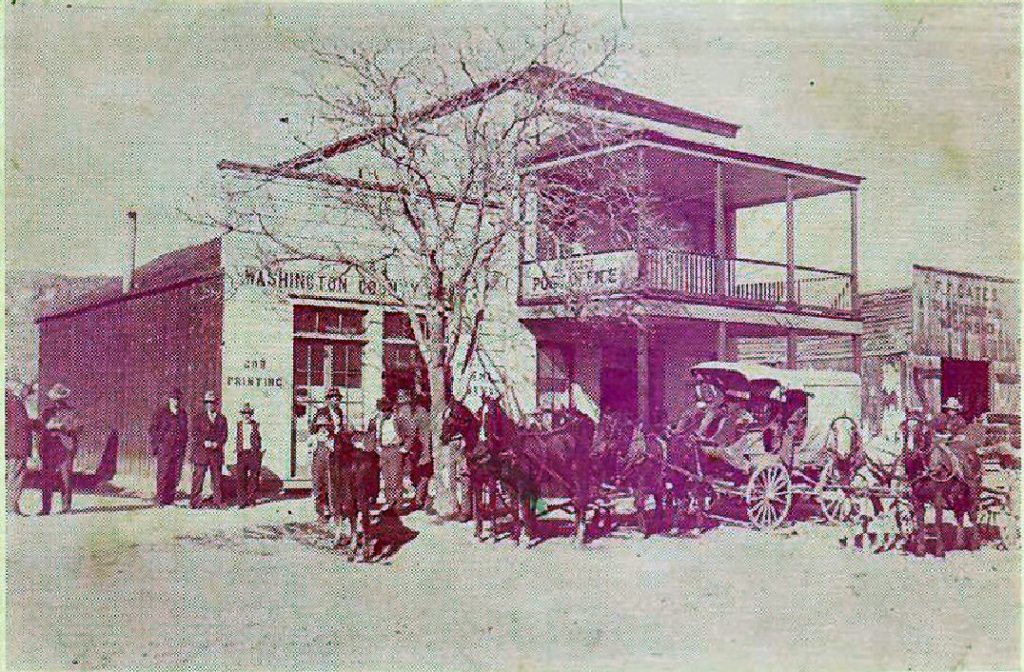 Washington County News and old Post Office buildings



REFERENCES
Utah Digital Newspapers Search Washington County News

Newspaper clipping from an unknown source in 1908

Southern Utah Memories: Newspapers of Washington County, Utah, 1864 to 1994 - Part 1 of a two-part series,
by Loren R. Webb, December 15, 2012

Southern Utah Memories: Newspapers of Washington County, Utah, 1864 to 1994 - Part Two,
by Loren R. Webb, December 23, 2012