BIOGRAPHY
Wilson Lund was born in Bethnal Green, Westmoreland County England on February 9, 1815.

Wilson took Ellen Nielson as a plural wife in March of 1860.

Wilson and his families were called in the October 1862 conference to go to St. George. They arrived on New Year's Day in 1863.

In the spring of 1864, Wilson and one or two other families were sent to Shoal Creek to help the Terry and Pulsipher families tend cattle. Wilson took Ellen and her two young children with him while Eliza's family stayed in St. George.

Some time around 1867, Wilson thought Ellen and the children could do better at Pine Valley, so he moved them there. Their first house was a little two room log affair, bettered later on. Here the family struggled along with a bare existence for about seven or eight years.

About 1875 they left Pine Valley and moved back to Shoal Creek, which was then called Hebron, quite a thriving little community.

After the St. George Temple was completed and dedicated in 1877, President Brigham Young gave Wilson a blessing and told him to go and live where he could be most comfortable and happy. Through the years as he peddled his grind stones up and down the country he liked the little town of Paragonah in northern Iron County. He thought it would be a good place to bring his growing boys because land was still available for home steading. It was in 1881 that he took his wife, Ellen, and family and moved to Paragonah.

Wilson died July 26, 1889 in Paragonah, Iron County, Utah.
There was no cemetery in Paragonah at the time, so he was buried in Plot 03-21-01 of the Parowan City Cemetery.



FAMILY
Parents and Siblings:
Robert Lund
Mary Wilson Lund
Xxxxxxx X. Xxxxxxxx
Xxxxxxx X. Xxxxxxxx
Xxxxxxx X. Xxxxxxxx
Xxxxxxx X. Xxxxxxxx
Xxxxxxx X. Xxxxxxxx

(xx/xx/xxxx-xx/xx/xxxx) (married xx/xx/xxxx)
(xx/xx/xxxx-xx/xx/xxxx)
(xx/xx/xxxx-xx/xx/xxxx) (married Xxxxxxx X. Xxxxxxxx)
(xx/xx/xxxx-xx/xx/xxxx) (married Xxxxxxx X. Xxxxxxxx)
(xx/xx/xxxx-xx/xx/xxxx) (married Xxxxxxx X. Xxxxxxxx)
(xx/xx/xxxx-xx/xx/xxxx) (married Xxxxxxx X. Xxxxxxxx)
(xx/xx/xxxx-xx/xx/xxxx) (married Xxxxxxx X. Xxxxxxxx)

First Wife and Children:
Eliza Ann Brace Lund
Orson Hyde Lund
Robert Charles Lund
Jane Eliza Lund
William Wilson Lund
Brigham James Lund
Heber John Lund
Margaret Elizabeth Lund
Mary Agnes Lund
Eliza Ann Lund


(10/11/1821-6/29/1907) (married xx/xx/xxxx)
(9/17/1845-11/14/1845)
(5/29/1847-xx/xx/xxxx) (married Mary Ann Romney)
(4/23/1849-xx/xx/xxxx) (married Xxxxxxx X. Xxxxxxx)
(6/12/1852-4/13/1918) (married Annie Elesebeth Wiltbank or Anna Elizabeth Wiltbank)
(12/14/1854-9/18/1905) (married Rosilla Polly Branch)
(12/12/1856-12/12/1856)
(11/23/1857-7/17/1862)
(12/7/1860-xx/xx/xxxx) (married Thomas Judd)
(2/23/1865-3/13/1919) (married Reuben Joseph Farnsworth)

Second Wife and Children:
Ellen Nielson Lund
Alfred Willard Lund
Annie Maria Lund
Ida Johanna Lund
Ellen Sophia Lund
Wilson Lund Jr.
Richard Nielson Lund
Joseph Hans Lund
Stephen Lund


(4/22/1837-9/14/1902) (married 3/xx/1858)
(10/27/1860-xx/xx/xxxx) (married Minerva Susan Terry)
(10/21/1862-xx/xx/xxxx) (married Thomas Amenzo Topham)
(1/18/1866-xx/xx/xxxx) (married Seth William Smith)
(6/21/1868-1/17/1947) (married Stephen Alma Barton)
(6/10/1871-xx/xx/xxxx) (married Sarah Jane Williamson)
(4/17/1874-xx/xx/xxxx) (married Adelaide Abigail Lamoreaux)
(5/6/1876-xx/xx/xxxx)
(7/17/1878-7/20/1878)
PHOTOS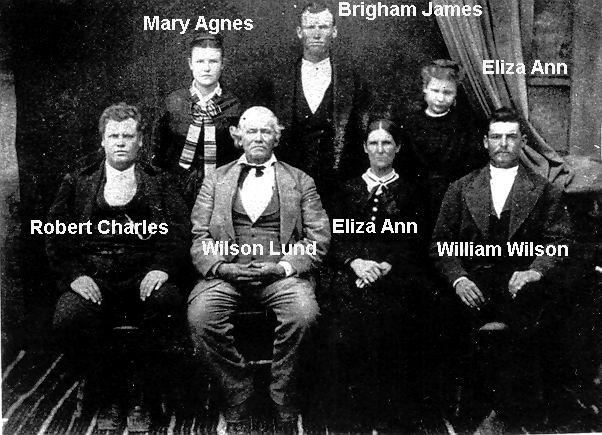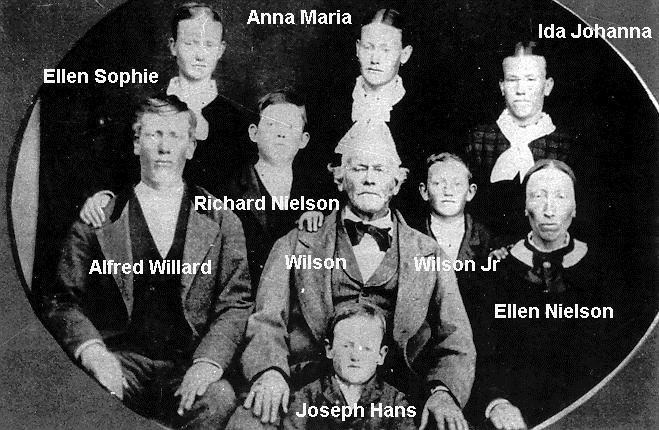 REFERENCES
Wilson Lund Family History compiled by Russ Bateman
Find-A-Grave entry for Wilson Lund
Find-A-Grave entry for Eliza Brace Lund
Find-A-Grave entry for Ellen Nielsen Lund