BIOGRAPHY
Walter Pace Cottam was born in St. George on March 3, 1894. He grew up there working on his father's farm and helping with the cattle. He spent a lot of time on and around the Pine Valley Mountain as a young boy and later working for the Forest Service.

Walter went through the local schools and was in the first graduating class of the St. George Stake Academy in 1913.

Walter married Effie Frei on July 1, 1915. She was also in the same class but six years his senior. They had three sons and two daughters. Effie died in 1964 and is buried in Plot U_407_10 of the Mount Olivet Cemetery in Salt Lake City.

He went on to graduate from BYU with a A.B. degree in 1916 and and M.A. degree in 1918. He was the one of the first two people to receive a master's degree from BYU. He taught at Jordan High School for the 1918-1919 school year but decided to pursue an advanced degree in Wisconsin. However, he got sidetracked to the University of Chicago and received his Ph.D from there in 1926.

Walter went back to BYU and stayed there for the next 12 years.

In 1931, he transferred to the University of Utah and taught there for the next 31 years and, after retiring in 1962, spent many years there working on his hybridized Oak project.

Some of Walter's accomplishments and awards included: Planted a number of Sequoia trees on both sides of Pine Valley Mountain in the 1930s. Co-founder of The Nature Conservancy. Chairman of the Botany Department at the University of Utah. His collections became the State Arboretum and led to the Red Butte Garden with the Walter P. Cottam Visitor Center.

Walter died on December 22, 1988 in Gresham, Multnomah County, Oregon of Alzheimer's disease. He is buried in Plot U_407_10 of the Mount Olivet Cemetery in Salt Lake City.



FAMILY
Walter's Parents and Siblings:
Thomas Punter Cottam
Emmaline Jarvis Cottam
Emmaline "Emma" Jarvis Cottam
Thomas Cottam
Heber Walter Cottam
Arthur Cottam
Annie Cottam
Moroni Jarvis Cottam
Walter Pace Cottam
Eva Cottam Jones
Xxxxxxx X. Xxxxxxxx
Xxxxxxx X. Xxxxxxxx

(9/26/1857-3/16/1926) (married 1/26/1882)
(3/21/1863/1863-9/21/1944)
(12/27/1882-10/15/1976) (married Moroni McArthur)
(6/5/1884-7/29/1970) (married Matie Dotson and Anna Larsen)
(5/26/1886-6/27/1932) (married Edith Brooks)
(8/5/1888-8/20/1981) (married Mary Mae Pritchard)
(7/10/1890-4/21/1976) (married Mark Bleak and William Frank Wilson)
(1/3/1892-7/8/1966) (married Ramona Farrer)
(3/4/1894-12/22/1988) (married Effie Frei)
(8/9/1902-11/2/1955) (married Ellis Wilson Jones)
(xx/xx/xxxx-xx/xx/xxxx) (married Xxxxxxx X. Xxxxxxxx)
(xx/xx/xxxx-xx/xx/xxxx) (married Xxxxxxx X. Xxxxxxxx)

Effie's Parents and Siblings:
Jacob Frei
Lena Reber Frei
Robert Frei
Effie Frei
Della Lena Frei
Vivian Jacob Frei
Victor Edward Frei
John Claudius Frei
Elsie Barbara Frei
Addie Margaret Frei
Newell Reber Frei
Clark Frei


(11/27/1862-11/29/1950) (married xx/xx/xxxx)
(11/9/1864-12/4/1951)
(xx/xx/1886-xx/xx/1903) (married Xxxxxxx X. Xxxxxxxx)
(xx/xx/1888-8/xx/1964) (married Robert Frei)
(xx/xx/1890-xx/xx/1941) (married Xxxxxxx X. Fordham)
(xx/xx/1893-xx/xx/1991) (married Xxxxxxx X. Xxxxxxxx)
(xx/xx/1893-xx/xx/1896)
(xx/xx/1895-xx/xx/1967) (married Xxxxxxx X. Xxxxxxxx)
(8/4/1897-3/26/1966) (married Leland Hafen)
(xx/xx/1899-xx/xx/1904)
(xx/xx/1904-xx/xx/1901) (married Xxxxxxx X. Xxxxxxxx)
(xx/xx/1906-xx/xx/1989) (married Xxxxxxx X. Xxxxxxxx)

Walter & Effie's Family:
Walter Pace Cottam
Effie Frei Cottam
Grant Cottam
Richard Cottam
George Thomas Cottam
Celia Fae Cottam
Bea Cottam


(3/4/1894-12/22/1988) (married 7/1/1915)
(xx/xx/1888-8/xx/1964)
(xx/xx/xxxx-xx/xx/xxxx) (married Xxxxxxx X. Xxxxxxxx)
(xx/xx/xxxx-xx/xx/xxxx) (married Xxxxxxx X. Xxxxxxxx)
(11/2/1928-8/7/2011) (married Xxxxxxx X. Xxxxxxxx)
(10/21/1916-4/29/2004) (married Charles Huston Olson)
(xx/xx/xxxx-xx/xx/xxxx) (married William Fowler)
PHOTOS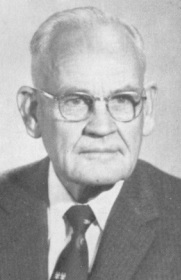 REFERENCES
Walter P. Cottam and the Sequoia Tree
by Heber Jones, December 2016

Why Hurry Through Heaven: A Biography - Memoir of Dr. Walter P. Cottam
Book by Maxine Martz, June 1, 1999

Dr. Walter Cottam: an oak of a man
Article by Maxine Martz, Deseret News staff writer

Is Utah Sahara Bound?
by Dr. Walter P. Cottam, Professor of Botany, University of Utah
Lecture delivered at the University of Utah on February 19, 1947

Markers and Monuments Database: Dr. Walter P. Cottam
Utah State Division of History

Walter P. Cottam, Eminent Ecologist
Bulletin of the Ecological Society of America, Volume 41, Number 4 (December 1960), pp. 105-107

Utah Ranges Revived in a Miracle
Article by Robert S. Halliday, Tribune Staff Writer, October 13, 1978

Fifteenth Annual Arboretum Day Tribute to Walter P. Cottam
By Bertrand F. Harrison, May 4,1979

'Tree Friends' Gather, Honor Utah Botanist
Newspaper clipping

Walter P. Cottam, 94, Ecologist, Professor Emeritus at U. Dies
Article in the Deseret News, December 24, 1988

Browse day; Pine Valley's Giant Sequoia and abandoned guard station
by Reuben Wadsworth, St. George News, May 17, 2020

FamilySearch entry for Walter Pace Cottam

Find-A-Grave entry for Walter Pace Cottam

FamilySearch entry for Effie Frei

Find-A-Grave entry for Effie Frei Cottam