BIOGRAPHY
Jacob Tobler was born on January 15, 1833 in Schonengrund, Appenzell, Switzerland.

He married Anna Katharina Preisig, daughter of Jerimias Preisig and Ana Spalinger, on May 15, 1854 in Switzerland.

Jacob (and Anna?) was baptized into the Church of Jesus Christ of Latter-day Saints on August 11, 1856.

Jacob & Anna immigrated to America arriving in New York on 19 June 1861. Anna died in July 1861 in Florence, Douglas County, Nebraska.

Jacob received his endowments and married Anna Barbara Staheli, daughter of Joachim Staheli and Anna Katharina Kreis, on October 18, 1861 in Salt Lake City, Utah. They had eleven children. Anna died on September 16, 1920 in Santa Clara.

Jacob also married Barbara Hafen, daughter of Hans George Hafen and Maria Magdalene Hafen, on October 18, 1865. She was the widow of Ignaz Willi. Jacob & Barbara had four children. Barbara died July 9, 1875 in Santa Clara.

Jacob married Rosina Reber, daughter of Johannes Reber and Barbara Stucki, on October 8, 1881 in Santa Clara. She was the widow of Johann George Staheli and had four children with him. Jacob & Rosina had six more children. Rosina died on April 24, 1900 in Santa Clara.

Jacob died in Santa Clara on November 22, 1918 and was buried in the Santa Clara City Cemetery on November 24.



FAMILY
Parents and Siblings:
Christian Tobler
Anna Buhler Tobler
Anna Elisabetha Tobler
Johann Georg Tobler
Christian Tobler
Jacob Tobler
Johann Ulrich Tobler
Anna Barbara Tobler
Johannes Tobler
Joseph Tobler
Konrad Tobler

(2/14/1802-6/23/1876) (married xx/xx/xxxx)
(7/11/1803-1/22/1883)
(6/8/1825-2/28/1830)
(10/25/1827-5/18/1894) (married Anna Barbara Zuberbuhler)
(12/1/1830-12/3/1891) (married Stephenie Opfermann)
(1/15/1833-11/22/1918) (married as shown below)
(10/5/1835-3/16/1872) (married Xxxxxxx X. Xxxxxxxx)
(1/30/1840-xx/xx/xxxx) (married Gotlieb Grabherr)
(3/24/1841-6/14/1884) (married Lisette Schmid)
(6/5/1844-12/12/1898) (married Elizabetha Xxxxxxxx)
(10/14/1845-5/19/1846)

First Wife:
Anna Katherina Preisig Tobler


(xx/xx/1833-7/xx/1861) (married 5/15/1854)

Second Wife and Children:
Anna Barbara Staheli Tobler
Bertha Tobler
Barbara Tobler
Salena Tobler
John Jacob Tobler
Wilhelmina Ida Tobler
Hermina Tobler
George Ensign Tobler
Harmon Christian Tobler
John Henry Tobler
Ernest Tobler


(2/14/1835-9/16/1920) (married 10/18/1861)
(1/1/1863-11/11/1937) (married Samuel Wittwer)
(8/15/1865-9/18/1941) (married John Staheli)
(2/10/1867-xx/xx/1867)
(5/1/1868-9/23/1887)
(2/25/1870-xx/xx/1870)
(4/19/1873-1/7/1925) (married Karl Albert Graf)
(xx/xx/1877-4/1/1953) (married Mary Magdalena Stucki)
(xx/xx/1878-12/1/1938) (married Leah Leavitt)
(xx/xx/1879-7/28/1956) (married Mary Elizabeth Stucki)
(xx/xx/1887-10/26/1956) (married Cecilia Hulda Ence)

Third Wife and Children:
Barbara Hafen Willie Tobler
William Egnatz Tobler
John Albert Tobler
Magdalena Tobler
Barbara Emma Tobler


(12/8/1835-7/9/1875) (married 10/18/1865)
(11/25/1866-4/8/1960) (married Mary Magdalena Wittwer)
(1/28/1869-11/15/1915) (married Barbara Rosina Stucki)
(4/11/1871-6/10/1872)
(5/26/1873-6/21/1875)

Fourth Wife and Children:
Rosina Reber Staheli Tobler
John Alfred Tobler
Edward Tobler
Josephine Tobler
Vernon Tobler
Lillie Tobler
Rhoda Barbara Tobler


(8/4/1851-4/24/1900) (married 10/8/1881)
(11/19/1882-11/16/1949) (married Delmay Knight)
(7/17/1885-6/26/1938) (married Lula Viola Stucki)
(1/31/1888-8/6/1939) (married John Henry Graf) ???
(8/5/1890-3/11/1949) (married Emma Margarett Reber and Olive Dodge)
(1/2/1893-3/22/1980) (married Milo John Ence)
(1/16/1899-8/1/1932) (married Edward Rudolph Frei Jr)
PHOTOS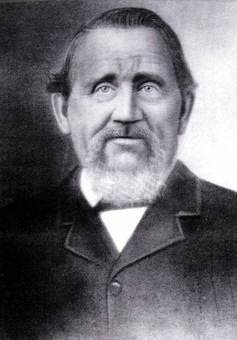 WCHS photos:
WCHS-04540 Photo of Jacob Tobler
WCHS-04541 Photo of Rosina Reber Staeheli Tobler's children



REFERENCES
Jacob Tobler: Portrait of a Saint
by Douglas F. Tobler

Heinrich Hug and Jacob Tobler: From Switzerland to Santa Clara, 1854-80
by Douglas F. Tobler
Dialogue: A Journal of Mormon Thought
Volume 26, Number 4, Winter 1993, Pages 107-127

History of the Jacob Tobler family: Histories, pictures, and genealogy of Jacob Tobler, his four wives,
and their children
by Sherri G. Anderson
Santa Clara: 1999
See the information page.

SOUTHERN UTAH MEMORIES: Heinrich Hug/Jacob Tobler
by Loren R. Webb, November 11, 2012

Wittwer Family Blog

FamilySearch entry for Jacob Tobler

Find-A-Grave entry for Jakob Tober

FamilySearch entry for Anna Katharina Preisig

FamilySearch entry for Anna Barbara Staheli

Find-A-Grave entry for Anna Barbara Staheli Tobler

FamilySearch entry for Barbara Hafen

Find-A-Grave entry for Barbara Hafen Tober

FamilySearch entry for Rosina Reber

Find-A-Grave entry for Rosina Reber Tobler