BIOGRAPHY
Alfred Lorenzo Hall was born November 15, 1858 in the Sugarhouse Ward in Salt Lake City. This was about a year after his parents had reached Utah and while they were still quite destitute.

In 1861, the Halls answered a call for volunteers to go to the Dixie Cotton Mission. They settled in Rockville.

Julia Elzina Hansen (sometimes spelled Hanson) was born near Glenwood, Mills County, Iowa on January 28, 1860. The following year she came to Utah with her mother, brothers, and sisters in the David H. Cannon company. An older brother, William Crawford (son of her mother by a former husband), a young man then of about 18 years, shared the responsibility of bringing the family across the plains with their team. Julia's father, Niels Hansen, had left the Mormon church and gone to California, taking with him a brother, Andrew Jackson, a boy of 10 years. Julia never heard from that brother again until he was grown.

At some point, Julia, her mother, and possibly other siblings relocated to Rockville in southern Utah.

Alfred was shy and awkward in public, especially in the presence of ladies, so when he started courting Julia Hansen, who was a very popular girl, the entire village was surprised. Perhaps even he himself was a bit amazed. But in 1882, he and Julia traveled to St. George from Rockville by wagon, taking two or three days to complete the journey down and back, and were married in the St. George Temple on January 18th.

In 1902, Alfred bought the Crystal Spring Ranch on Kolob Mountain, where he moved during the summer because of his wife's health. They lived there each summer for eleven years until 1912 when the ranch and cattle were sold.

In 1910, Alfred sold his property in Rockville and moved his family to Hurricane. Besides his farm in the valley, he took up a homestead about twelve miles east of Hurricane, where he began to dry farm.

Alfred was the leader in promoting the Hurricane State Bank. Arnold Dixon, cousin to Alfred, had the original idea and the two of them succeeded in stirring the interest of Dave Hirschi, who was the logical man to head the bank, because of his shrewd business ability and keen foresight. They were successful in their endeavor and Alfred was a director from the time the bank was organized in 1917 until 1933, and was the largest stockholder until just prior to his death.

Alfred died on January 4, 1934 and was buried in the Hurricane City Cemetery. Julia died on August 12, 1935 and was also buried in that same cemetery.



FAMILY
Alfred's Parents and Siblings:
John Charles Hall
Kezia DeGrey Hall
Alfred Lorenzo Hall
Henry Orson Hall
Maria Laura Hall
Alice Maude Hall
Annie Selina Hall
Samuel Hall
Adelia Hall
Myra Hall
Arthur Wright Hall
Dora Martha Murton Hall

(10/20/1821-3/3/1890) (married 9/17/1857)
(1/21/1837-7/25/1905)
(11/15/1858-1/4/1934) (married Julia Elzina Hansen)
(9/1/1860-8/10/1866)
(11/30/1862-4/3/1863)
(4/5/1864-7/18/1922) (married Jacob Heathcote Langston)
(4/2/1866-10/8/1931) (married John Henry Fisk Stout)
(5/29/1868-5/29/1868)
(1/28/1870-1/30/1908) (married Alonzo Dalton)
(3/14/1872-9/4/1951) (married Jesse Newton Lemmon)
(12/9/1875-5/31/1955) (married Adlinda DeMill)
(1/8/1878-7/1/1940) (married Alfred Fisk Stout)

Julia's Parents and Siblings:
Niels Hansen
Marilla Terry Hansen
William Robinson Crawford
Martha Jane Hansen
Andrew Jackson "A.J." Hansen
Amy Hansen
Lafayette Hansen
Sarah Elizabeth Hansen
Hannah Jane Hansen
Julia Elzina Hansen


(3/26/1806-after 1865) (married 1/17/1846)
(7/2/1823-10/17/1894)
(9/29/1842-10/29/1913) (married Cornelia Gifford) [father was from a previous marriage]
(11/28/1848-5/5/1850)
(10/11/1850-3/31/1947) (married Nellie Margaret Starr)
(9/14/1852-4/23/1889) (married Almond Draper)
(2/6/1854-8/11/1862)
(7/11/1856-2/4/1933) (married Alpheus Gifford and Thomas Nelson Terry)
(6/10/1858-12/10/1905) (married Cyrus Morgan Jennings)
(1/28/1860-8/12/1935) (married Alfred Lorenzo Hall)

Alfred & Julia's Family:
Alfred Lorenzo Hall
Julia Elizina Hansen Hall
Alfred Lorenzo Hall, Jr.
Lester Leroy Hall
Charles Merrill Hall
Lafayette Hall
Alvin Hall
John Harvey Hall
Hilda Hall
Clinton Hall
Henry Vernon Hall
Nora Crystal Hall


(11/15/1858-1/4/1934) (married 1/18/1882)
(1/28/1860-8/12/1935)
(4/1/1883-2/18/1886)
(2/25/1885-4/29/1908)
(1/25/1887-10/5/1976) (married Annabell DeMille and Nellie May Jennings)
(12/31/1888-12/31/1980) (married Mary Bertha Wood)
(10/17/1890-7/28/1979) (married Ann Pickett)
(2/16/1893-6/25/1976) (married Hannah E. Crosby)
(4/21/1895-4/2/1975) (married Leo Bringhurst)
(9/23/1897-11/30/1977) (married Ella Barbara Tobler)
(4/4/1900-9/21/1990) (married Luetta McAllister)
(8/5/1903-3/11/1987) (married Alfred Terry Lund)
PHOTOS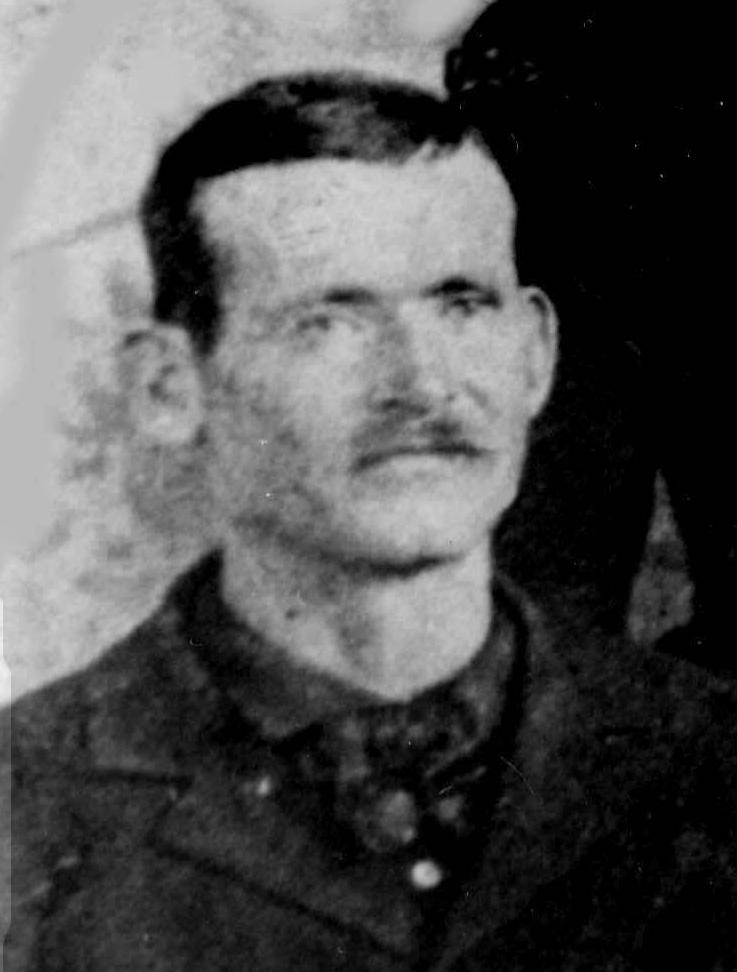 Alfred Lorenzo Hall



REFERENCES
Alfred Lorenzo Hall (1858-1934) in the Gladden Family Histories blog
Alfred Lorenzo Hall (1858-1934) Biography in FamilySearch
Find-A-Grave entry for Alfred Lorenzo Hall
Julia Elzina Hanson Hall (1860-1935) Autobiography in the Gladden Family Histories blog
Find-A-Grave entry for Julia Elzina Hanson Hall
John Charles Hall (1821-1890) in the Gladden Family Histories blog
Find-A-Grave entry for John Charles Hall
Kezia DeGrey Hall (1837-1905) in the Gladden Family Histories blog
Find-A-Grave entry for Kezia DeGrey Hall
FamilyCentral entry for Niels Hansen & Marilla Terry Hansen Family
Find-A-Grave entry for Marilla Terry Hansen