This booklet reviews the history, location, and opening of the St. George Red Sandstone Quarry
for visitations and study.

Paperback, About 80 pages with 20 pages of color photographs
Published privately by the author
ISBN Number: 978-1-4621-1959-2

To view the first four pages, click here



AVAILABILITY
This printed monograph can be purchased for $10.00 at:
- Dixie State University Bookstore, 2nd Floor, Gardner Center, DSU Campus
- Dixie/Arizona Strip Interpretive Association, Interagency Visitor Center, 345 East Riverside Drive, St. George
- Stapley Pharmacy Downtown, 102 East City Centre, St. George

A slightly updated version has been prepared. To view the text, click here.
An electronic version, formatted and with pictures, can be obtained from the Dixie Encampment Chapter
of the Sons of Utah Pioneers. Contact David Peterson at d_cindrc@yahoo.com or (435)554-5618.



COVER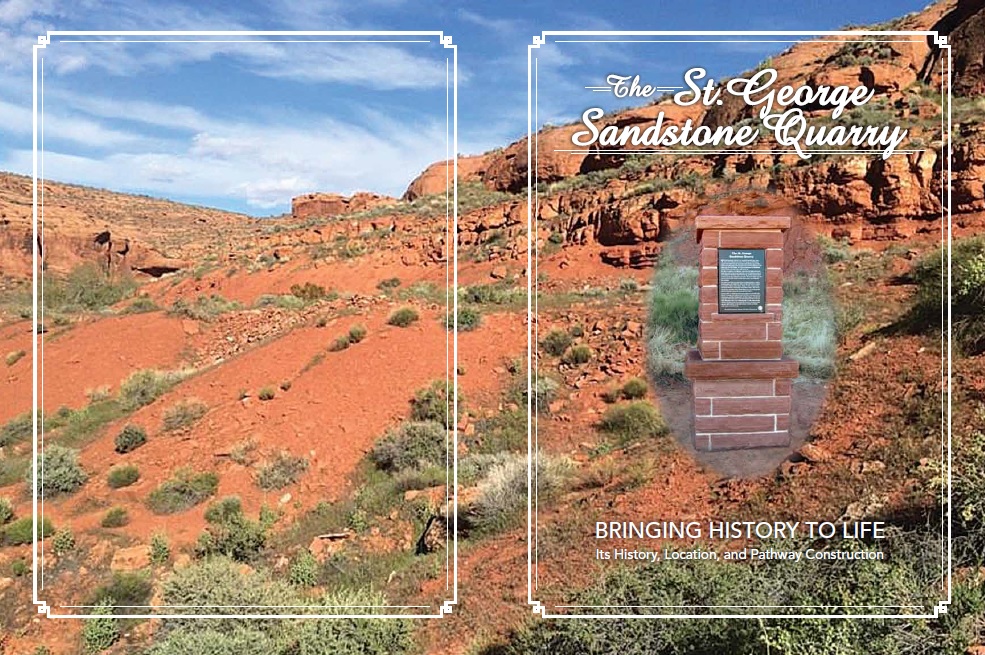 TABLE OF CONTENTS
Preface
Introduction

I History of the Quarry Area

Part A Indians Pre-1854
Part B Indian Mission Reconnaissance 1854
Part C West Spring Water Source 1861
Part D Stone Quarry 1862-1875
Part E Indian Camping 1862-1890
Part F Indian Farm on Santa Clara 1890
Part G Copper Smelter 1890-1899
Part H Dodge's Pond 1901-1907
Part I Ice Plant 1907-
Part J Civilian Conservation Corps 1930-1938
Part K Dixie Red Hills Golf Course 1964
Part L Sunstone Condominiums 1974
Part M Red Cliffs National Conservation Area 2009

II St. George Sandstone Quarry

Part A The Quarry
Part B Location of the Quarry
Part C Actions at the Quarry Part D References to the Quarry

III Opening the Quarry for Visits and Study

Part A Dixie Encampment Chapter of the Sons of Utah Pioneers
Part B Civilian Conservation Corp
Part C Decisions about Moving Ahead with Project Stalled
Part D Continuing Disagreements

IV Planning and Approval Processes

Part A Initial Approvals by Dixie Encampment Chapter
Part B Approval of Civilian Conservation Corps Worker Statue
Part C Initial Contact about Plaques
Part D Inquiry about City Approval
Part E Application for National SUP Approval
Part F Initial Local Approvals for the Project
Part G Preliminary Sketches of Entry
Part H Steps to Complete Quarry Project
Part I National SUP Approval
Part J Survey of Pathway to the Quarry
Part K Agreement with City to take Stones from the South Quarry
Part L Initial Plans for Publicity & Dedication

V Fund Raising and In-kind Donations for the Project

Part A Preliminary Budget
Part B Contacts with Potential Donors
Part C Cancellation of the Civilian Conservation Corps Statue
Part D Publicity for the Quarry Project
Part E Extending the Approval Process
Part F Quarry Management Plan
Part G Changes in Financial Status

VI Entry, Monument, Stairs & Pathway Construction

Part A Pre-Construction Meetings
Part B Arrival of Entry Post and Plaques
Part C Construction of Entry
Part D Movement of Stone for Stairs and Monument
Part E Construction of Monument at Quarry
Part F Installation of Steps to Habitat
Part G Construction of Pathway to Monument
Part H Installation of Post and Plaques at Quarry
Part I Installation of Post and Plaque on Owens Loop Trail

VII Dedication Ceremony

Part A Creation of Invitations and Program Designs
Part B List of those to receive Special Invitations
Part C Physical Arrangements
Part C Dedication Services
Part D Stroll along the Quarry Pathway

VIII Appendix

Dedicatory Prayer

IX Biographical Information

Author
R. Wayne Pace

Contributors
Richard R. Kohler
David Peterson
Larry Robinson
Adam Hales

X Acknowledgements and References