LOCATION
1.1 miles south (206°) of Jarvis Peak in the Beaver Dam Mountains west of St. George and south
of Old Highway 91.

In the Tutsagubet Mining District.

37° 4' 10" North Latitide; 113° 48' 17" West Longitude
37.0694° Latitude; -113.8046° Longitude
Elevation: 5,442 feet (1,659 meters)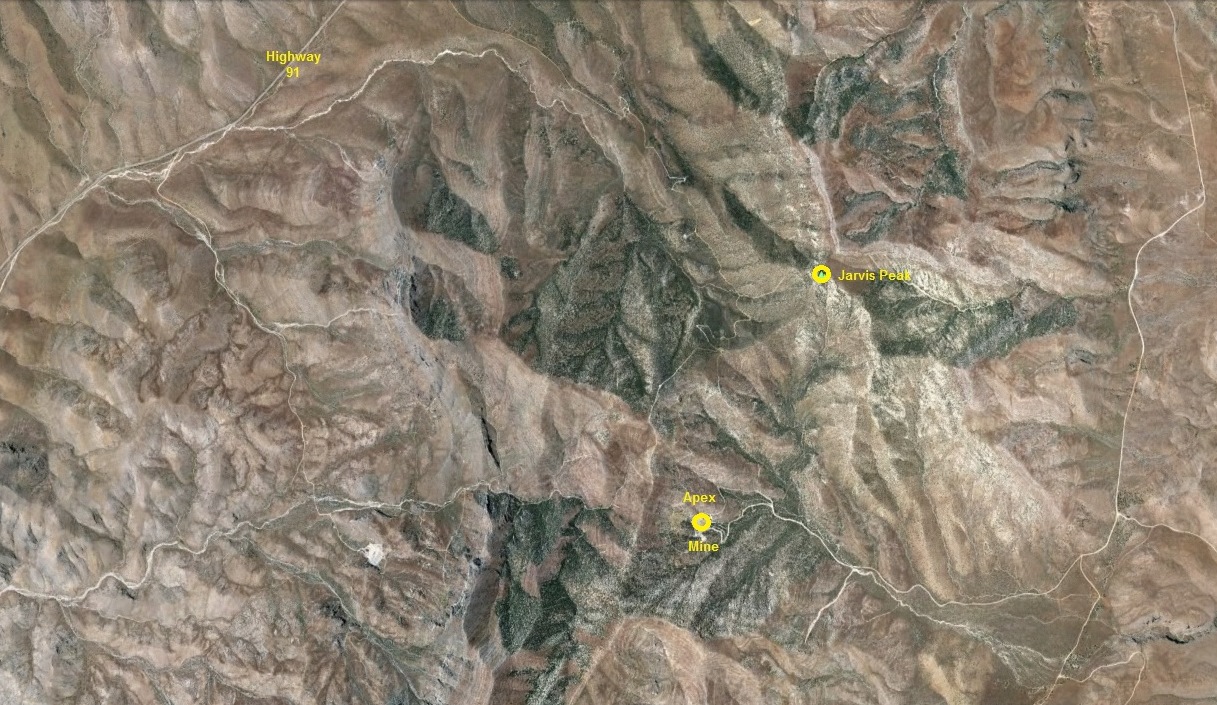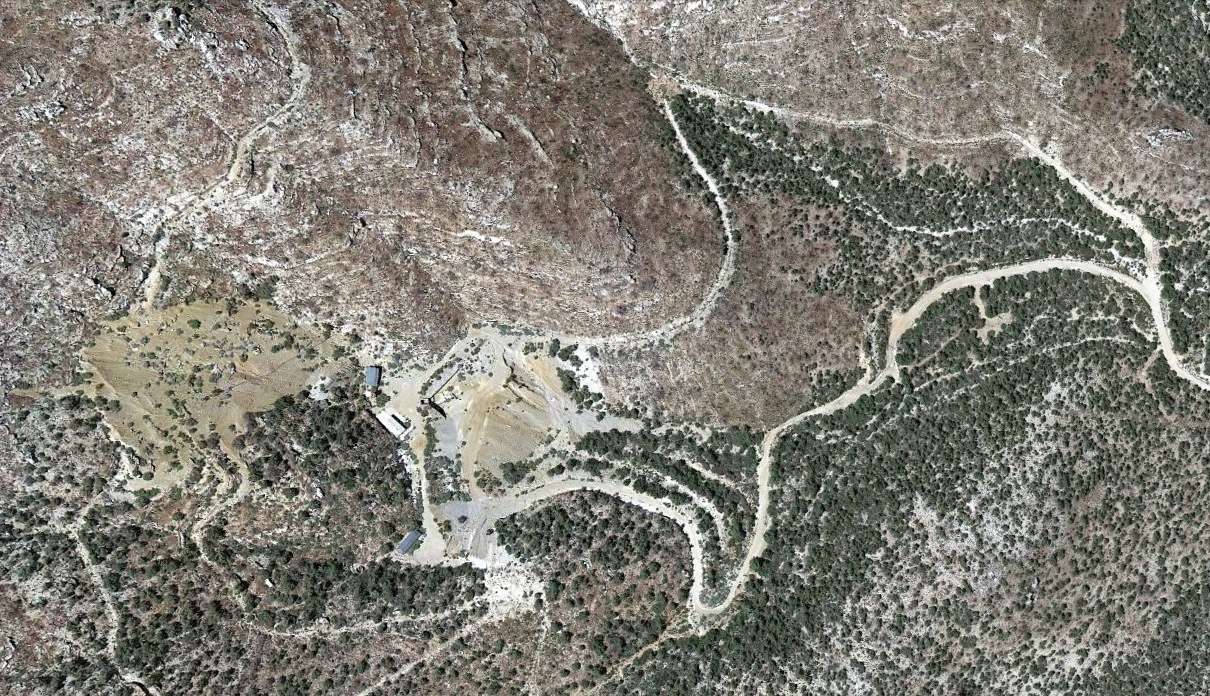 HISTORY
Copper was discovered in this area by Nephi Fawcett and William Webb while gathering wood.

The Apex mine operated intermittently from 1884 to 1962. Over 7000 metric tons of copper, 180,000 troy ounces of silver, and small amounts of gold and lead were taken from the mine.

After a period of poor performance, the mine was bought by Woolley, Lund, and Judd in 1890. They turned it into a profitable enterprise. They build a smelter on the northwest corner of Diagonal Street and 700 East in St. George. The mine was abandoned for a few years when the price of copper declined.

The mine was purchased by the Utah Eastern Copper Company in 1898. They built a smelter near Shem on the Santa Clara River. This saved the expense of hauling ore all the way into St. George for processing. For the next decade, the smelter at Shem, powered by water diverted from the river two miles upstream, was the center of a small settlement from which copper was shipped by wagon to Acoma, Nevada, the nearest railroad stop, some 50 miles to the west. Another drop in copper prices closed the Shem smelter permanently in 1907.

John Raymond Kemple leased the mine from Emerald Cox of St. George in the early 1940's and operated it in the 1940s and 1950s.

The mine was re-opened in 1985 for gallium and germanium. It is currently owned by Teck Cominco American, Inc.



PHOTOS

WCHS-01356 Miners at the entrance of the Apex Mine.

Other WCHS photos:
WCHS-04223 Photo of people gathered around the entrance to the Apex Mine



REFERENCES
"The Apex Mine" by James E. Kemple

" Tutsagubet Mining District (Utah) Recorder", Agency History #3101

" Croppings Are Very Rich"
Partial article from the Salt Lake Times, September 24, 1892

" Southern Utah Mines"
Washington County News, May 6, 1899 [from the Salt Lake Herald]

" Littlefield on Virgen River" by Roman Malach
with a discussion of their relationship to the Apex Mine

" February 15, 2012" blog entry has information about the Apex Mine

" Host Minerals for the Gallium-Germanium Ores of the Apex Mine, Utah"
by J. E. Dutrizac, J. L. Jambor, and T. T. Chen
Economic Geology, Volume 18 (1986), Pages 946-950

" Shem - Copper Ore Smelter, Ghost Town and Dam" by Sons of the Utah Pioneers - Cotton Mission Chapter

" List of Mines in Washington County"

" List of Mines in Washington County" from " TrainWeb.US"

"Geology and mineralogy of the Apex germanium-gallium mine, Washington County, Utah"
L. R. Bernstein, 1986
USGS Bulletin 1577