LOCATION
111 N. Toquerville Blvd.
Toquerville, UT 84774

37° 15' 5" North, 113° 17' 4" West

Beg. SE cor lot 2 Blk 12 Plat A, E 50', SW 85% SE 50% NE 85' to beg.



DESCRIPTION
The Thomas Forsyth house in Toquerville is a 1-1/2 story stone vernacular building. The front section of the house has an asymmetrical hall and parlor floor plan hidden behind a three opening symmetrical facade. There is a steeply-pitched wall gable placed centrally on the front which contains a second-story door. This door originally led out to a porch which spanned the entire length of the house and was also used to convey large pieces of furniture and other bulky items to the attic level. A lean-to extension occurs to the rear and appears to have been part of the original construction. The kitchen and staircase to the upstairs rooms were located in this one-story rear section.

The thick (1-1/2') stone walls are uncoursed rubble with cut-stone reinforcing quoins on all corners. The stone itself was collected (gathered not quarried) by family members from a nearby hill. The fieldstone pieces are small and but for their irregularity would almost be considered cobblestone. Large stone fireplaces are found in both front rooms. A third fireplace served the kitchen but it has now been removed. External decorative features are minimal and confined to a classically inspired entablature under the eaves.

The Thomas Forsyth house retains its historic character. The major alteration is situated unobtrusively on the back of the house in the form of a modern bathroom. Minor alterations are found in the removal of the original 6 over 6 light double-hung sash windows and the punching of a new window in the south wall of the lean-to.



HISTORY
The Thomas Forsyth House, built in Toquerville about 1868 is significant as the home of an early and enterprising Washington County settler and because it is one of the few remaining homes in Toquerville, indeed, all of Washington County, from the pioneer period. The Forsyth home is architecturally noteworthy as an early and well preserved vernacular house type associated with the first effective settlement of Utah's Dixie.

Shortly after the Forsyth family arrived in Toquerville, which was then the county seat of Kane County, Thomas commenced work on the house. Stone for the house was gathered from the large volcanic rock mountain near Toquerville. Lumber for the building was cut near Pine Valley and milled at Forsyth's Mill. When the house was completed it included a wine cellar under the porch and a balcony and rail across the front part of the house. The balcony was removed from the building about 1915.

Thomas remained in the house until his death in 1898. At that time, his youngest child Benjamin Henry acquired and moved into the house. Prior to Thomas's death, Benjamin and his wife, Barbara Ann Lamb, had lived in a small house located behind the rock house. Benjamin lived in the house until his death in 1948, except for a short time when he moved to California after the death of his first wife. The house was sold to Lawrence Kleinman in February, 1949. Kleinman sold the house to Chester Adams in April 1949. Brett Blackburn purchased the house from Adams' in 1979 and sold the house to the present owner, Carl C. Nyman, in 1980.

Was put on the National Register of Historic Places (#1982004184) on February 11, 1982.

Commentary by Mary Phoenix:
Thomas Forsythe came to southern Utah in 1861. A very sincere and devout member of the LDS church, he went first to Santa Clara. After a year or so, he moved to Pine Valley, intending to establish a saw mill in the canyon which still bears his name. He built a family shelter and the beginnings of his mill when he found that five other permits for mills in the same area had been issued. As there was insufficient water to operate so many mills, he pulled up stakes and went over the mountain to Toquerville. Here he quickly established himself in the community as a business, civic and church leader.
He built this house in the late 1870's, using local rock and lumber from his own mill. Its numerous fine details and its good condition after about one hundred and twenty-five years testify that it was built by a man of taste, determined that his wife and children should have the best.
The house has two stories and a rock basement. There are four rooms on each floor.
An interesting feature of the house is the wine cellar in the basement. Forsythe was one of the finest vintners in the area, and he was particulary proud that his wine was used for sacramental purposes. Around the turn of the century when the church ceased using wine in the service, it advised followers to get rid of all they had and produce no more. Forsythe didn't quite know what to do as the wine in his cellar was the finest he had ever produced, and it represented a great deal of money. But Forsythe did not need to worry. As soon as his wife, Mary, heard the edict read from the pupit, she went home, slipped down beside the wine cache, and cut the pipes. When Forsythe went to inspect it, it had all drained away.

Owners: Thomas Forsythe
Benjamin H. & Barbara Ann Lamb Forsythe
Walter Lamb & Vera Fern Forsyth Beatty
Chester & Elizabeth Binghurst Adams
Roy & Julie Madison



BIOGRAPHY
Thomas Forsyth
Click here
PHOTOS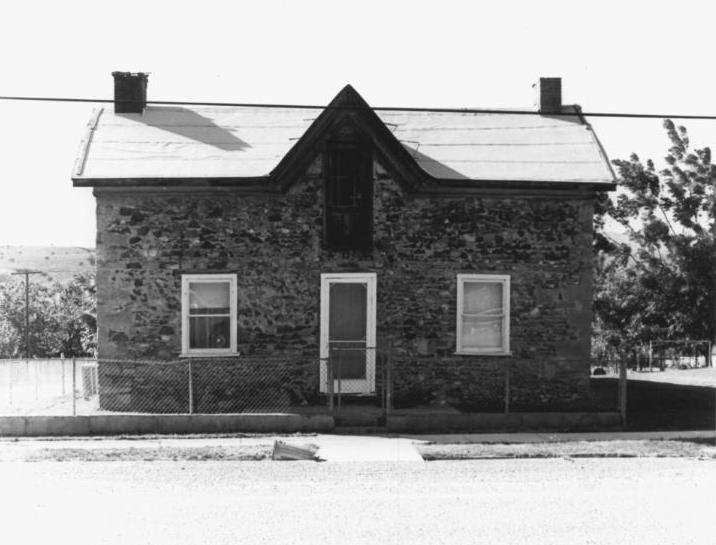 Front/east side of the Thomas Forsyth home (photo by Tom Carter taken July 1978)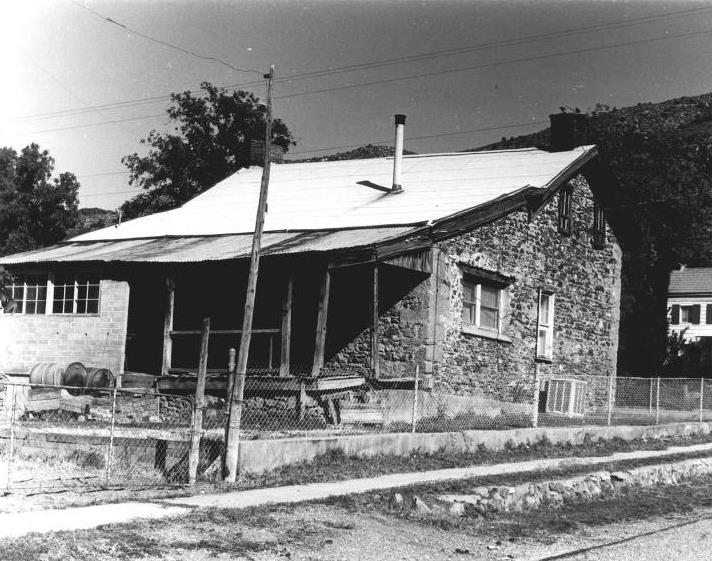 Back/west side of the Thomas Forsyth home (photo by Tom Carter taken July 1978)

WCHS photos:
WCHS-00566 Jon Bowcutt sketch of the Thomas Forsyth Home
WCHS-02928 2015 photo of the Thomas Forsythe home in Toquerville

Other photos on the web:
Photo of the old Forsyth Home in Toquerville
Photos from the National Register of Historic Places nomination form



REFERENCES
National Register of Historic Places, Inventory - Nomination Form

Historical Buildings of Washington County (Volume 2), pp. 24-25.

Biography and home description of Thomas Forsyth
by Lucy Forsyth Phelps

Self-Guided Walking Tour of Toquerville, Utah
by Wes Larsen
See Page 18 for information on the Forsyth Home