Modena was the nearest railhead to Washington County.



LOCATION
37° 47' 54.33" North Latitude, 113° 55' 26.95" West Longitude
37.7984° North Latitude, 113.9242° West Longitude
5,479 feet (1,670 meters) MSL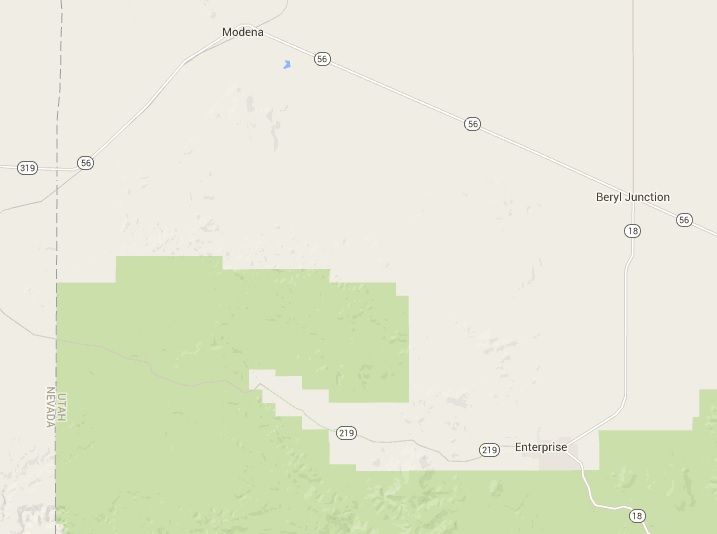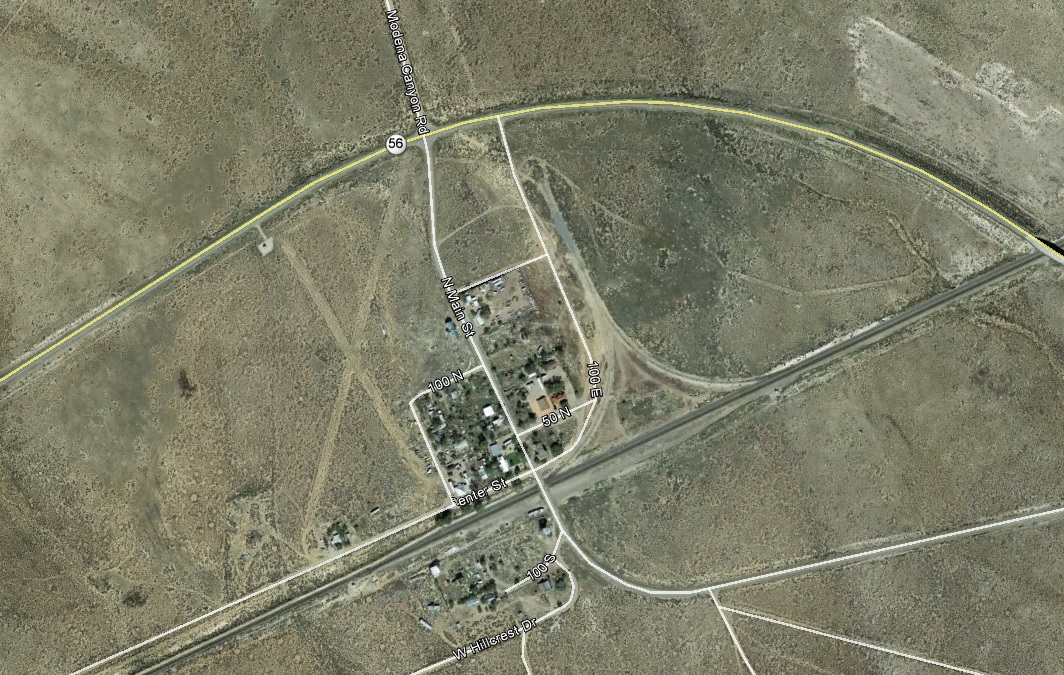 DESCRIPTION
TBD



HISTORY
Modena grew up in the area of Desert Springs and Indian Springs in Kane County, Utah.

The exact source of the name is hard to pin down. One source states that an Italian laborer named the railroad camp after Modena, Italy. Another source relates that a Chinese cook during the serving of dinner would call out periodically, "Mo'dinna, mo'dinna".

With the arrival of the railroad in the Modena area in December 1899, the town grew up to supply water for the steam engines and as a railhead for shipping products into and out of the area. There was a lot of wagon traffic between Modena and St. George

Brigham J. Lund, along with two partners, E. M. Brown and Jose Price, started a small business venture here. In time they were freighting to St. George, Utah; Pioche, Nevada and Delamar. Lund soon bought out his partners and in 1903 incorporated under the name of B. J. Lund & Company. The name "Lund" is still found on several buildings in town including the General Merchandise & Hotel building.

By 1903, a U.S. Weather Bureau office had also been established in Modena.



PHOTOS
WCHS photos:
WCHS-03055 Old photo of Modena, Utah
WCHS-03056 Photo of the old Last Chance Saloon in Modena, Utah
WCHS-03057 Photo of the ruins of an old store in Modena, Utah
WCHS-03058 Photo of an old house in Modena, Utah
WCHS-03059 Photo of an old house in Modena, Utah
WCHS-03060 Photo of an old house in Modena, Utah
WCHS-03061 Photo of a house in Modena, Utah
WCHS-03062 Photo of the train tracks and water tower in the center of Modena, Utah
WCHS-03063 Photo of the railroad tracks and a massive pile of railroad ties in Modena
WCHS-03064 Photo of the ruins of the old hotel in Modena, Utah
WCHS-03065 Photo of the ruins of the old hotel in Modena, Utah
WCHS-03066 Photo of the stairs in the ruins of the old hotel in Modena, Utah
WCHS-03067 Photo of the lath ceiling on the first floor of the ruins of the old hotel in Modena, Utah
WCHS-03068 Photo of the downstairs hallway in the ruins of the old hotel in Modena, Utah
WCHS-03069 Photo of the corner of one of the rooms in the ruins of the old hotel in Modena, Utah
WCHS-03070 Photo of the corner with a radiator in once of the rooms of the ruins of the old hotel in Modena, Utah
WCHS-03071 Photo of a bathroom with toilet in the ruins of the old hotel in Modena, Utah
WCHS-03072 Photo of a collapsed second story floor in the ruins of the old hotel in Modena, Utah
WCHS-03073 Photo of a collapsed second story floor in the ruins of the old hotel in Modena, Utah
WCHS-03074 Photo of the upstairs hallway in the ruins of the old hotel in Modena, Utah
WCHS-03075 Photo of acetylene bottles in the back of the ruins of the old hotel in Modena, Utah
WCHS-03076 Photo of the front of the old Modena School in Modena, Utah
WCHS-03077 Photo of the front and side of the old Modena School in Modena, Utah
WCHS-03078 Photo of one of the classrooms in the old Modena School in Modena, Utah
WCHS-03079 Photo of one of the classrooms in the old Modena School in Modena, Utah
WCHS-03080 Photo of one of the classrooms in the old Modena School in Modena, Utah
WCHS-03081 Photo of a handmade wood cover on a book in the old Modena School in Modena, Utah
WCHS-03089 Photo of Vincent Rice of Modena talking to a Washington County Historical Society group
WCHS-03090 Photo of the back and side of the old Modena School in Modena, Utah
WCHS-03091 Photo of the back and side of the old Modena School in Modena, Utah
WCHS-03092 Photo of the floor of an old recreation center in Modena, Utah
WCHS-03093 Photo of the old Last Chance Saloon in Modena, Utah

Other photos on the web:
B. J. Lund & Company, General Merchandise & Hotel
B. J. Lund & Company, General Merchandise & Hotel
Lund Hotel, store next door, and tracks
Last Chance Saloon
Last Chance Saloon
TWater Tower and Trucks
Modena School
Unidentified Building
Unidentified House



REFERENCES
Wikipedia article on Modena, Utah
OnlineUtah.com History of Modena, Utah
GhostTownGallery.com entry for Modena, Utah