Paperback, 9 x 6 x 0.5 inches, 236 pages
Published by WingSpan Press
First Edition (November 16, 2007)
ISBN-10: 1595942033
ISBN-13: 978-1595942036



DESCRIPTION
The first time you turn up Highway 9 to the crest of the Hurricane Hill above LaVerkin, Utah and round the westerly point of Smiths Mesa you are confronted - maybe even challenged - with the almost Martian landscape of the red mesas: Smiths Mesa, Gooseberry Mesa, and Coal Pits Mesa, known locally as "the mesas."

This anthology records anecdotes in the lives of those who romanced the mesas, as told by their descendants. These homesteaders of the mesas were participants in a segment of the Westward Movement who were held in Southern Utah spiritually by the beauty and grandeur of the mesas.



AVAILABILITY
This book is available at Amazon and other booksellers.



COVER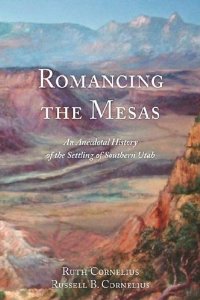 TABLE OF CONTENTS
TBD