LOCATION
28 E. Tabernacle Street
St. George, Utah 84770
Telephone 52 in the 1941 telephone book (Dixie Drug Co)
Telephone 52 in the 1954 telephone book (Dixie Drug)
Telephone ORchard 3-3231 in the 1958 telephone book (Dixie Drug)
Telephone ORchard 3-3231 in the 1961 telephone book (Dixie Drug)
Telephone 673-3231 in the 1972 telephone book (Dixie Drug)



HISTORY
In the early part of the 20th century, Dr. Frank J. Woodbury was the only doctor in St. George. He asked young Dr. Donald A. McGregor (a brother-in-law of Daniel Clark Watson) to come down from Beaver and assist him in St. George. They saw the need for a pharmacy and convinced Clark Watson to go to pharmacy school, paying his way.

After graduation, Clark returned to St. George to set up a pharmacy. In 1914, he acquired the old A.R. Whitehead & Sons mercantile store and converted it into Dixie Drug.

In 1916, the marble soda fountain was shipped in by train and brought down from the Modena station by team and wagon.

When Clark Watson became ill in 1951, his son, Leon Milne Watsonn, came back down from Salt Lake to help out. Leon took over completely in 1955 and ran the store until his death in 1991. As of that time, Dixie Drug was the longest continuously owned by one family drug store in the State of Utah.

A 75th anniversary celebration was held at the store on September 14-16, 1989. Fountain drinks and ice cream were sold at 1914 prices.

After 1991, Dixie Drug became Intermoutain Watson Dixie Drug at 1380 E. Medical Center Dr., Saint George, UT 84790. The soda fountain from Dixie Drug was salvaged and is now in the ice cream shoppe in the St. George Social Hall at 200 North and Main Street. The Dixie Drug building was taken over by Pieceful Treasures.



PHOTOS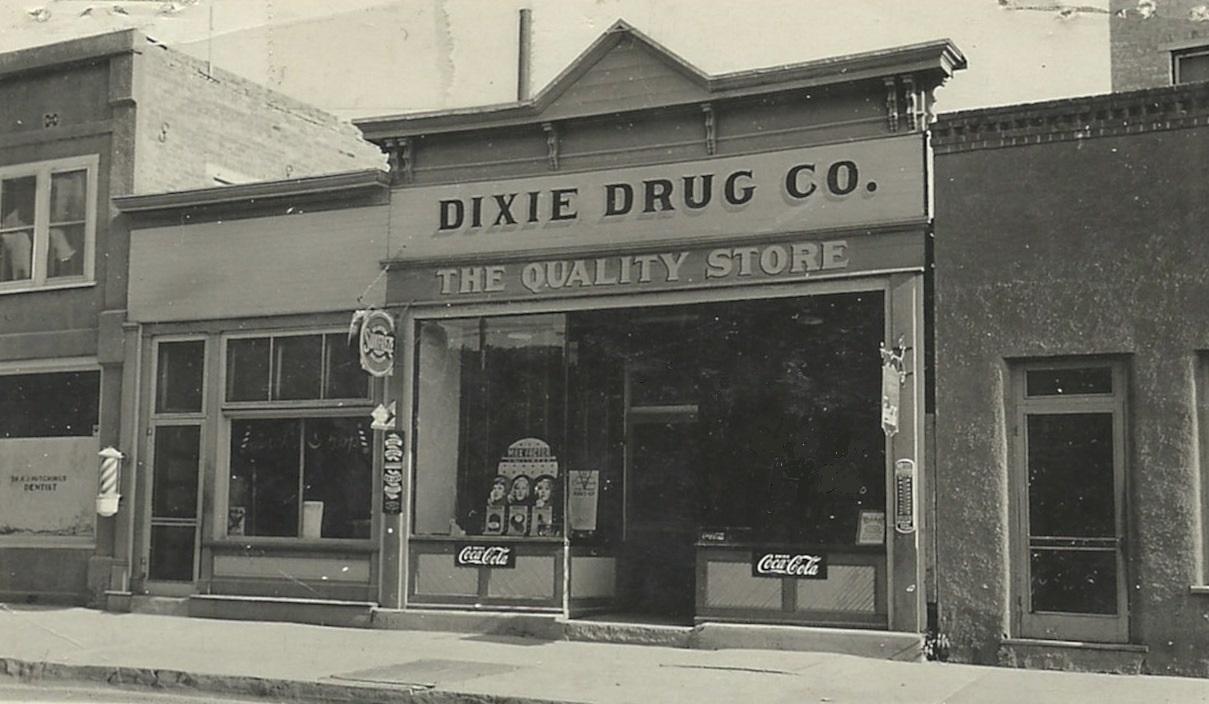 WCHS-01858 Front of the Dixie Drug store during the 1920s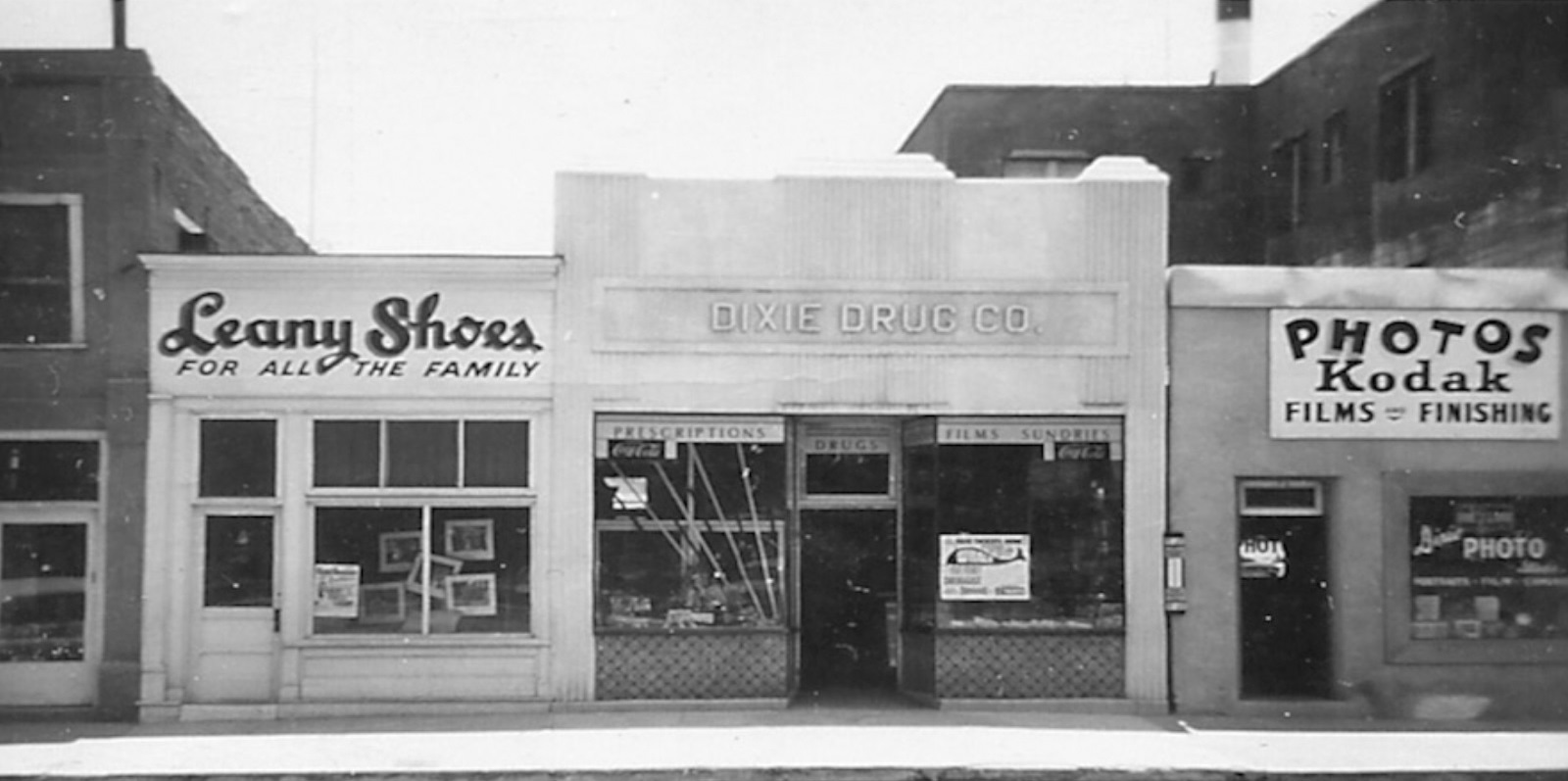 WCHS-01859 Leany Shoes, Dixie Drug, and Dixie Photo stores in the 1930s


Other WCHS photos:
WCHS-01860 Photo of Dixie Drug as it appeared during the 1940s to 1990s
WCHS-01861 Photo of Dixie Drug during their 75th anniversary celebration
WCHS-01864 Photo of Watson family members in the Dixie Drug store
WCHS-01865 Photo of Watson family members in the Dixie Drug store
WCHS-01866 Photo of four people behind the Dixie Drug soda fountain counter
WCHS-01867 Photo of Barbara Watson at sitting at the Dixie Drug soda fountain
WCHS-02000 Photo of front of the Dixie Drug store
WCHS-02001 Photo of front of the Dixie Drug store
WCHS-02002 Photo of front of the Dixie Drug store
WCHS-02003 Photo of front of the Dixie Drug store
WCHS-02004 Photo of the inside of the Dixie Drug store
WCHS-02005 Photo of the soda fountain in the Dixie Drug store
WCHS-02006 Photo of the soda fountain in the Dixie Drug store
WCHS-02007 Photo of people at the soda fountain in Dixie Drug



REFERENCES
Landmark and Historic Sites: Informational Guide of Historical Sites within the City of St. George
Second Edition, Revised 2011, p. 80
Compiled by the St. George Community Development Department

Dixie Drug turns 75
Article by Anne Augustine (Staff Writer) in the Daily Spectrum
September ??, 1989

Watson's Drug Store holds memories
Article (Dixie Diary) by Mary Phoenix
October 8, 1989

Dixie Drug Store: Businessman, pharmacist happy with life
Article by Helen Gardner (Staff Writer) in the Daily Spectrum
September 11, 1991