LOCATION
Take I-15 to Exit 40 and check in at the Kolob Canyons Visitor's Center. The Palmer cabin is on
the north side of the road, about a half mile before the Taylor Creek trailhead.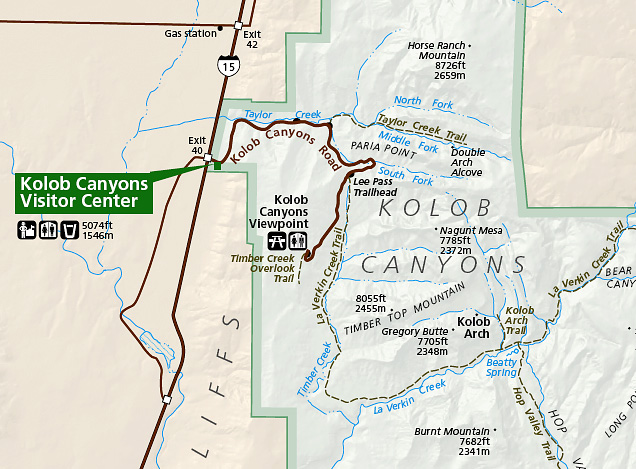 HISTORY
William R. Palmer and his friends in Cedar City, Gustive O. Larsen and Arthur R. Fife, homesteaded plots in Dry Creek (now Taylor Creek) in the late 1920s and early 1930s. Palmer's cabin, a little way up the canyon and built in 1929, was used as the staging area for the activites of Larson and Fife farther up the canyon. All three homesteads were being developed in accordance with current homestead laws which required cabin, fencing, regular productive use, etc.

Palmer's son, Rodney, spent an entire summer in the canyon fencing the homestead while he was recovering from an auto accident as a teenager. He thought that a main purpose of the three homesteads was to keep the three friends' teenage sons busy and out of trouble.

When that area of Dry Creek was included in the new Kolob section of Zion National Park, the three homesteads and their improvements were taken by the Park Service. No compensation was given to the homesteaders since they had not been on the land long enough to prove up the homesteads.



BIOGRAPHY
Dr. William Rees Palmer (1877-1960)
Cedar City Historian.
President of the Parowan Stake of the LDS Church in 1924-1939.
President of the Cedar City Rotary Club from 1929 to 1930.
Was an advisor and advocate to the Cedar City Paiute Tribe.
President of the Zion National Park Council of the Boy Scouts of America.
Founded and organized the Spanish Trail Association in 1946.
On the board of the Utah State Historical Society, ????-1936-1941-????. He pushed for archiving old records.
Was the Utah State Archivist starting in June 1947 and probably until 1954.
Dr. Palmer's father was Richard Palmer who for a time was the Blacksmith at Ft. Harmony.
He married Kate Vilate Isom from Virgin UT.
They had 8 children, 3 of who died as infants or toddlers; then Alice, William I (Bill), Eugene, Richard (Dick),
and Rodney.



PHOTOS
Photos on the web:
Photo of William R. Palmer (left), William (Bill) I. Palmer (right), and two boys
(not Bill's sons) looking for petroglyphs near Pintura
Photo of William R. Palmer and his counselors in the stake presidency
REFERENCES
William R. Palmer Papers in the Southern Utah University (SUU) Special Collections
Palmer Western History Collection in Special Collections in the library of Southern Utah University

William R. Palmer photo collection at Southern Utah University (SUU)