HISTORY
TBD

See the Larson Cabin history.

The National Park Service has preserved the Fife cabin. It is in a "wilderness area", so there are a lot of restrictions on what can be done. In the summer of 2009, NPS personnel used hand tools to do a major restoration. Brush which was crowding the cabin was cleared away. The cabin was sagging and close to coming down. Many of the logs were replaced with newly cut logs from the local area. The floor was braced up, the lumber framing was replaced, and a door was installed.



BIOGRAPHY
Arthur R. Fife was a Professor of Geology at the Branch Agricultural College (BAC, now Southern Utah University) in Cedar City and was also the City Engineer in Cedar City. He was Second Counselor to Pres. William R. Palmer in the Parowan Stake Presidency, ????-1931-????. Begining in 1930, he and Gustive O. Larson started homesteading some land up in Kolob Canyon. In 1934 or 1935, Fife dropped out of the homesteading venture after accepting an appointment to the Navajo Reservation in the soil erosion service of the United States Department of the Interior.
Arthur Fife was married to Florence (who died in a fire in 1956) and their children included:
Rowland Fife [died 1995]
Audrey [died 1930]
Ray Fife [a doctor; deceased]
Marjorie (Marge) Fife Hines
Glade Fife [a farmer; died 2006]
Paul Fife [a math professor and department chairman at the University of Utah]
Arthur remarried to Hilda around 1968. He died in 1976 at age 90.
LOCATION
Take I-15 to Exit 40 and check in at the Kolob Canyons Visitor's Center. 1.9 miles up the Kolob Canyons Scenic Drive is the Taylor Creek Trailhead on the left (east) side of the road. From the trailhead, descend the log steps down to Taylor Creek. Turn right and head upstream (east). There is a well-worn trail along the Middle Fork. The trail crosses the stream 16 times over the next 1.2 miles. Just before the confluence of the North Fork and Middle Fork of Taylor Creek, there is a spur trail on the left (north) that goes a short distance up to the Larson cabin. Continue up the Middle Fork about a half mile and the Fife cabin is along the trail on the south side of the creek.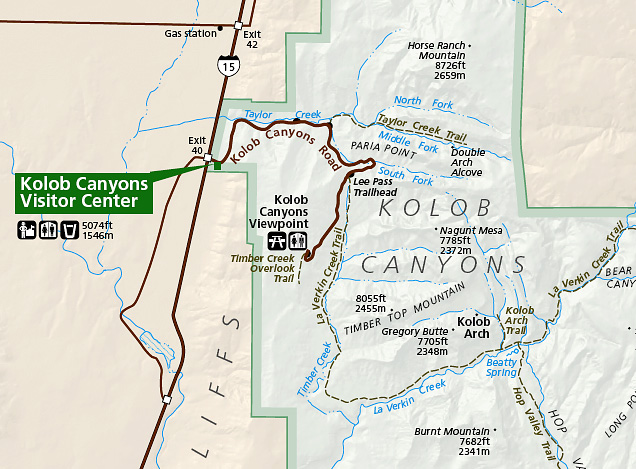 PHOTOS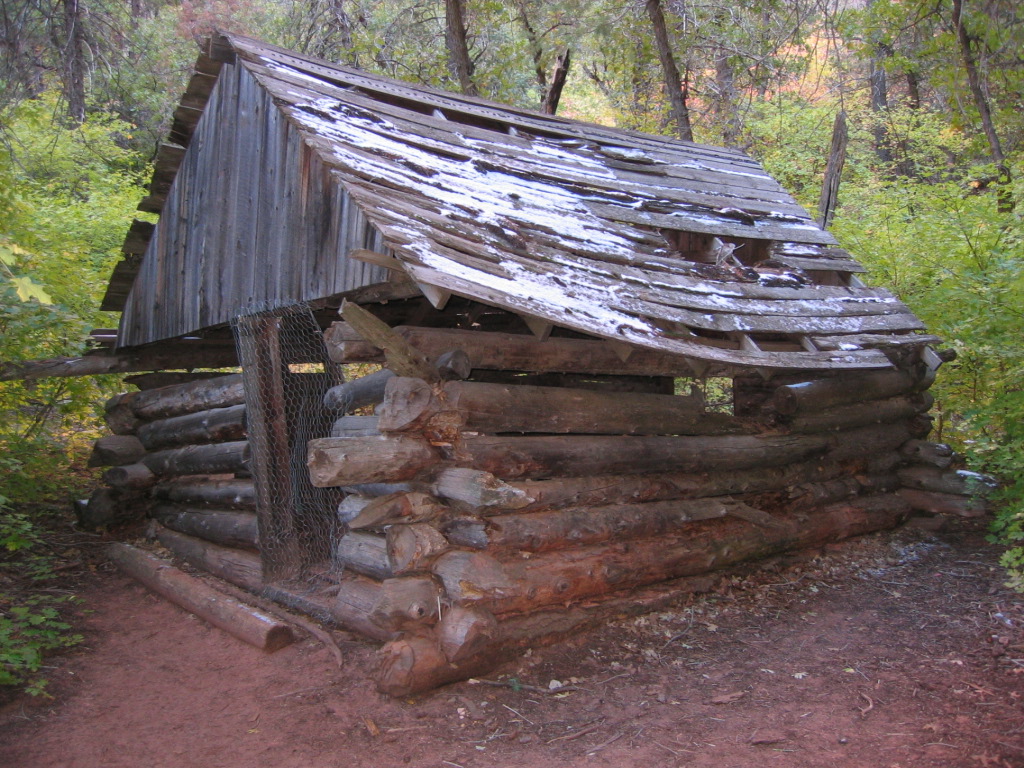 Southwest corner of Arthur Fife's cabin
Taken in October of 2008



West side of Arthur Fife's cabin
Taken in October of 2008



Inside east end of Arthur Fife's cabin
Taken in October of 2008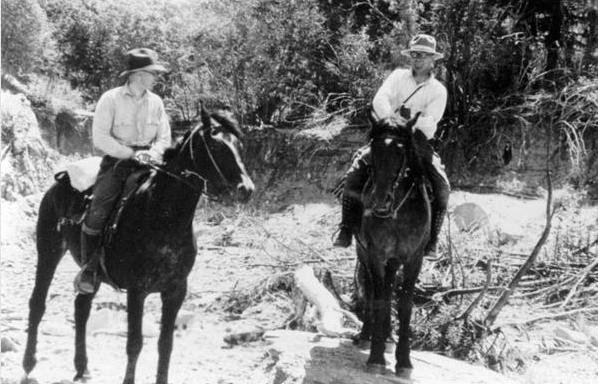 Gus Larson (left) and Arthur Fife (right) on horseback exploring the Dry Creek area in 1930

REFERENCES
TBD