LOCATION
37° 8' 13.5" North Latitude, 113° 30' 49.3" West Longitude
37.1371° North Latitude, 113.5137° West Longitude
2,846 feet MSL

Located at approximately 400 North and 200 West in Washington, Utah 84780.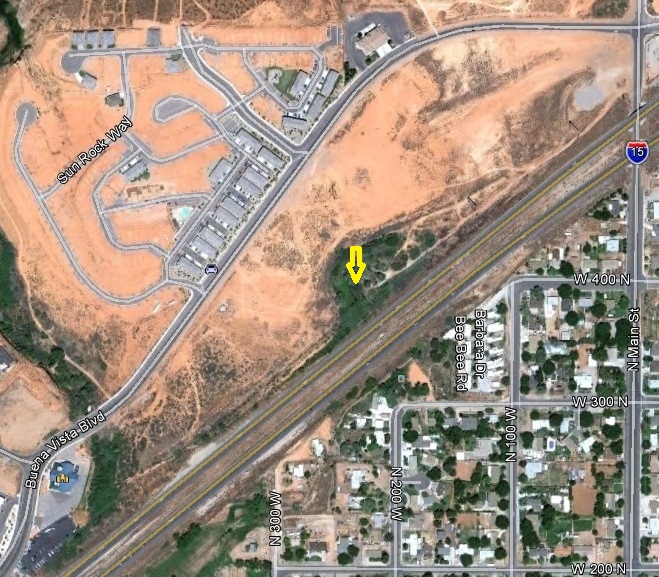 DESCRIPTION
Warm Springs is a pond over and fed by three natural warmsprings. It flows at a pretty consistent 30,000 gallons per hour and a temperature of 72-75 degrees year round. It drains into a ditch that now flows under the I-15 freeway and into network of irrigation ditches.

The pond is currently about 5.5 feet deep, but historically it was reputed to be 9 feet deep at the deep end.

There is also an passage going under the I-15 freeway to provide access for animals.

The site is owned by Washington City, but the water rights are privately owned.

The site has been variously known at Warm Springs, The Boilers, Dixie Springs (not the same as Dixie Hot Springs in Hurricane), and probably other names.



HISTORY
Warm Springs was a source of water from the earliest days of settlement in Washington. It was used for water, for swimming, and sometimes for bathing until indoor plumbing was available.

Starting around 1948, people started dumping their goldfish, frogs, and other unwanted pets in the pond and surrounding areas, upsetting the natural ecology.

In the 1960s, I-15 was built right through the area of the springs over the protests of the local population. After negotiations, the spring and pond were spared, but the freeway cut off direct access to the site. A pipe was run under the freeway to carry the water down to Washington. An animal passage was also installed.

"The Boilers" became a place where people went to drink and use drugs. Dangerous trash littered the area and runoff water from the freeway and city polluted the pond. In 1999, the City declared the site a biohazard and fenced it off from public access.



PHOTOS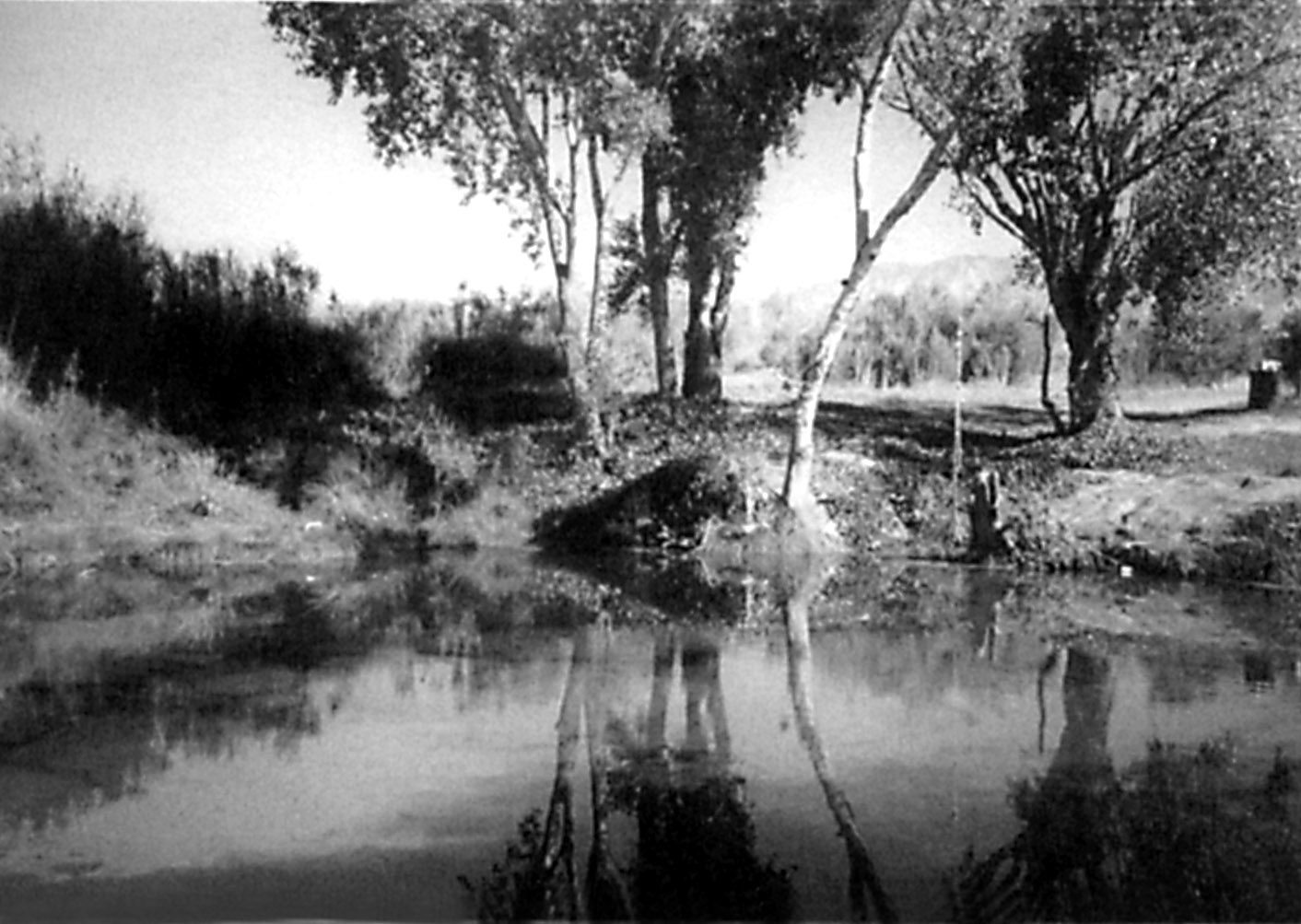 WCHS-01253 Early view of the pond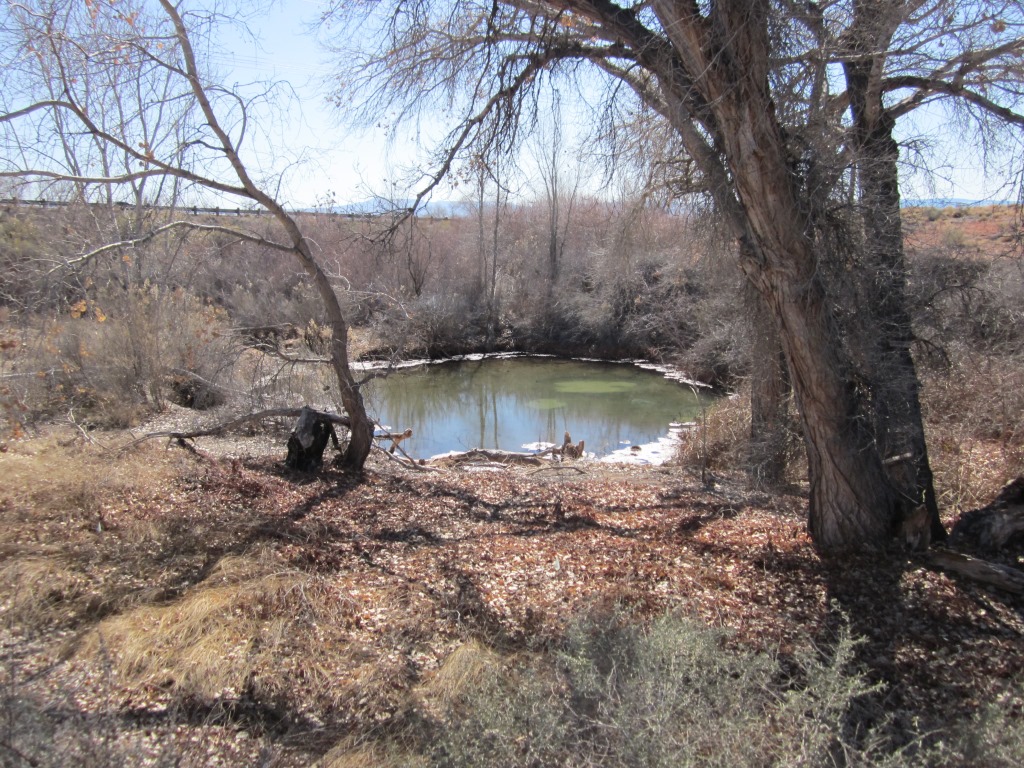 WCHS-01563 The pond on February 27, 2013

Other WCHS photos:
WCHS-01564 The pond at Warm Springs ("The Boilers") looking southwest
WCHS-01565 The pond at Warm Springs ("The Boilers") looking west
WCHS-01566 The pond at Warm Springs ("The Boilers") looking northnortheast
WCHS-01567 The pond at Warm Springs ("The Boilers") looking northnortheast
WCHS-01568 The north end of the animal passage under I-15 at Warm Springs
WCHS-01569 The animal passage under I-15 at Warm Springs
WCHS-01570 The south end of the animal passage under I-15 at Warm Springs
WCHS-01571 The ditch coming out of Warm Springs south of I-15
WCHS-03824 A family fishing at Warm Springs (The Boilers) in 1975

Other photos on the web:
Children playing at the pond's edge
Children playing at the pond's edge
Children playing in the pond
A gathering of local citizens at the pond's edge
City officials inspecting the pond in 2012
The pond fenced off and posted as Private Property

Videos:
Boiling Springs Ecoseum & Desert Preserve Vision Presentation (March 12, 2013, 18 minutes)
History of The Boilers and Mill Creek Canyon (September 3, 2013, 4 minutes)
Old Movie of People in The Boilers (Date Unknown, 45 seconds)



REFERENCES
Boiling Springs Ecoseum & Desert Preserve Website
The Boiling Springs Ecoseum & Desert Preserve is a Non-Profit entity formed in 2012 to address the ecological concerns of The Boilers and Millcreek Canyon in Washington County, Utah.

Washington City - Celebrating 150 Years - 1857-2007 - "Where Dixie Began
A brochure

Images of Faith: A pictorial history of St. George, Utah
Book by Lynne Clark
Page 236

City officials met on-site at the Washington City Boilers
December 1, 2012

Group has big plans for Boilers, Millcreek Canyon; city council not so sure
Article by Mori Kessler, St. George News, April 11, 2013

Old swimmin' hole makes comeback: City turns Boilers into public park
Article by Cami Cox Jim, St. George News, January 3, 2015

Washington City officials begin work on new park at historic watering hole
Article by Zach Whitney, Fox 13 News, January 5, 2015

OPINION: There's more to The Boilers story than we are being told
Article by Dallas Hyland, The Independent, January 11, 2015

OPINION: The future of Boiling Springs is the future of us
Article and photograph by Jim Speth, The Independent, June 10, 2015

Council votes down 'Boilers' project plan; STGnews Videocast
Article by Mori Kessler, St. George News, June 11, 2015

Proposal to build Boiling Springs ecoseum defeated by Washington City Council
Article by Marcos Comargo, The Independent, June 14, 2015