The Boilers Park and Conservation Garden is a city park in Washington, Utah.



LOCATION
Located at 295 West Buena Vista Boulevard in Washington, Utah 84780.

37° 8' 13.5" North Latitude, 113° 30' 49.3" West Longitude
37.1371° North Latitude, 113.5137° West Longitude
2,846 feet MSL



DESCRIPTION
This park provides a variety of amenities for visitors of all ages. Amenities include a large pavilion, picnic tables,
picnic areas, a playground, and a pickleball court. The park is perfect for picnics, family reunions, and active
citizens.

In conjunction with the Washington County Conservancy District, "The Boilers" displays a variety of indigenous
flowers and plants. A comfortable path guides and allows visitors to read and learn about each while reflecting
on the sacred nature of this area.



HISTORY
The Boilers Park was dedicated on October 13, 2020.



PHOTOS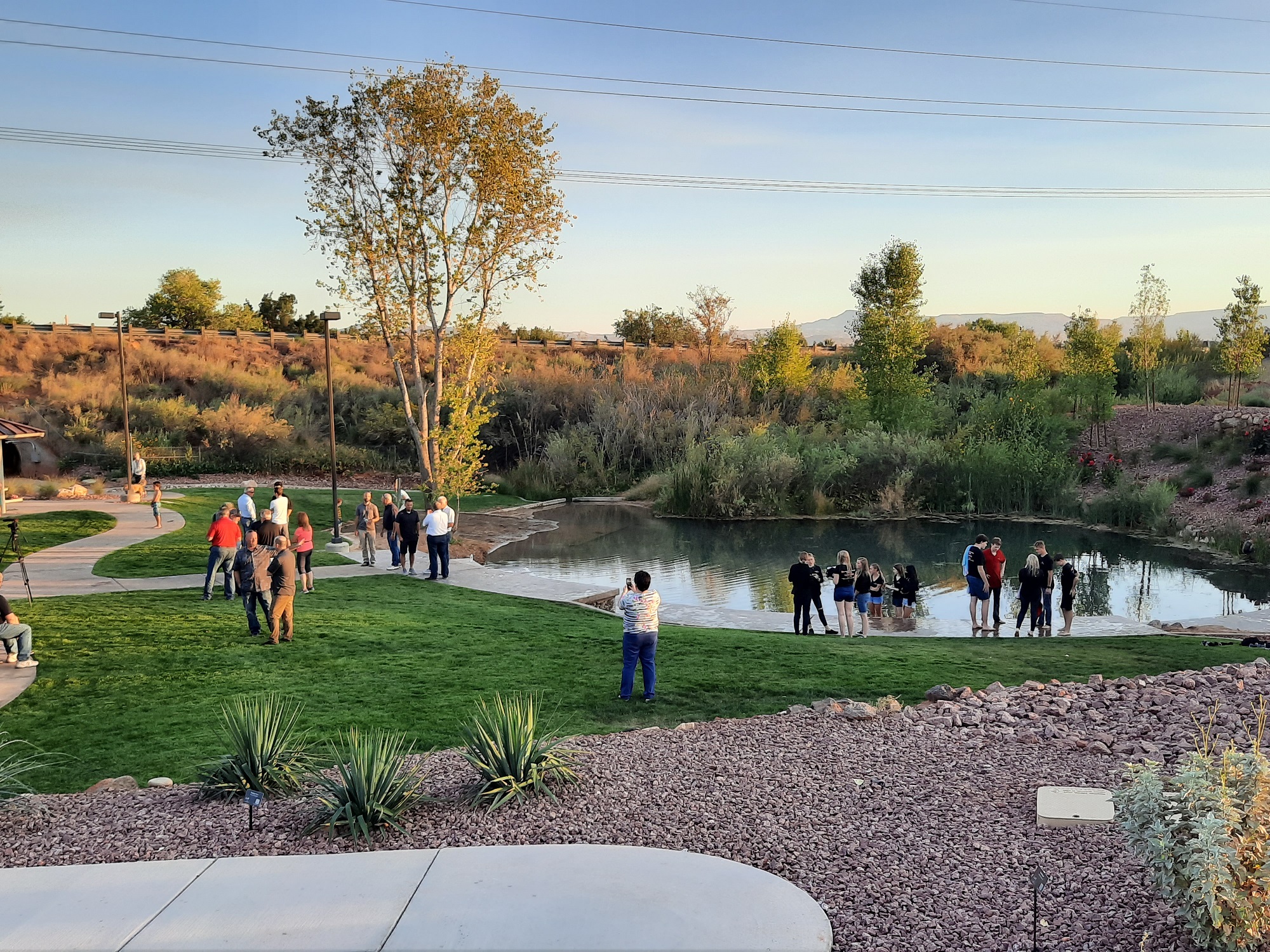 WCHS-04339 Photo of people by the pond at the Boilers Park during the opening celebration

Other WCHS photos:
WCHS-04336 Photo of the sign at the Boilers Park in Washington Utah
WCHS-04337 Photo of the Boilers Park in Washington, Utah during the opening celebration
WCHS-04338 Photo of the Boilers Park in Washington, Utah during the opening celebration
WCHS-04340 Photo of the pond at the Boiler Park on Washington during the opening celebration
WCHS-04341 Photo of people gathered for the ribbon cutting celebration at the Boilers Park in Washington
WCHS-04342 Photo of the playground at the new Boilers Park in Washington, Utah
WCHS-04343 Photo of the tennis courts at the new Boilers Park in Washinton, Utah
WCHS-04344 Photo of Desert Daisies and an interpretive sign at the new Boilers Park in Washington
WCHS-04345 Photo of Ken Neilson pointing something out at the opening celebration of the Boilers Park
WCHS-04346 Photo of Ken Neilson & Barry Blake speaking at the opening celebration of the Boilers Park
WCHS-04347 Photo of Mayor Ken Neilson cutting the ribbon at the opening celebation of the Boilers Park
WCHS-04348 Photo of Mayor Ken Neilson cutting the ribbon at the opening celebation of the Boilers Park

Videos:
YouTube video of the park



REFERENCES
Old swimmin' hole makes comeback: City turns Boilers into public park
Article by Cami Cox Jim, St. George News, January 3, 2015

Washington City officials begin work on new park at historic watering hole
by Zach Whitney
Fox 13 News, January 5, 2015

'The Boilers' celebrated as Washington City's newest park
Article by Mori Kessler, St. George News, October 16, 2020