LOCATION
The bridge crossed the Virgin River approximately where the River Road Bridge in St. George is now.



DESCRIPTION
One lane.



HISTORY
In 1908, the Midland Bridge Co. of Kansas City was awarded a contract to build a bridge across the Virgin River
south of St. George. The bid was $9,049, $104 less than the other bid. It was to use native lumber, instead of
imported.

When it was finished, the eventual cost came in at $12,056.80. It was originally painted red and called the
Red River Bridge.

March 18, 1921:
A gay celebration was held on this date in honor of Bridge Completion Day. Voting was done
and a girl, Emma Abbott, was selected to reign over the festivities. She drove the last spike
in the bridge, and was given a gold locket. The Bridge was dedicated by Patriarch Joseph Earl.
Barbecue was enjoyed while the Dixie Orchestra played. At that time, the river was from 30 to
100 feet wide. WCHS-01294

By 1985, this bridge was no longer in use.

This bridge was washed away when the Quail Creek Dam failed on January 1, 1989. The new River Road Bridge
was built in 1992 to replace it.



PHOTOS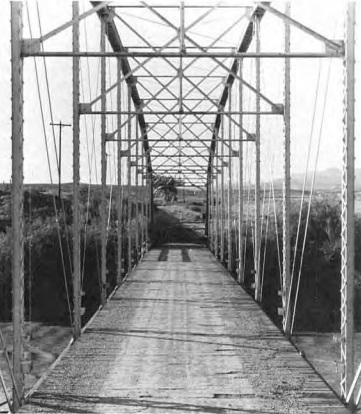 Virgin River Bridge about 1985

WCHS photos:
WCHS-01287 Photo of horses, a carriage, and some people on the Virgin River Bridge in 1912
WCHS-01288 Photo of some people and animals on the Virgin River Bridge
WCHS-01289 Photo of a horse and rider on the Virgin River Bridge
WCHS-01290 Photo of people crossing the Virgin River Bridge
WCHS-01291 Photo of people on the Virgin River Bridge with flood waters passing underneath
WCHS-01292 Photo of the Virgin River flooding with the bridge and temple in the background
WCHS-01294 Photo of people on the new 1921 Virgin River Bridge
WCHS-01295 Photo of two cars ready to cross the new Virgin River Bridge in 1921
WCHS-01296 Photo of the Virgin River Bridge
WCHS-01297 Photo of the Virgin River Bridge after being damaged by a flood
WCHS-01298 Photo of the old Virgin River Bridge burning



REFERENCES
Newspaper clipping from an unknown source in 1908