LOCATION
37° 11' North Latitude, 113° 23' West Longitude
37.188° North Latitude, 113.387° West Longitude
2,875 feet (876 meters) MSL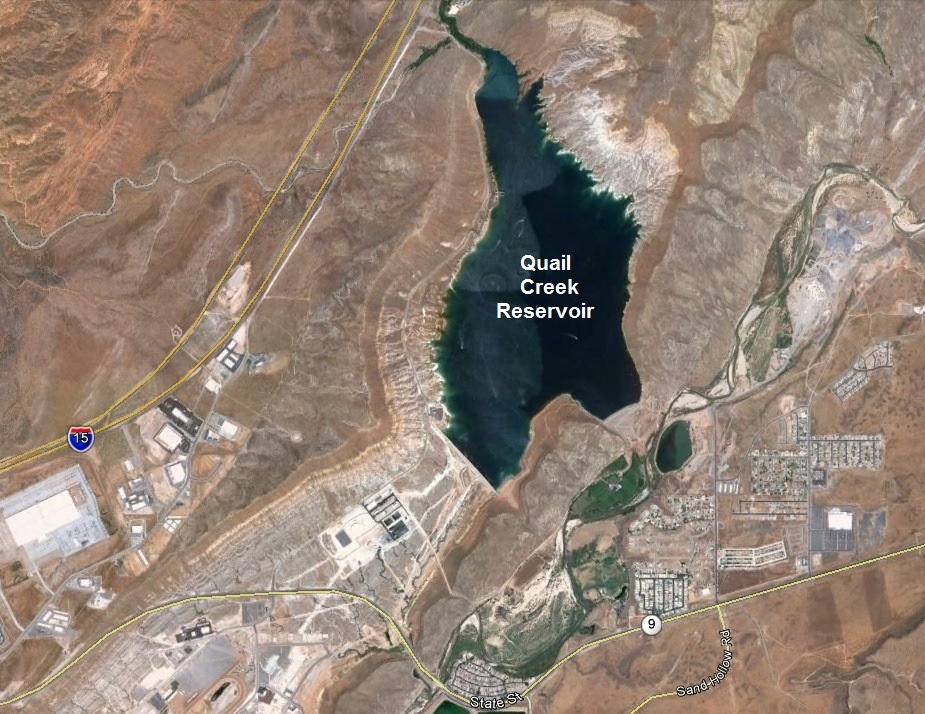 HISTORY
The Quail Creek project was the Washington County Water Conservancy District's first to move from planning board to reality. With an affirmative vote of 89 percent, the residents of Washington County approved funding the project at a cost of $20 million. Planning for Quail Creek began in 1982. The project would ultimately include two earthfill embankment dams, a diversion dam upstream on the Virgin River, an underground pipeline feeding the reservoir from the diversion site, hydro-electric plants on the pipeline, and a storage reservoir of over 40,000 acre feet. The Quail Creek Reservoir was dedicated on September 20, 1985. By the spring of 1986, the reservoir was half full and the facility was in full use by 1987.

Design of the Quail Creek Water Treatment Plant began in 1986. The water treatment plant was officially dedicated on December 1, 1989. The city bonded in the amount of $15 million at an interest rate of 5.5 percent to build it. Of the total, approximately $9 million went to build the plant, and $6 million built the 14-mile, 36-inch pipeline which delivers the treated water to the St. George. The Quail Creek treatment plant has the potential of delivering 10 million gallons of water a day to St. George. Presently, the source supplies water to sections of the city south of 700 South, delivering from 8 to 9 million gallons a day.

Ever since it's dedication, leakage in the dike was a problem. On December 31, 1988, those problems increased dramatically. Just after midnight on January 1, 1989, the Quail Lake Dike collapsed and a 200-foot break occured in the 1,820 foot long dike. More than 25,000 acre-feet of water was released into the Virgin River Channel. That flood damaged 50 to 60 homes and 100 apartment units, forcing 1,500 people from their residences. Bridges, roads, farms, and other property were damaged and the reservoir was rendered useless for several months. The ensuing flood from the Quail Lake dike failure was one of the worst disasters in southern Utah history, causing more than $12 million in damage, yet, miraculously, no lives were lost. For more details, click here.

The damaged dike was replaced with a roller compacted concrete dam. Work on that was completed in July 1990 and the reservoir was gradually refilled.

A regional pipeline from the Quail Creek Water Treatment Plant to Washington, St. George, Santa Clara, and Ivins was completed in 2005.

In May of 2015, the Quail Creek Water Treatment Plant was upgraded from a capacity of 50 million gallons per day to 60 million gallons per day at a cost of $2.3 million.



REFERENCES
Washington County Water Conservancy District data on the Quail Creek System

City of St. George article on the Quail Creek Reservoir Salt Lake City, Utah: 1995