The Elephant Road was a segment of the Dixie - Long Valley Trail used for travel between Long Valley and southern Washington County.



ROUTE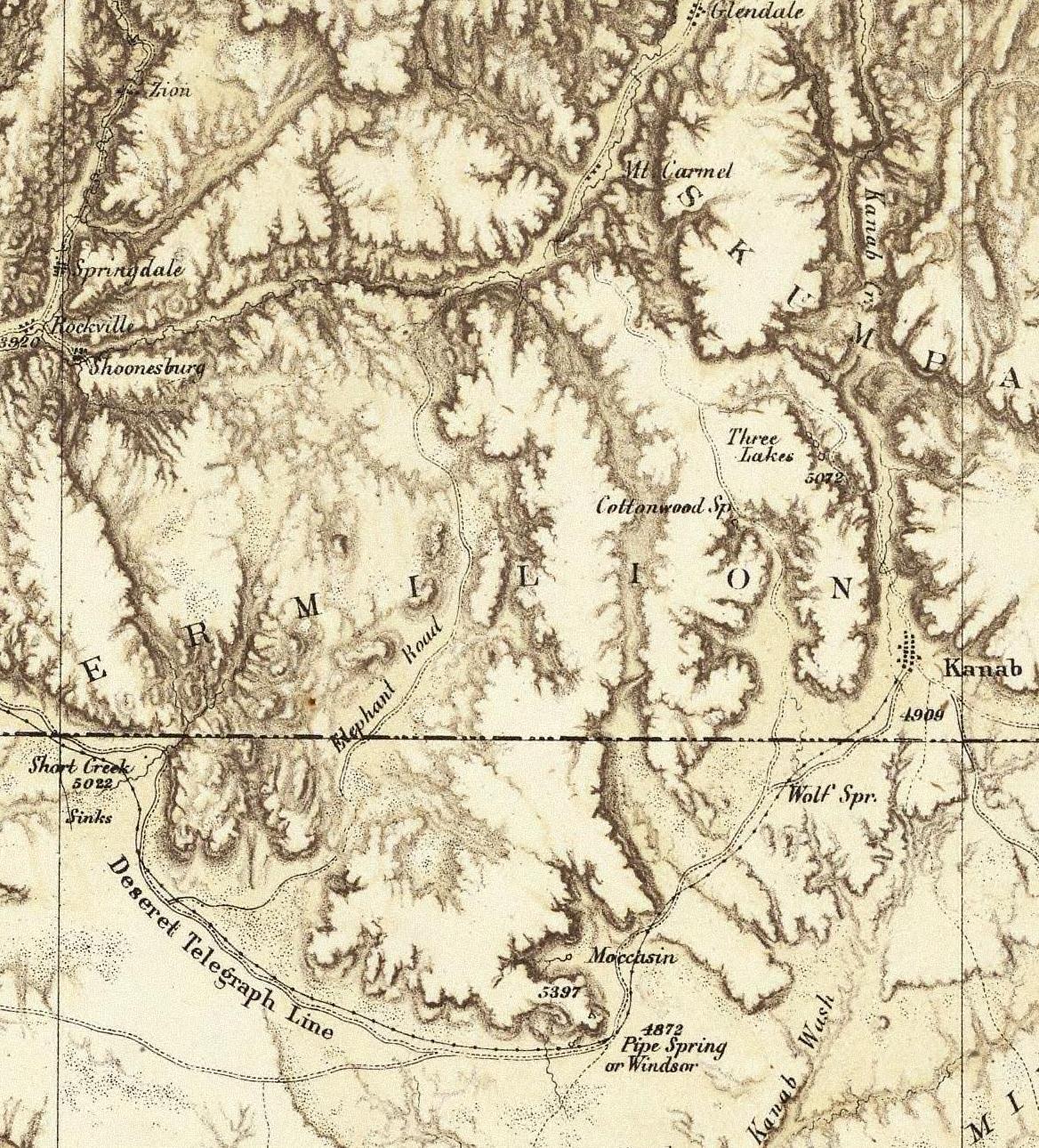 Waypoints: ???
Short Creek
Cane Beds
Rosy Canyon
Seep Spring (Seep Spring Hollow; about 6 miles south of Pine Spring)
Pine Spring (37.029151° North Latitude, 112.8329884° West Longitude)
The Divide
Elephant Gap / Elephant Butte
Elephant Cove
Elephant Hill
Virgin River at the foot of Elephant Hill
Old Barracks
Mt. Carmel



HISTORY
For many years, the Elephant Road was part of the main route used by anyone traveling between St. George and Long Valley, including Mt Carmel, Orderville, and Glendale.

A big problem with this route was deep sand in which wagons got stuck. In early 1900's, somebody built a toll road by laying logs crosswise, abutted etc. Many people, trying to save the toll would use the old road during the winter when the sand was frozen solid. But that often took a big toll on the people and their animals.

The road was well travelled until a couple of years ago when the lands and canyon were appropriated by the government for the Paiute Band. The Paiutes closed it for unknown reasons. It is still closed with a locked gate, but accessible from either end.

The "Elephant" name came from ... [a rock formation?]

Warren C. Foote (a descendent of the original Warren Foote) in Kanab received a grant from the Utah Humanities Council to mark the Elephant Trail and to do presentations about the road. He did a presentation in the St. George Tabernacle at some point.



PHOTOS
TBD



REFERENCES
1873 Parts Of Northern & North Western Arizona & Southern Utah, Atlas Sheet Number 67

1873 Parts Of Northern & North Western Arizona & Southern Utah, Atlas Sheet Number 67

1877 New Map of the Territory Of Arizona, Southern California and Parts of Nevada, Utah and Sonora

Journal of Warren Foote (see entries from March 7 to March 16, 1871)