BIOGRAPHY
Warren Foote was born August 10, 1817 in the town of Dryden, Tompkins, New York. He was sick as a child and would pray often. He attended school and learned the things that he was taught. He read the Bible a great deal and was fond of reading histories.

In the Spring of 1833 he borrowed a Book of Mormon from his Uncle and read it through. Two Missionaries passed through town and stopped at his father's house and Warren listened to their conversation. He knew the Bible quite well and he knew they spoke the truth.

Only his father was baptized into the Church of Jesus Christ of Latter Day Saints. Warren did not join, his brothers or sisters did not join, nor did his mother. His brother George joined the Methodist Church and became very bitter toward the Church. Warren studied the Book of Mormon and the Bible.

His father decided to travel to Kirtland, Ohio. He wanted to gather with the saints, and meet Joseph Smith. George was headed that way too and so David Foote and his three sons; David, George and Warren traveled together, they split up when they reached Fairport Harbor in Lake Erie. Warren and his father went on to Kirtland. The Temple was already finished and dedicated when they arrived they went there. They met Joseph Smith Senior and they were shown the Mummies and the Papyrus, that later was translated into the Pearl of Great Price.

He followed his father through Missouri, then on to Nauvoo. Witnessing the great trials and the persecutions that the early Saints went through. On March 24, 1842 he finally was baptized. Some of his sisters had previously joined the church by that time. He went through his own trials as he watched his father pass away, then his mother. His mother was baptized shortly before she passed away. He buried both of them in the Nauvoo, Cemetery, in unmarked graves. He left Nauvoo after he and his wife went through the Nauvoo Temple to receive those Sacred Ordinances.

The path to Winter Quarters was physically and emotionally draining, he wrote, "Although my Grandfathers fought in the army of the Revolution and Grandfather Foote lost his life in the struggle for freedom and religious liberty, yet I am not permitted to enjoy that liberty." The trip took a little over two months. He settled in Kanesville and cut logs to help build the Tabernacle there.

He was elected the Captain of a Wagon Train that reached Utah September 17, 1850.

Throughout his life he did many things. He was a farmer and he kept his own bees, a stage driver, a school teacher, a miller, a post master, a Justice of the Peace, a Major in the Mormon Militia, a Civic Leader. He also wrote much in his journal and correspondence and he was a poet.

He settled in Union, in the Salt Lake Valley. He married a second wife, later on, this second wife caused many trials and problems and broke his heart with grief when she left him. He always loved and cared for all his children equally, no matter which wife they were born to.

He took both wives and went to the "Cotton Missions of the Church" and settled as a leader of St. Joseph in the Muddy Settlements. His son David and himself, started to plow the ground and build houses. In 1866 because of the Black Hawk war they moved to St. Thomas. In 1870 Brigham Young and a few apostles came to visit. In 1871 due to the State boundries surveyed, Brigham Young advised them to return to Utah and they settled in Long Valley. Pres. Leithead suggested to name the place Glendale, everybody agreed.

Warren made many trips to St. George for supplies that he bought, sold, and traded. He spent many hours doing genealogical research and spent much time in the St. George Temple. He visited with his many friends that lived around the St. George area.

He helped his children get established. He served as a member of the Kanab Stake High Council and his last years were spent as a Stake Patriarch.

He passed away on July 23, 1903. He was buried in the Glendale Cemetery.



FAMILY
Parents and Siblings:
David Foote
Irene Lane Foote
Laura Foote
Elizabeth "Betsy" Foote
Nancy Foote
Malinda Foote
Irene Foote
Dorcas Foote
Almira Foote
Clarissa Foote
David Foote
George Lane Foote
Warren Foote
Harrison Foote

(8/7/1768-8/22/1845) (married xx/xx/1791)
(11/2/1774-3/5/1846)
(4/23/1792-10/17/1823) (married Xxxxxxx X. Xxxxxxxx)
(2/8/1794-11/8/1846) (married Xxxxxxx X. Xxxxxxxx)
(5/19/1797-12/5/1823) (married Xxxxxxx X. Xxxxxxxx)
(2/21/1800-2/20/1838) (married Xxxxxxx X. Xxxxxxxx)
(6/20/1803-4/6/1887) (married Xxxxxxx X. Xxxxxxxx)
(1/9/1806-4/2/1806)
(2/25/1807-2/16/1867) (married Isaac Samuel Ferguson)
(6/16/1810-11/25/1840) (married Xxxxxxx X. Xxxxxxxx)
(8/24/1812-11/17/1901) (married Xxxxxxx X. Xxxxxxxx)
(4/16/1814-2/15/1894) (married Xxxxxxx X. Xxxxxxxx)
(8/10/1817-7/23/1903) (married Artemisia Sidnie Myers and Eliza Maria Ivie)
(7/5/1819-9/5/1820)

First Wife and Children:
Artemisia Sidnie Myers Foote
Joseph Foote
David Foote
Sarah Foote
Warren Foote Jr.
Nancy Foote
Mary Irene Foote
Homer Clarence Foote


(xx/xx/xxxx-xx/xx/xxxx) (married 6/8/1843)
(12/16/1843-12/17/1843)
(8/23/1845-8/10/1936) (married Sarah Hall and Emma Bennett)
(2/24/1848-3/26/1848)
(12/15/1849-2/22/1867)
(10/11/1852-4/12/1932) (married Homer A. Bouton on 7/5/1869)
(10/22/1855-10/8/1936) (married Morton Cutler)
(1/3/1871-xx/xx/xxxx) (married Xxxxxx X. Xxxxxxxx)

Second Wife and Children:
Eliza Maria Ivie Foote
Hiram Foote
James Franklin Foote
Eliza Olive Foote
Sidney Wallace Foote
John Ammon Foote
Charles Lane Foote
Edwin Moroni Foote


(3/29/1842-5/1/1920) (married 3/2/1856)
(4/20/1858-4/20/1858)
(6/22/1859-4/6/1947) (married Emeline Sophia Minchey)
(10/31/1861-3/9/1946) (married Xxxxxxx X. Xxxxxxxx)
(11/24/1863-9/8/1865)
(12/5/1865-12/6/1887) (married Xxxxxxx X. Xxxxxxxx)
(11/11/1868-11/23/1949) (married Hannah Martina Andersen)
(6/9/1872-6/xx/1872)
PHOTOS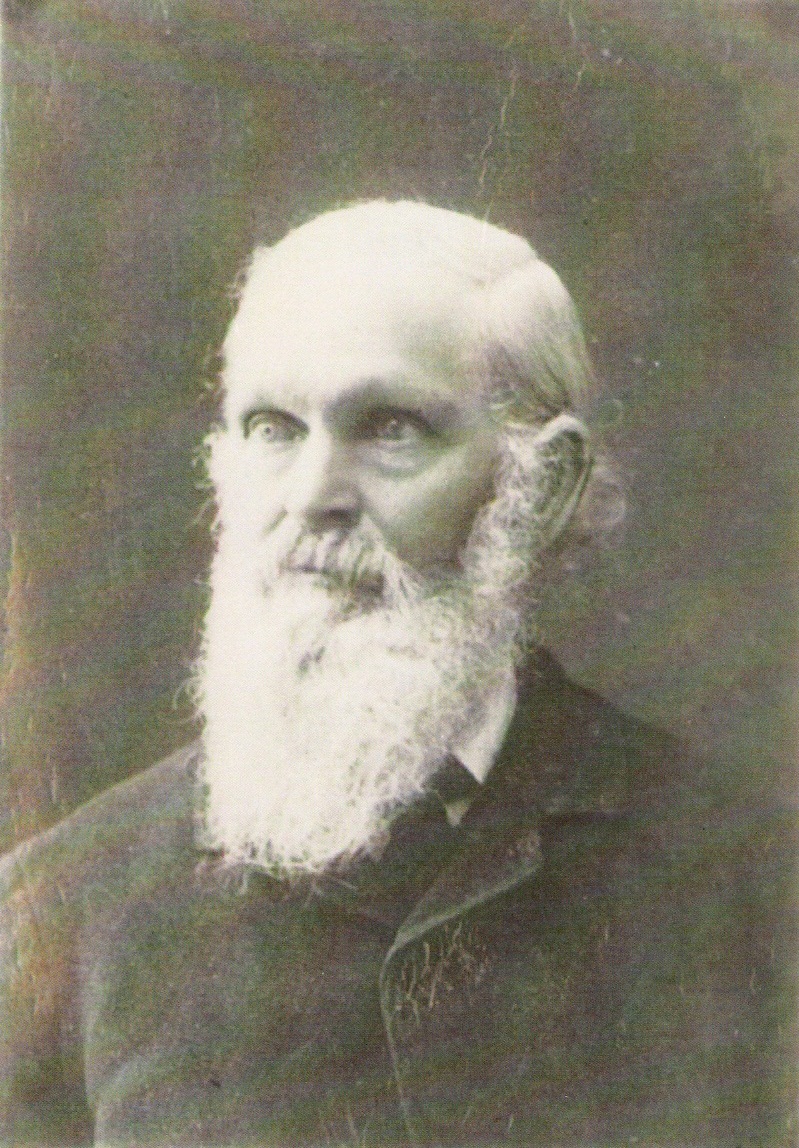 Warren Foote



REFERENCES
Warren Foote was meticulous in maintaining his journals. The originals were donated to the Historical Department of the Church of Jesus Christ of Latter-day Saints in Salt Lake City. Copies are available from the Stevenson Genealogy & Copy Center:
Volume 1: 1817-1879:
Volume 2: 1880-1893:
Volume 3: 1894-1901:
For excerpts from the journals related to Warren Foote's time in Washington County, click here.

Autobiography of Warren Foote (1817-1846) (he lived until 1903)

Note on Warren Foote's church history (see Item 20)

Warren Foote's genealogy

Notes on Warren Foote's marriage to Artemisia Sidnie Myers

Notes on Warren Foote's marriage to Artemisia Sidnie Myers

Warren & Eliza Maria Ivie Foote Family Group Record

A Collection of Histories of Foote Relatives and Related Information
Compiled by Warren C. Foote

Notes on the Muddy Mission with several references to Warren Foote

Trails and Roads, and the Settlement of Long Valley, Utah
Book by Warren C. Foote, Second Edition, 2021