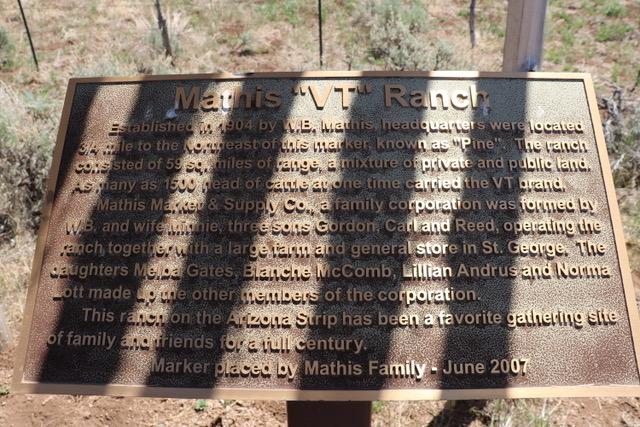 Photo of the plaque at the Mathis 'VT' Ranch kiosk on Mohave County Road 103.

The text on this plaque reads:

Established in 1904 by W.B. Mathis, headquarters were located
3/4 mile to the Northeast of this marker, known as "Pine". The Ranch
consisted of 59 sq. miles of range, a mixture of private and public land.
As many as 1500 head of cattle at one time carried the VT brand.
Mathis Market & Supply Co., a family corporation was formed by
W.B. and wife Minnie, three sons Gordon, Carl and Reed, operating the
ranch, together with a large farm and general store in St. George. The
daughters Melba Gates, Blanche McComb, Lillian Andrus and Norma
Lott made up the other members of the corporation.
This ranch on the Arizona Strip has been a favorite gathering site
of family and friends for a full century.
Marker placed by Mathis Family - June 2007

Also see photos WCHS-03758, WCHS-03759, and WCHS-03760.

Photo taken by Susan Biesele on 5/24/2018 while on a Dixie Arizona Strip Interpretive Association
(DASIA) field trip and contributed by her on 5/25/2018.