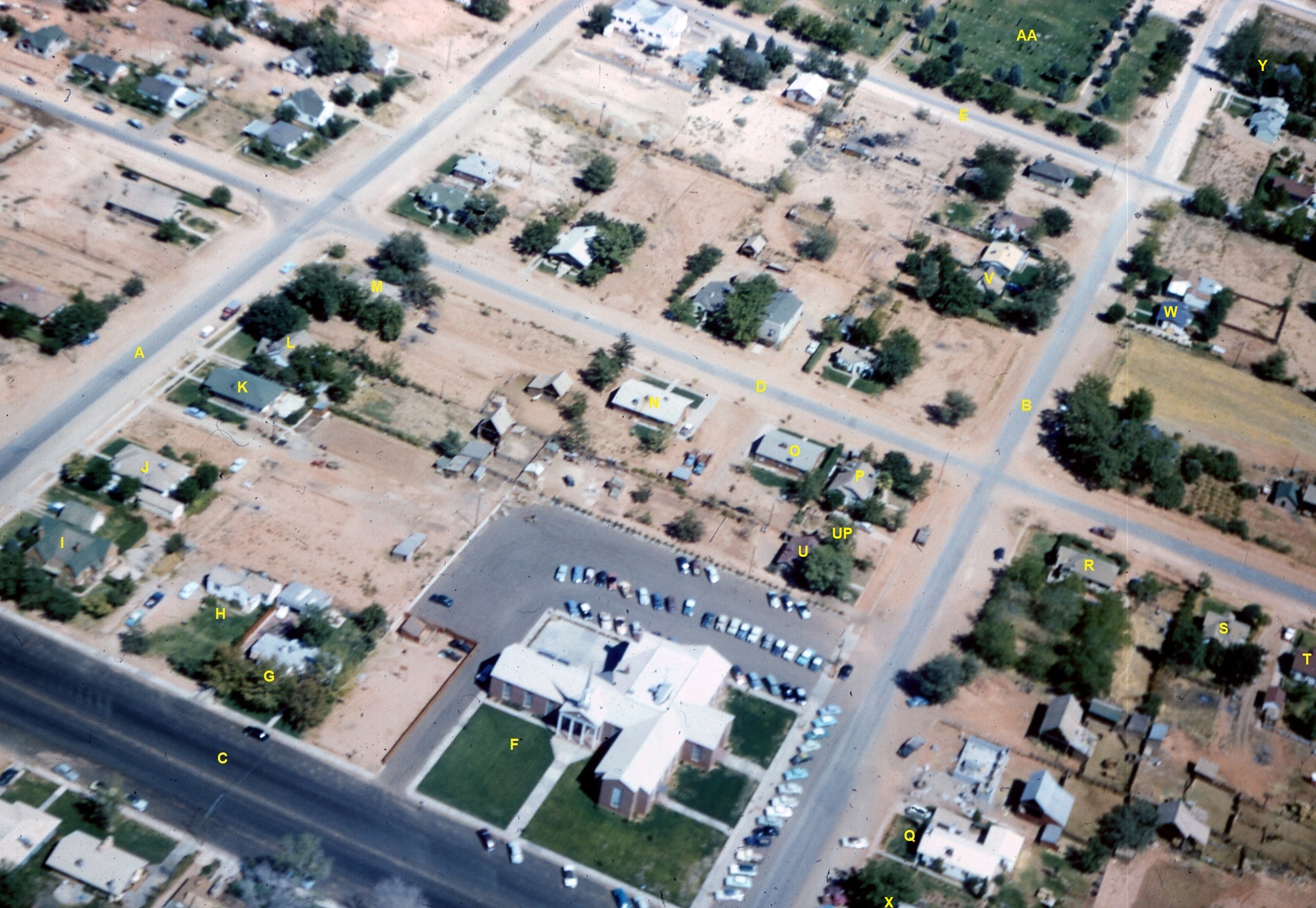 For a higher resolution version of this photo, click here.

Aerial photo of St. George, Utah with labels.
A = Tabernacle
B = 100 South
C = 400 East
D = 500 East
E = 600 East
F = St. George 5th and 6th Wards Chapel
G = Mrs. Herman Larkin Home, 47 South 400 East, 227
H = Virginia Boyack Home (son is Alan Boyack), 31 South 400 East, 362-W
I = Dr. Wilford J. Reichmann Home, 410 East Tabernacle, 284
J = Valentine McArthur Home (daughter is Elma Ann McArthur), 426 East Tabernacle, 365-J
K = Arnold McArthur Home, 452 East Tabernacle, 35-M
L = ???
M = ???
N = House rented by actress Eleanor Parker during the filming of a "The King and Four Queens".
For an encounter between Clark Nelson and Eleanor Parker at this house,
see Pages 106-108 of Clark's "From Curtis to Eleanor".
O = Part of the John Nelson property ???
P = John Nelson Home (son is Kenneth Nelson), 497 East 100 South, 348-R
Q = ???
R = Phil & Emily Foremaster Home, 492 East 100 South,
S = ???
T = ???
U = Walter Pymm Home, 469 East 100 South, 362-M
V = Wesley A. Nelson Home, 547 East 100 South, 121
W = ???
X = George Seegmiller Home, 406 East 100 South, 188-R
Y = William D. & Minerva Oliphant Home (children: Richard, Willa, Ray, Leroy), 660 East 100 South, 164-M
AA = St. George City Cemetery
UP = A small home owned by a chiropractor

The yellow letters corresponding to the labels above are small and may be hard to read without zooming in.
For a higher resolution version of this photo, click here.

For a original unlabeled version of this photo, click here.

Photo taken by Don Graf and contributed by him on 2/28/2018 via his son, Dr. Jeffery Graf.
The camera is facing northeast (and down).
Slide A 840.